Faithful to a classic: Teresa Teng
Always Faithful (但願人長久) is not only the title of one of pop superstar Teresa Teng's (鄧麗君) most memorable songs, it also says something about her ardent fans, who still jealously preserve her musical legacy, nine years after her death.
These same fans of the pop legend filled the seats at Always Faithful, the musical produced by Teng's brother Teng Chang-hsi (鄧長禧) in 2002. The musical adaptation of her life story, starring Golden Horse Best Actress Angelica Lee (李心潔), had 25 critically acclaimed performances in Hong Kong.
Teng's fans in Taiwan will see a new version of the musical this weekend at the Metropolitan Hall (城市舞台). The show will take on special significance as this year would have been Teng's 50th birthday anniversary. Pop singers Pong Chia-hui (彭佳慧 ), Ho Hsiang-ting (侯湘婷) and young actress Liu Yi-ting (劉伊庭) will play Teng in her adulthood, adolescence and childhood respectively. Writer and radio host Jeff will play Paul, Teng's rumored boyfriend.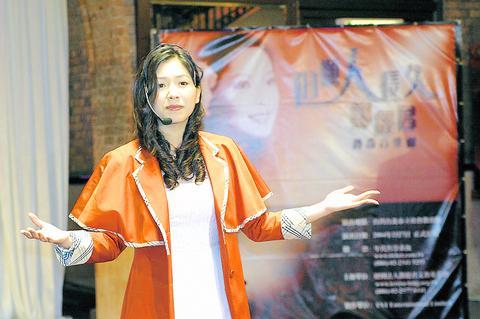 Singer Ho Hsiang-ting plays the teenage Teresa Teng in Always Faithful.
PHOTO COURTESY OF TERESA TENG CULTURAL FOUNDATION
As Pong and Liu are talented singers in their own right, the musical, which includes some 30 Teresa Teng hits and 10 original songs, is expected to present a enjoyable evening of pop classics.
The Teresa Teng Cultural Foundation (鄧麗君文教基金會) has spent around NT$10 million on the production, with meticulously recreated 1970s costumes and settings. Lead actress Pong admitted that she had felt a lot of stress playing the pop legend. The contagiously poignant plot twists drove her to tears many times, she said.
The story starts with Teng's singing talent being discovered by her music teacher at the age of nine. The teenage Teng aspires to sing for her fellow countrymen and her talent and efforts gradually allow her to attain stardom.
However, her love life does not progress as smoothly. Two romances at different stages of her life have come to nothing and Teng realizes that she has to choose music over a personal life. She has no regrets as long as her singing touches people.
Publication Notes
Performance Note:
Always Faithful will be performed at
7:30pm on Feb. 7 and from Feb. 9 to Feb 12. Matinee performances will be held at
2:30pm on Feb. 8 at the Metropolitan Hall. Tickets range from NT$600 to NT$3,000 and are available at Era Ticketing outlets. For more information, call (02) 2577 6141.
Comments will be moderated. Keep comments relevant to the article. Remarks containing abusive and obscene language, personal attacks of any kind or promotion will be removed and the user banned. Final decision will be at the discretion of the Taipei Times.