A `Land of Flowers'
The Hsichou Flower Expo 2004 shows how the flower industry in Taiwan has grown in recent years
You may not know of a place called Highway Garden (公路花園) but you may have glimpsed a sight of it on local TV reports about a chrysanthemum field in central Taiwan that is illuminated at night by hundreds of bright lights. The purpose of the lights is to prevent the plants blooming. By doing so they grow longer stems and can sell for a higher price in the market. \nFlower farming in Taiwan originates in Tianwei (田尾), a town of about 50,000 in Zhanghua County (彰化縣) and residents are used to these bright night scenes in the surrounding countryside from October through March every year. \nTianwei has earned its reputation for being at the heart of the country's flower trade and as such has beautiful gardens and more than 200 flower shops, nurseries and European-style coffee shops along the two-lane road leading to the town. Day and night, the Highway Garden (公路花園) district is busy with loading trucks, flower merchants and curious tourists riding their rented bikes all over the place, like butterflies. \nChen Hsi-chian (陳錫堅) is a second-gene-ration flower farmer in his 40s and is the prime mover behind the Highway Garden project in Tianwei. "Most of the flower farmers in this town inherit their business either from their father or grandfather. Tianwei now grows the biggest variety and highest volume of flowers in Taiwan," Chen said. "We cultivate around 200 hectares of land to grow more than 10 million chrysanthemum plants [of different types] each year, in order to meet the needs of domestic and overseas buyers. Whatever the season, a visitor will see different kinds of flowers being grown here." \nBoth Lee Kun-ti (李坤地), chairman of the Taiwan Flower and Horticulture Association(台灣省園藝花卉商業同業公會聯合會) and Chen said nature has been kind to Tianwei. With an average of 11 hours of sun per day, mild temperatures throughout the year and less devastation from typhoons than other areas because of its central location, the town has obvious natural advantages and as a result is often called the "Land of Flowers"(花之鄉). \nThe most important reason for the success of flower growers in the area is however, beneath their feet. The thick mud brought down from mountain areas each year by a flooding Choshui River (濁水溪) provides a fertile soil that supplements that which is taken up by the flowers and taken away as flower pots by the daily convoy of trucks. \nWith its century-long history of flower farming, Tianwei has expanded its farming operation to approximately 300 hectares. This represents an estimated 43 percent share of Taiwan's wholesale flower market. \nAs such it was no surprise when Zhanghua County Magistrate Wong Chin-chu (翁金珠) chose Hsichou (溪洲), a town a few kilometers south of Tianwei, to host the country's biggest flower expo since 1945. The Flower Expo 2004, which started yesterday, is being held on an old Taisugar (台糖) plantation site with 21 hectares of land. All the land in Tianwei and its environs is taken up with flower production. \nThere is a good reason why the flower show is being held during the winter season. Due to the relatively cooler temperatures of around 22℃ on average from November to March in central Taiwan, the quality of the flowers is best at this time of the year. Also, the Lunar New Year holiday season -- between mid-January and mid-February, lasting about five days -- sees sales go up by three to four times the normal volume. The flower show in Hsichou from Jan. 17 to March 14 is therefore a good way of promoting sales of high quality winter flowers to the two largest public auction houses in Taiwan -- Neihu (內湖) in Taipei and Tianwei. The other three main flower auction houses are in Taichung, Tainan and Kaohsiung. \nPresently, the total annual value of the flower industry in Taiwan is slightly more than NT$10 billion. Of this, more than NT$3.2 billion of business is in cut flowers, said Tom Chang (張堂穆), of the Taipei Flower Auction Company(台北花卉產銷公司). Nursery stocks represent roughly 40 percent of trading volumes and potted plants account for 10 percent of the market share. \nZhanghua County is now ambitiously committing nearly 5,000 hectares of land for flower growing in an attempt to account for 46 percent of the country's total plantation area. \nKevin Chung (鍾國成), general manager of the Taiwan Floriculture Development Association(台灣區花卉發展協會), said that in addition to the prosperous domestic market, Taiwan's flower industry had been tapping into international markets in recent years. \nWith its tropical and sub-tropical weather, Taiwanese flowers such as the Formosan moth orchard (台灣蝴蝶蘭), flaming lily (火鶴), Christmas flower (聖誕紅), guzmania (鳳梨花) and various cut flowers are increasingly being transported to Europe, North America, Hawaii and Japan. Taiwan's flower export trade revenues in 2000 were US$47,237,000. This trade figure ranks 18 among international flower exporting countries and in Asia is only surpassed by Thailand, which is ranked 16 with an export value of US$64,167,000. \nChen said Taiwan's flower growers competed on level terms internationally in terms of variety, production skills, packaging and control of flower farming and the size of the Hsichou Flower Expo 2004 shows just how determined local growers are to build the country into a flower kingdom, through skilful management and plantation of tropical and sub-tropical plants and flowers. The show is a milestone for the local floral industry, which is set to grow further and perhaps even one day rival Holland.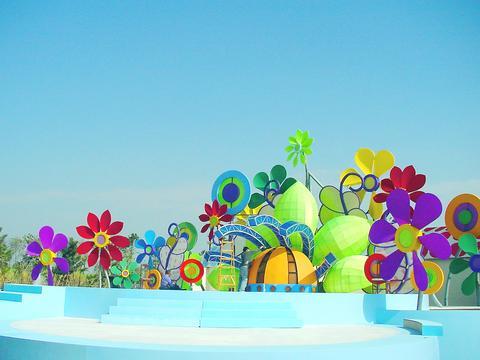 PHOTOS: DEREK LEE, TAIPEI TIMES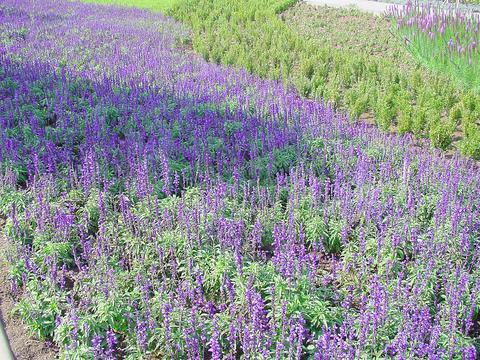 The site of Flower Expo 2004 is carpeted with blue salvia.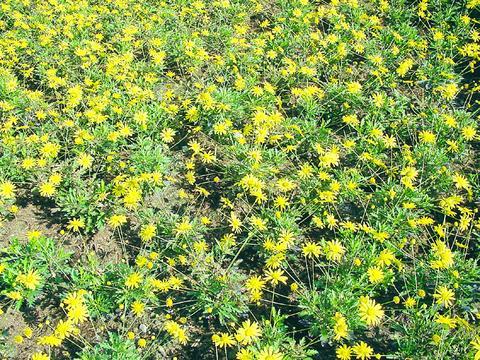 Yellow marguerite is a commonly seen flower growing along the road side of the Highway Garden in Tianwei, Zhanghua County.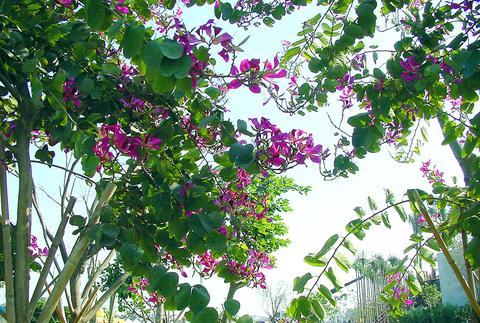 This rarely seen butterfly tree is a feature of the Expo in Hsichou, a town a few kilometers south of Tianwei.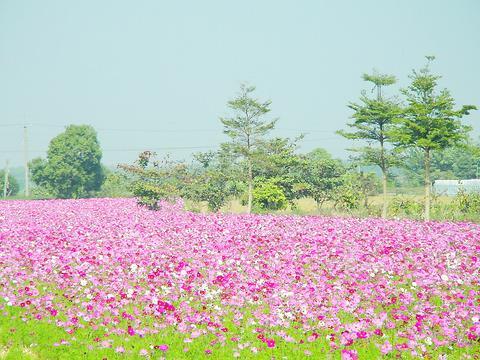 To create something dramatic for the Flower Expo, local farmers in Hsichou grow common cosmos on their fields to create 'a sea of flowers' to impress visitors.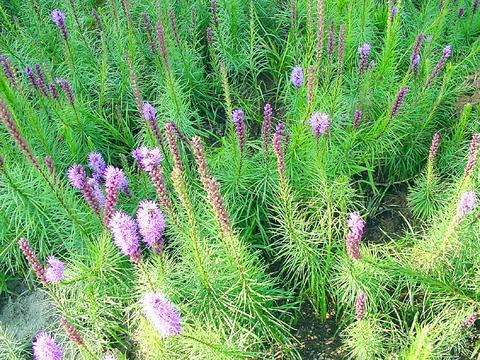 Blazing star is a favorite flower among local growers.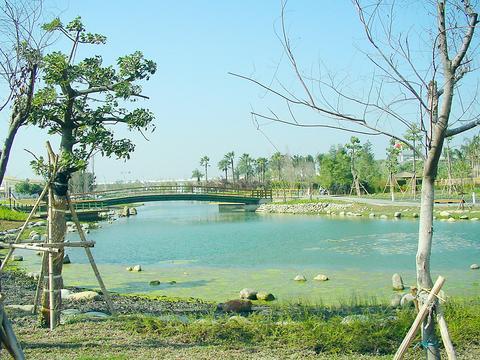 The site of the Hsichou Flower Expo 2004 has been specially landscaped.
Comments will be moderated. Keep comments relevant to the article. Remarks containing abusive and obscene language, personal attacks of any kind or promotion will be removed and the user banned. Final decision will be at the discretion of the Taipei Times.