The 'burbs never looked so unsettling
The loud controversies that inevitably emerge when Harmony Korine and Larry Clark either write or direct a film always seem like echoes of the debates surrounding The Jerry Springer Show -- the paragon of low-brow American TV. This is especially ironic because in Ken Park, Korine and Clark's latest collaboration, with added directorial support from Ed Lachman, they even managed to stage a scene in which the actors are watching one of the show's typically inflammatory episodes as if to underline, highlight and bold the themes of dysfunctional, low-class white American family life. The characters may as well be watching themselves on TV and for the audience it's difficult to distinguish the two.
In this movie, as in their previous film Kids, the story revolves around a batch of wayward teenagers who suffer from various forms of abuse at the hands of adults. They are either beaten, frightened into submission, or molested (sometimes all of the above), while others are simply ignored. No matter which form of abuse the kids suffer, the resulting volatile mix of anger and confusion finds a predictable release in violence, though Clark cleverly keeps you guessing which of his monstrous adults will meet a gruesome end.
Ken Park opens with the movie's title character skateboarding through an empty and soulless California suburb to the nearby skate park, where he pulls a camcorder from his bag and points it at his head to record himself committing suicide.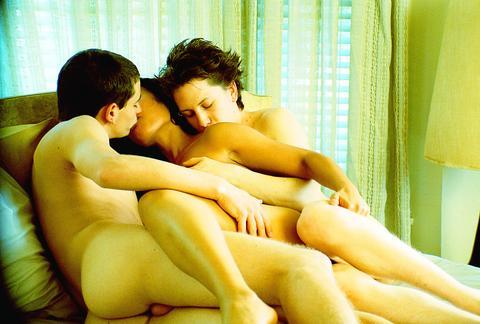 Abusive parents and misguided kids make Ken Park a standard Harmony Korine and Larry Clark movie.
PHOTO COURTESY OF IMOVIE
From this grim beginning, we then follow Shawn as he skates to his girlfriend's house to crawl into bed with her mother for a titillating day of hooky while in the living room the family's infant daughter watches a vaguely pornographic video of girls in string bikinis frolicking on a beach.
By this time, not even 10 minutes into the movie, it's quite clear that something is severely amiss in the 'burbs.
What follows is string of loosely connected snippets that only barely constitute a narrative, but serve to introduce the motley crew of messed-up kids and their equally disturbed parents to justify the film's morbid end.
We're treated to Peaches, the sultry and playful sexy girl getting caught in bed by her freakish Bible-thumping father, the introspective Tate who hurls the nastiest possible invective at his grandparents whom he lives with, and Claude, a timid, nice-enough kid with a brutish father and chain-smoking pregnant mother.
Thankfully Korine's penchant for lurid sex scenes, most of which have been clipped for audiences in Taiwan, are balanced by the fragile psychology portrayed ingeniously by the parent characters in the film. And ultimately it's the adults who, by being the targets of Ken Park, end up as its focus.
Shawn's girlfriend's mother almost breaks down when, in a post-coital cuddle, they compare their sex to that between Shawn and his girlfriend, while Claude's unemployed alcoholic father shows his deep-rooted self-contempt and unresolved homosexual tendencies when beating up on his son.
Peaches' father, meanwhile, shows all the traits of a man driven to near insanity by grief over the death of his wife and the subsequent sexual confusion when faced with his daughter.
Clark and Korine have a way of manipulating the camera in the ruthless manner of the ostracized kid who attends his high school reunion with an axe and gleefully hacks everyone to death. They obviously revel in exacting revenge on the jocks, cheerleaders and religious wackos and here they do so quite thoroughly.
With its cast of losers, freaks and nut cases it's hard to know whether to laugh or cry when watching Ken Park, which is also the reaction people have to The Jerry Springer Show and it's also the reason people either loathe or love Clark and Korine's movies.
Publication Notes
Film Notes:
Ken Park
Directed by: Larry Clark and Ed Lachman
Starring: James bullard, Stephen Jasso, Tiffany limos,james ransone
Running time: 96 minutes
Taiwan Release: Now Showing
Comments will be moderated. Keep comments relevant to the article. Remarks containing abusive and obscene language, personal attacks of any kind or promotion will be removed and the user banned. Final decision will be at the discretion of the Taipei Times.