Restaurants: Ruth's Chris
Address: 2F, 135 Minsheng E Rd, Sec 3 (台北市民生東路3段135號.) (Branches In Taichung and Kaoshiung)
Telephone: (02) 2545 8888
Open: 11:30am to 2:30pm. Dinner 5:30pm to 11pm
Average meal: NT$3,000 for twoDetails: English menu. Major Credit cards accepted
If you're looking to impress or are simply in dire need of dining out in an establishment where the waiting staff are well trained and the food is above reproach, then you can't go far wrong with Ruth's Chris.
Founded in 1965 in New Orleans, the US chain's Taipei branch opened its doors in 1993. Over the past decade the restaurant has become the steak joint of choice for Taipei's more discerning diners.
The predominantly red wood furnishings and interior design gives the place a mature well-aged look -- something like a private gentlemen's club.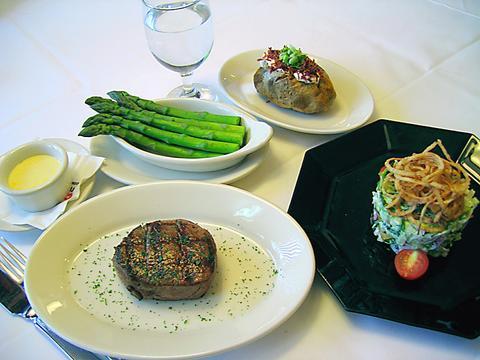 Steak for the discerning diner is served at Ruth's Chris.
PHOTO: GAVIN PHIPPS, TAIPEI TIMES
In keeping with the restaurant's high-end appearance Ruth's Chris staff are always immaculately turned out and are well versed in both service techniques and the menu.
According to manager Joey Tseng (曾建平) all staff undergo between one and one-and-a-half months training and are only let loose on the customers after another one month stint of on-site guidance in waiting etiquette.
The menu lists everything any steak aficionado could wish for and then some. All specially imported from the US, Ruth's Chris steaks include 8oz and 12oz fillets (NT$890/NT$1,290), 12oz and 16oz rib eyes (NT$1,190/NT$1,430) and New York strips (NT$1,230/NT$1,490) and the house special a behemoth 40oz Porterhouse NT$3,490.
The steak is prepared in the restaurant's oven, which reaches temperatures of 1,8000F and seals the meat to ensure none of the flavor escapes. The taste is superb and unmatched by any other steak restaurant in Taiwan. The meat literally melts in the mouth.
It's not only the steak that is imported. To guarantee diners a flavorsome meal the joint also imports its potatoes, mushrooms and broccoli. Side orders of potato include mashed, lyonnaise and sauteed. They range in price from NT$160 to NT$190 with other vegetables costing from NT$160 to NT$200 per dish.
For those with room to spare after chowing down on a truly great steak, desserts include the popular creme brulee NT$220, the hugely recommended apple crumb tart NT$220 and bread pudding with Jack Daniels sauce NT$190.
Along with offering good food Ruth's Chris also stocks a reasonable selection of fine wines and other aperitifs. The wine list includes over 100 new and old-world wines, many of which have been specially imported by the restaurant. The wine ranges in price per bottle from around NT$13,000 for rare vintages to NT$1,000 for more common bottles.
Sure, you pay more at Ruth's Chris, but the service is exceptional -- you never have to ask for anything twice -- and the food is faultless in both presentation and taste. More importantly for steak lovers, black pepper sauce is nowhere in sight. And pity the philistine who asks for A1 Steak Sauce at Ruth's Chris!
Comments will be moderated. Keep comments relevant to the article. Remarks containing abusive and obscene language, personal attacks of any kind or promotion will be removed and the user banned. Final decision will be at the discretion of the Taipei Times.