Online gaming hits home
Online gaming has quickly become an important market segment in Taiwan, but it is led by South Korea and Japanese companies
The online game industry has become mainstream in the Taiwan PC game market, but local companies are heavily dependent on South Korean game development companies for software. It seems, Taiwanese companies open up the Chinese PC game market, but South Korean companies enjoy the profits.
In fact, few of the Taiwanese online game companies make that much money even though they have an annual revenue of over billion of NT dollars. But because they have to pay a huge amount of royalties to the South Korean companies, plus the expensive line rental fee charged by Chunghwa Telecom, they do not make that much in the end, said Michael Fu (傅鏡暉), the author of Online Game Industry Happy Book and a senior online game producer.
Fu was once in charge of the online game operation at Softstar Entertainment Inc (大宇資訊), and he has been to South Korea several times to negotiate agent rights with game software companies.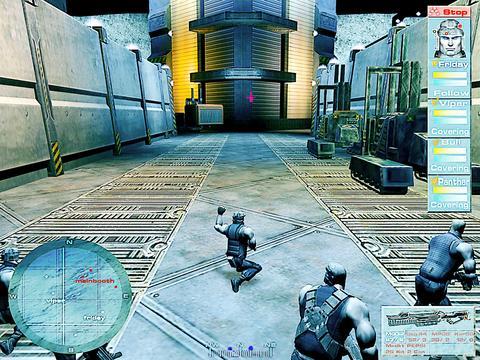 Karma online is one of the first-person shooter game that Aozora is promoting.
PHOTO COURTESY OF AOZORA
Fu said that most Taiwanese online game players used the game as a medium to make new friends and said schoolmates played the games together to build "common life experiences" and offer matchmaking services.
The major goal of Taiwanese online game companies is to open up the huge Chinese market. So far the Romance of Three Kingdoms series and the games based on Jin Yung's (金庸) famous knight novels developed by Soft-World International Corporation (智冠科技) are the most popular ones in the market. Waei International Digital Entertainment Co (華義) has also earned hundreds of millions a year because of its early start in the Chinese market, Fu said.
Gamania Digital Entertainment Co Ltd, on the other hand, survived purely on its agent rights and has made the most revenue (nearly NT$ 3billion) among all the local companies out of Lineage, the most popular online game in Taiwan. However, the real profit Gamania makes is only around NT$10 million, due to high royalty fees.
Ro Online is one of the tops sellers in Taiwan at the moment.
PHOTO COURTESY OF SOFT-WORD INTERNATIONAL CORPORATION
Gamebase Web site senior editor Lai Chun-kung (賴俊光) said that because local companies were incapable of developing games, they had to meet all the demands made by South Korean companies.
Meanwhile, a new online game has landed in Taiwan from South Korea which offers various kinds of online games and a personal communication platform. It has started to attract local players' attentions.
In South Korea itself, the top three PC game companies with the highest share prices are all online game portal companies. All these three companies have made a net profit of over NT$20 million last year and it is expected that every one of them will grow up to 200 percent at least this year to reach a net profit of NT$50 million, said Tony Chen (陳可仁), CEO of Aozora Taiwan (奧華科技, http://www.crazy.com.tw).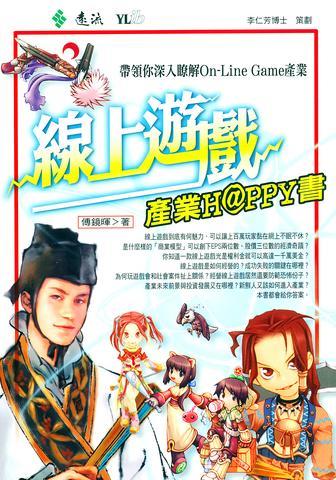 The first book in Taiwan introducing the country's on-line gaming industry.
PHOTO COURTESY OF MICHAEL FU
Chen, who is in his 20s, is a Taiwanese born in South Korea. He has devoted himself to the PC game industry since 1998, and founded Aozora Soft. The company transformed into an online game portal in 200l and it set up a subsidiary in Taiwan early this year, trying to break into the market at the earliest opportunity.
There are over 2,000 online game development companies in South Korea, and there are hundreds of game software releases. Whoever controls these channels can dominate the industry and make the most profits, Chen said.
Chen said there were 46 million people in South Korea, and there were 25 million people playing online game every year. Taiwan's population and online gaming rates are about half of those in South Korea, but Chen said he believed that the Taiwanese market could grow further.
Though Aozora has not held public marketing activities in Taiwan so far, just through the Internet, the company has procured 600,000 members by the end of July.
"Online game portals do not have to issue credit vouchers and can save costs on paper and printing. Plus we have formed alliances with South Korean companies to ensure the continuous supply of new games. This is an advantage which cannot be achieved by a single online game company."
The current way for a player to play a local online game is to pay about NT$300 a month to purchase credit vouchers for a certain game, and then he can play the game without time limit within the month. He also has to pay about NT$600 for Internet line rental to Chunghwa Telecom, plus the telephone fee, so that it costs a player more than NT$1,000 to play an online game a month.
However, on Aozora's Crazy Web site, there are four online role-playing games, and one first-person shooting game. Most important of all, every player is allowed to have his own personal Web page.
"We will be offering more than 20 online games around June next year," Chen said.
PC game first appeared in Taiwan about 20 years ago. Back then Soft-World did not own the agent rights to any games as it only released pirated software. Not until the mid 1990s did several local companies started to sign contracts with foreign companies for the agent rights.
The year 2000 marked the watershed for the industry. Online gaming has become mainstream. In 2001, the market value of the industry grew 250 percent and over 30 companies were set up to develop online games or try to get the agent rights for the games developed by South Korean and Japanese companies.
But due to a lack of management and development abilities, plus the global economic recession and local political instability, most companies went broke, and less than 20 companies survived. About four companies have taken 80 percent of the market, and the remaining 80 percent of the companies have taken up the remaining 20 percent of the market. According to data from the Institute for Information Industry (資策會), the total revenue of online game companies last year was NT$4.1 billion, and Gamania (NT$2.32 billion) and Soft-World (NT$0.68 billion) took up 73%, Fu said.
Taiwanese online game companies are still heavily dependent on the South Korean game development companies and this has become the main reason why the industry has not been growing well on its own.
Comments will be moderated. Keep comments relevant to the article. Remarks containing abusive and obscene language, personal attacks of any kind or promotion will be removed and the user banned. Final decision will be at the discretion of the Taipei Times.