Chen plays Woodstock once more
Gary Chen (陳白堂) has done it again. \nTwenty years ago he opened a bar in the Combat Zone called Woodstock, which he transformed into Brown Sugar, a relatively legendary jazz spot in Taipei's ephemeral nightclub scene. \nNow, in between opening and closing two Roxy's and one Buffalo Town, setting up TU on Fuhsing South Road and relocating Brown Sugar to a spanking new address in the Warner Village area, he has reopened Woodstock where the old Brown Sugar was. Business couldn't be better, even if Chen does find himself where he started out. \nChen is looking over the bar on Wednesday, around 10:30pm, checking that preparations for the opening night, tonight, are in hand. \nThe new Woodstock sign has already been put up, illuminating the wood cabin exterior of the club. Stepping inside through a sliding doors, the dominant colors seems to be muted grays and blacks. There is a moderately-sized dance area and a stainless steel bar. \nThen, a range of colors toward the red-end of the spectrum hits you. There are exotic drapes embroidered with glitter, soft seating and intimate spaces, set off by curtained private rooms featuring lounging couches and cushions. Chen says the interior of the new Woodstock is "like a hilarious lounge" -- and he's not wrong. \nHe poses for photograph on a Mandarin-style couch and discusses the various businesses he is involved in, his partners in Brown Sugar Group -- "Great, just great" -- and tells a few stories from his 20 years or so in the capital city's entertainment industry. His main preoccupation is, however, he says, collecting Song and Ming dynasty porcelain. "You know, property is so expensive." \nAsked why he is reopening Woodstock, Chen says it is the right time. "Disco's come back and now I'm going back. We played really good music. The style was rock n' roll. There were a lot of foreigners and locals too. They all came, it was very international." \nThe new Woodstock, he says, will be more of the same, but with the lounge format that has become ubiquitous. He will once again take to the decks and play what he calls the best music of the last 50 years, in tandem with DJ Dark (mixed styles) and local techno alternative hero DJ Alan. \nClearly, Chen is attempting to cover all the musical bases with his new bar and has one eye on his Chinshan South Road neighbor and former business partner in previous incarnations of Roxy 99, Lin Wei, who has been packing them in regularly for the past four years. \n"I like Roxy. I told Lin Wei that it will be the most fun this way. More people will come to the south side of the city and that could mean up to 3,000 or 5,000 people around here every night." \nTonight will be a case of deja vu for Chen, and to celebrate, he will be offering free fruit punch at the club's relaunch. \nWoodstock opens 7pm to 5am, seven days a week, and serves Western-style food. It is located at 218, Chinshan South Road, Sec 2, Taipei (台北市金山南路2段218號). Tel: (02) 2322 4677.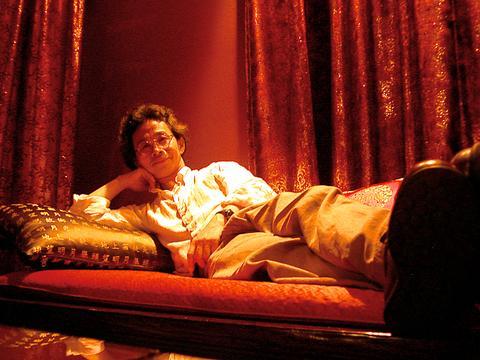 Gary Chen takes it easy at his newly reopened old bar, Woodstock.
PHOTO: JULES QUARTLY, TAIPEI TIMES
Comments will be moderated. Keep comments relevant to the article. Remarks containing abusive and obscene language, personal attacks of any kind or promotion will be removed and the user banned. Final decision will be at the discretion of the Taipei Times.