Restaurant of the week: Chili House
Address: 250-3, Chunghsiao E. Rd., Sec. 4, Taipei (台北市忠孝東路四段250-3號)
Telephone: (02) 2772-1701
Open: 11:30am to 2pm, 5:30pm to 9:15pm
Average meal: NT$250
Details: English menu, Credit cards not accepted

For more than half a century, since it moved from Chengdu, Szechuan Province to Taipei, Chili House has been considered the most authentic place for Szechuan cuisine. It is a favorite of Taipei's gourmets and mainlanders who miss their hometown flavor.
It is also known for its very reasonable prices. Frequent guests include politicians John Chang (章孝嚴) and James Soong (宋楚瑜). As implied by its name, Chili House makes sure you cry, sweat and have your nose running with its genuine hot spicy food, but keeps you saying "yum, yum" while eating.
You really can't say that you have been to Chili House if you haven't tried their trademark wontons in red chili oil (紅油抄手). In a small bowl, six solid wontons sit in bright red oil. The red color indeed stimulates the appetite. According to manager Wan Fu-mei (萬富美), it takes almost five hours to make the red oil according to its secret formula. "We have our own recipe for soy sauce and red oil, which hasn't changed for 50 years," she said.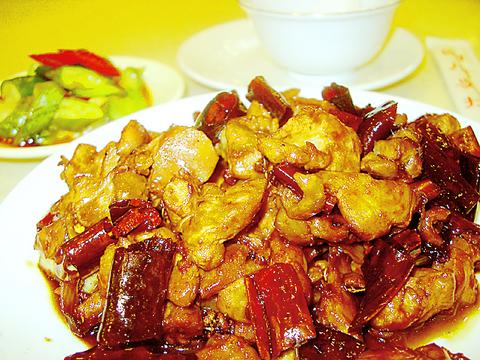 Kung-pao chicken doesn't come more authentic than at Chili House.
PHOTO: YU SEN-LUN, TAIPEI TIMES
In fact, wonton in red oil is such a common snack that it is widely available in night markets. But the way it tastes at Chili House makes the dish stand out and makes Japanese tourists come all the way to taste the NT$55 dish.
Fragrant, spicy and hot are major tastes of Szechuan food. The secret lies in chili, pepper and the unique Szechuan pepper (花椒). With vinegar, soy sauce and sugar added, it becomes a Szechuan-style sauce.
For variation, there are wontons in hot and sour oil (酸辣抄手) and wontons in spicy beef broth (麻辣抄手). For these two dishes, the red oil amounts are doubled. The wontons basically soak in the red thick soup and consequently they have double the spiciness. One good tip before ordering is to look at the number of chili symbols beside each dish on the menu. The one to three chilis range indicate light, medium and super spicy. A star sign means dishes that are originally spicy can be prepared in non-spicy versions.
Kung-pao chicken (宮保雞丁), chicken stir-fried with dry chili and peanuts, is another very common dish prepared authentically here. According to the menu there is only one chili against the name. The distinction lies in the taste of Szechuan pepper and the taste of the chicken, not in spiciness, said Wan.
Other recommendations include sauteed eggplant with frog in chili sauce (茄子田雞), with two chili signs, and braised grouper in chili garlic sauce (大蒜黃魚), also with two chili signs. For less spicy dishes, try fried cod with soybean crumbs (豆酥鱈魚) and steamed spicy ribs and rice (粉蒸排骨). Both are labeled with one chili and a star sign.
Comments will be moderated. Keep comments relevant to the article. Remarks containing abusive and obscene language, personal attacks of any kind or promotion will be removed and the user banned. Final decision will be at the discretion of the Taipei Times.