Final nail in the coffin for nakashi
The death of local music celebrity Wang Ying-tan early this month not only robbed Taiwan of an offbeat but talented musician, it took away one of the last exponents of the nation's earliest forms of pub rock known as nakashi music
While traditional Taiwanese pub-rock was a cry from the folksy/pop-laden style of music that was to make Wang Ying-tan (王英坦), and his longtime musical partner Lee Ping-hui (李炳輝) household names as the pop duet, the King of Kinmen (金門王), the pair were once the nation's leading exponents of such music.
Wang and Lee hit the headlines in 1997 after their album, Walking to Tamsui (流浪到淡水), took the local music scene by storm and shot to number one in the local pop charts. Sales had surpassed the 700,000 mark within two months of release.
"I figured we'd possibly sell about 200,000 copies of the CD. I was told by company executives, though, not to spend too much money on them as they thought the album would flop and only clock up sales of between 30,000 and 50,000 ," said Landy Chang (張培仁) of Magic Stone Records (魔岩唱片出版), the company that released their album. "Almost overnight the duo became the most unexpected top pop act that I can recall."
Tsan Yi-cheng croons away at a music store.
PHOTO: CHEN CHENG-CHANG, TAIPEI TIMES
For 28 years prior to being spotted by singer/songwriter Chen Ming-chang (陳明章), however, the duo entertained crowds with the minor tone, two-beat, four-chord, accordion and guitar-driven style of music known as nakashi (那卡西) at the numerous teahouses and bars in and around Tamsui.
When Wang died unexpectedly of a heart attack early last month Taiwan not only lost one half of its most unlikely pop acts but many of the nation's nakashi musicians feel that it also laid to rest one of the very few remaining vestiges of Taiwan's hybrid form of pub rock.
While there are many stories surrounding the history of nakashi, according to Tsan Yi-cheng (詹益城), who was once one of Taiwan's most recognized faces on the nakashi scene, the most credible of these stories gives credit to Japanese sailors during the early 1900s for inventing this primitive form of pub rock.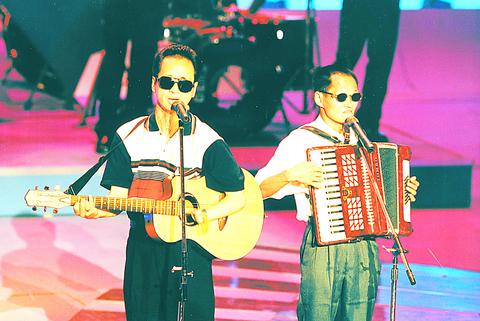 King of Kinmen duo, Wang Ying-tan, above left, and Lee Ping-hui, perform last year.
PHOTO COURTESY OF MAGIC STONE
"Nakashi originated in port towns such Tamsui and Keelung. Japanese sailors would come ashore and, being sailors, frequent bars. Of course there were no tape or CD players, so the sailors had to make their own entertainment," Tsan said. "So they performed music which took on aspects of enka, or Japanese country music and filled it with lyrics about roaming the world and having a girl in every port."
According to Tsan, the result of this odd musical coupling was unlike anything people in Taiwan had ever seen or heard before. Until the Japanese sailors came along, local pub and teahouse bands were still using traditional Chinese classical instruments rather than western ones.
"With their guitars, accordions and appetite for good times, Japanese sailors revolutionized bar and teahouse music in Taiwan," the Peitou-based nakashi star said. "They enthralled crowds in teahouses and bars and, of course, drove the women wild with their contemporary musical style." As Japan's colonization of Taiwan continued, nakashi slowly became the music of choice for both the occupying forces as well as the Taiwanese.
As more locals began to pick up accordions and guitars, however, nakashi slowly became localized. Instead of drawing on enka for inspiration, Taiwan's nakashi players added elements of Fujienese and Taiwanese folk to the tunes.
Even after Japan surrendered to the Allied Forces in 1945 and popular North American culture began to influence Taiwan, nakashi continued to prove incredibly popular. So much so that by the late 1950s, local nakashi musicians had built up substantial fan bases.
"It sounds a bit odd, but we were like pop stars. We didn't release records, but people still stopped us on the street to say `hello.' And the women, well, some of the guys used to have a different one in each of the bars or teahouses they played," said Chen Sen-chun (陳森泉), a former nakashi star who now teaches nakashi technique to musicians. "It was also quite profitable as you could earn upwards of NT$30,000 a month if you had good crowds and could perform all the songs they wanted to hear. That could be difficult, but as nakashi is performed in minor tones, a novice could even sound quite good ... as long he knew all the lyrics, that is."
Although many of the tunes the men of nakashi performed were simply cover versions of other people's songs, they certainly weren't averse to penning their own creations -- many of which, although far from political, were awash with social commentary.
"It was illegal to say rude things about the government, but the guys used to fill the songs with humorous tales of Taiwanese society," said Chung Chen-ta (鐘成達), a member of the award winning-band, Labor Exchange (交工樂隊) and a student of nakashi. "I figure that as most of the cover versions they performed were about love, the change in lyrics and topics was a great relief to many of them. After all, there's only so many times you can play someone else's song without getting frustrated and bored."
By the mid-1980s, many of the nakashi acts had disappeared from teahouses and bars in Tamsui and Keelung, and with urban renewal programs seeing parts of the Wanhua district of Taipei leveled, the nakashi men were slowly running out of venues in which to perform. The only place nakashi continued to prove popular was in Taipei's northern suburb of Peitou, where nakashi acts could be caught performing until as recently as the mid-1990s.
"I guess it has a bit to do with the Japanese influence in Peitou remaining so strong. But I reckon what really killed off nakashi was when the old bath houses and hotels went up market, installed karaoke machines in the rooms and tried to shed their seedy images," Tsan said.
With a lack of venues from which to ply their trade, people like Tsan and Chen are now finding that the only time they get to perform their music is for the media.
"There's not much demand for nakashi performers anymore, as the hotels and bars all have karaoke machines, which are cheaper than employing a band. And of course the customers don't have to tip," Chen said. "About the only time we perform now is when a television channel is producing a documentary."
While it could be argued that the death toll rang for nakashi many years before Wang's death, Chen feels that the popular musician's passing has destroyed any possibility of a nakashi revival.
Magic Stone's Chang agrees.
"I don't think it is possible that a band would be able to pull off what the King of Kinmen did, as the sense of Taiwanese-ness is not as strong anymore," Chang said. "With the DPP in power and martial law long lifted, there is little call for Taiwanese-ness. It's like nobody cares about such things anymore."
The same cannot be said of Japan, however, where its form of nakashi, is enjoying a resurgence in popularity, especially among the young.
"In Japan, enka music has recently become pretty popular, with NHK and other TV stations airing programs about enka music," Hsiao Ying (小應), whose band, the Clippers (夾子樂隊) are one of the only bands to incorporate the minor tones and simplicity of nakashi into its brand of politico-new wave music. "And because of this, young Japanese are all of a sudden interested in a style of music that there grandparents used to listen to."
According to Ying, there is little chance of Taiwan's fashion-conscience Generation X-ers taking a sudden interest in the music that their grandparents grew up with. "Japan's kids are much more open to different forms of music. They don't snub their noses in the air and dismiss something simply because it's unfashionable or old like they do in Taiwan," he said. "It's a pity. Nakashi is a crucial part of Taiwan's musical history, and one that should not be forgotten, ignored or replaced by other forms of music simply because they're more fashionable."
Comments will be moderated. Keep comments relevant to the article. Remarks containing abusive and obscene language, personal attacks of any kind or promotion will be removed and the user banned. Final decision will be at the discretion of the Taipei Times.