Huashan's heart of darkness
Accusations that the Huashan Arts District is a haven for an orgy of substance abuse and debauchery seem to stem more from concerns of political advantage than from real moral indignation
Sunday's claims of a foreigners' Ecstasy party by a local cable news network, a local newspaper and two Taipei City councilors was likely the result of a bungled political attack on Taipei Mayor Ma Ying-jeou (馬英九). While it failed to damage Ma's reputation, it fairly soiled that of Taipei' s Huashan Arts District (華山藝文特區), the local arts community and the foreign community. \nThe attack was spearheaded by DPP councilors Wang Shih-chien (王世堅) and Yan Sheng-guan (顏聖冠), who assailed Taipei City for lax drug enforcement at the Huashan Arts District at a press conference Sunday afternoon. In recent months, Wang has taken the stance of a moral crusader, repeatedly attempting to embarrass Ma over the presence of sex and drugs in Taipei. Late last year, Wang confronted Ma with cameras and a Japan sex tourist's guide to Taipei. In April, he again tried to discredit the mayor by releasing his own personal blacklist of the top 10 Ecstasy clubs in Taipei. \nWhen the councilors learned that the arts district was actually under the administration of the central government, they changed their tack, lashing out at local artists and foreigners, blaming both for local drug problems. The councilors also lambasted the local police precinct, claiming lax enforcement. \nThe way the attack was staged, making use of footage taken during the party, which was used at the Sunday press conference and aired on Power News, give grounds for strong suspicion that the city councilors conspired with the cable station to produce a video tape that created the appearance of drug use at the party. Both Power News and Wang deny this, but their stories regarding the origin of the video do not match. \nChou Chen-hou (周振侯), the local news chief at Power News responsible for the report, told Taipei Times that Power News sent "several reporters" to the Huashan party, that the report was "all done by us," and denied any connection or communication with either Wang or Yan. \nWang, meanwhile, told Taipei Times that the video tape was given to him on Sunday morning by "a 30-something teacher at a nearby college" who simply could not tolerate the noise and "mad behavior" that took place at Huashan on weekends. Contradicting Power News, Wang said that this mysterious informant had distributed the videotape to both him and "different media." He also claimed to have first decided to hold a press conference after seeing the Power News report. \nPower News first aired its video at noon Sunday. Wang, accompanied by Yan, displayed his video three and a half hours later at a press conference. \nMoreover, the Power News broadcast closely mimicked Wang and Yan's rhetorical strategy for attacking Ma, first making accusations of drug abuse at Huashan, then blaming police and Taipei City for not dealing with the problem. \nPower News was also the only station to air footage of Wang and Yan's press conference, and later in the day tracked down Mayor Ma for comment on the Huashan incident. \nAt the Sunday press conference, Wang complained, "Taipei is becoming a foreigners' drug paradise," before going on to compare it to "Shanghai of one hundred years ago." \nIn regard to the arts district, community and specifically Saturday night's event, he declared, "art is a false name for this, it is actually just about [the drug] Ecstasy!" \nAlthough Yan, who, like Wang had only seen the videotape, was seen on TV Sunday screaming at event organizers, yelling, "What kind of event is this? People in the middle of the night smoking marijuana and taking Ecstasy!" \nWang also criticized Taipei City, pointing at the videotape and yelling, "why aren't the police doing anything about this?" \nMany of Wang's statements, notably those attacking foreigners and Taipei City government, were mirrored closely in the media. Sunday afternoon and evening, Power News (中天電視) led its news broadcast with an exclusive segment on an "Ecstasy party" at Taipei's Huashan Arts District the previous night. The report highlighted foreigners and local artists as "under the influence of Ecstasy" in clips displaying African drumming, dancing and fire twirling. It further described Huashan as "a place where foreigners gather, so it's not strange that there was the selling and buying of drugs going on." \nSunday's front page headline of the China Times Express (中時晚報), which followed this lead, read: "Foreigners on Ecstasy invade Huashan Arts District." \nThe happening targeted by these reports was an outdoor African drum circle organized by the SunSon Theatre (身聲演繹社) at Huashan from 8:30pm Saturday until around 5am Sunday morning. The drum circle has been held for at least fourteen months on a monthly and bimonthly basis, and has attracted numerous local artists to its ranks. On this occasion, it was accompanied by electronic music. \nClaims made by the city councilors and the media regarding drug use at the event were eventually found to have little or no basis. A patrolling police squad car drove through the event at 10:30pm Saturday night, finding no suspicious behavior. A police report released yesterday declared that no evidence of drugs was found in a search conducted the morning after the party. Police records also show that no complaints of noise or any other disturbance were made by area residents on the night of the event. \nWang's own position as a moral crusaders is also called into doubt. When compiling his black list of clubs in which drug abuse was common, he omitted a club infamous for drug procurement that happens to be located within his election district. \n"[One of the discos omitted from the list] is in Wang's election district. Many people believe that he has some sort of connection with that club, but nothing has ever been proved," said one local DJ. \nWang composed his nightspot blacklist through evidence gathered by his aides, who he sent out to "investigate" various discos. He made no mention of using such tactics in obtaining the Huashan video, however. \nSubsequent to the reports, Taipei's arts community has attempted to discredit the attacks through a Monday press conference at Huashan and a hearing yesterday at the Legislative Yuan. Even so, those present at Saturday night's drum circle claim that substantial damage has been done by the Power News report that cannot be easily repaired. \n"Can you imagine how upsetting it is to be shown on television, to have them say you are on drugs, and to have that be completely untrue?" said Lin Hung-chang (林宏璋), an art professor and sponsor of the drum circle. \n"Many people were very upset by this. It was very damaging to people who had their faces shown on TV, especially the foreigners. And now, we've shown it's not true, but this story is not even in the news anymore, or else it's buried in the back pages," he said.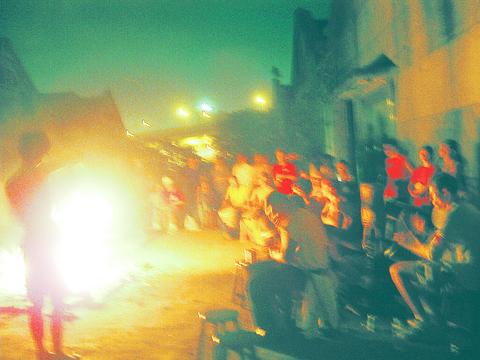 One person's opportunity to create music is another person's opportunity to sling mud. Music enthusiasts share rhythm and a fire at Huashan Arts District last Saturday night.
PHOTO: YU SEN-LUN, TAIPEI TIMES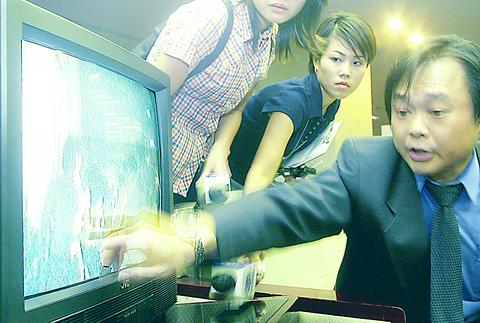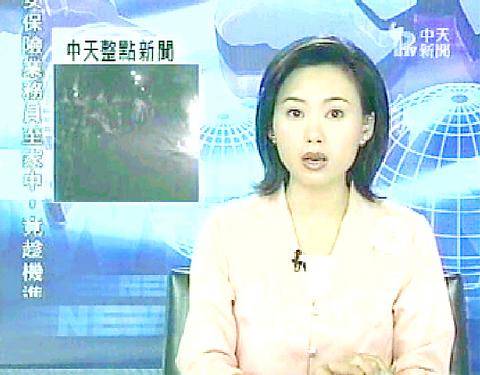 Video grabs were broadcast on a local news channel accusing participants of drug use.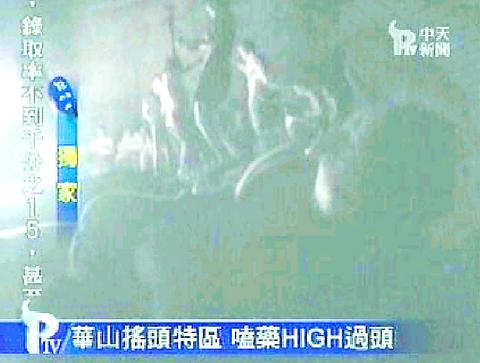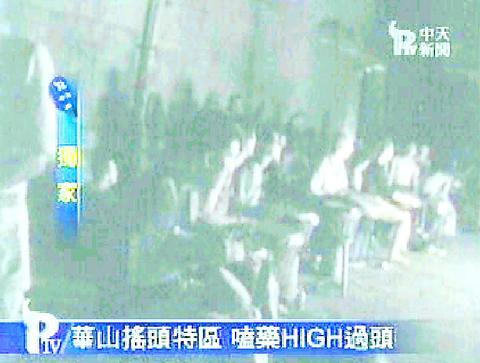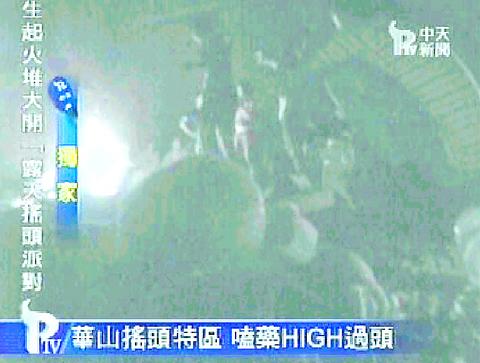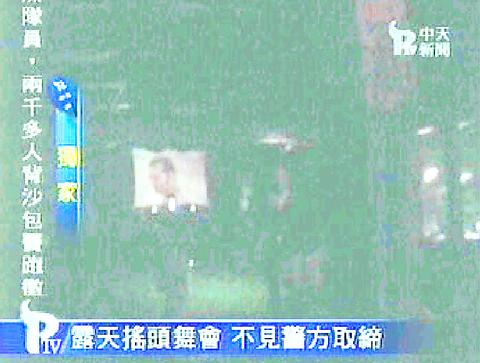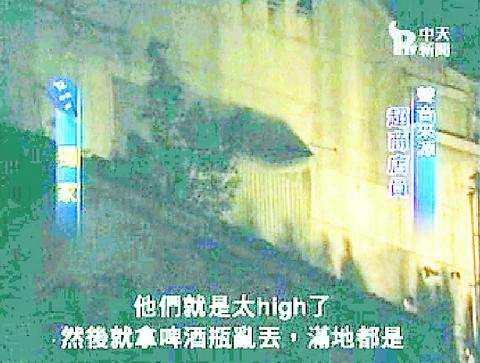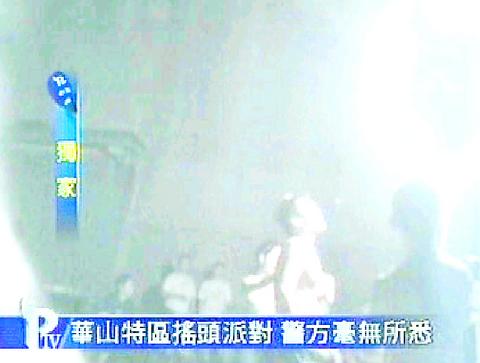 Comments will be moderated. Keep comments relevant to the article. Remarks containing abusive and obscene language, personal attacks of any kind or promotion will be removed and the user banned. Final decision will be at the discretion of the Taipei Times.