Restaurant of the week: Mykonos Taverna 希臘風情
Address: 8 Lishui St., Taipei (台北市麗水街8號).
Telephone: (02) 2396-9388.Open: 11:30am to 12am.
Average meal: NT$450 to NT$500.Details: Credit cards accepted. English menu.
As the only Greek restaurant in town, you can rest assured that a meal at Mykonos Taverna will be a special occasion. Owner Mike Waldorf has gone to great lengths to bring the authentic Greek taverna experience to Taiwan, and thankfully the greatest emphasis in doing so was placed on the food.
The flavors are of the Greek island regional variety, which is not to be confused with continental Athenian cuisine. Discriminating palates will be able to tell the difference, with the sparse use of spices and liberal doses of olive oil, and Waldorf proudly tells of the tears his food brought to the eyes of a homesick Greek salesman.
If the effect on Greek visitors, including singer Nana Mouskouri a few months ago, is powerful enough to recall "mama's cooking," it is because the recipes have not been tampered with to suit local taste buds. Mykonos serves the real thing and it is delicious.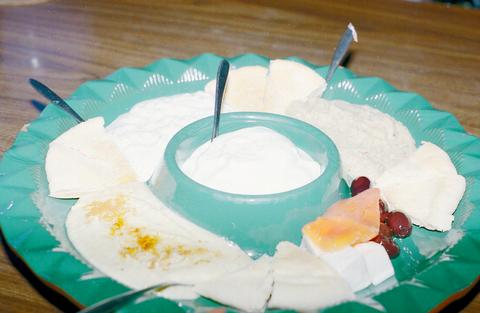 Mykonos Taverna's combination appetizer platter offers a little of quite a lot.
PHOTO: MAX WOODWORTH
Begin a meal with a selection of the house's homemade classic mezed, or appetizers, including hummos, tzatziki, eggplant dip, Greek yogurt and feta cheese. The tzatziki is especially zesty, packed with loads of diced cucumber and garlic, and the yogurt is a direct descendent of the original yogurt culture used when the restaurant opened nine years ago. Try them individually or as a combination platter (NT$400). For another Greek classic, try the tiropita (NT$240), a sort of cheese pie with a wonderfully flaky crust and soft salty cheese. A variety of this treat is made with spinach, and is called the spanakopita (NT$250).
Make no mistake, Greek food tends to be on the heavy side, and Mykonos does not hold back in its use of cheese and olive oil. This is especially true of the main courses. The moussaka is prepared with exquisite lamb meat, a thick layer of beschemel, aubergine and plenty of olive oil and fresh oregano and could serve as an entire meal in itself. Only slightly lighter is the vegetarian moussaka. Meat lovers should try the stifado (NT$490), a dish of braised beef marinated for three days in red wine and onions and served with saffron rice. Another choice would be the souvlaki (NT$240), or barbecued lamb on a stick topped with the house tzatziki.
Mykonos is the type of place that diners will feel compelled to linger over a long meal. The murals of Greek island tourist sites, the breezy interior thanks to open terrace doors and the food can lull one into the Mediterranean rhythm.
Comments will be moderated. Keep comments relevant to the article. Remarks containing abusive and obscene language, personal attacks of any kind or promotion will be removed and the user banned. Final decision will be at the discretion of the Taipei Times.