Get into the flow
Gao Xingjian, as the hero of Chinese-language literature, sees a literary future based in the Zen-based observation of the individual
Occupying much of the media spotlight over the past week, Gao Xingjian (高行健) successfully presented himself as a versatile artist to his Taiwan fans. To the thousands who listened to his speeches, including officials such as Taipei Mayor Ma Ying-jeou (馬英九), book fans and those who came simply out of curiosity,the Nobel literature prize laureate seems more than just a writer whose heart is set in books. To them, he is also an artist, a philosopher, and an eloquent literary theorist. These sides of the man were on evident display during his two major speaking events at the Taipei International Book Exhibition, one on the future of Chinese-language literature and the other on his personal path to writing.
What audiences seemed most curious about, however, was the man behind the works -- his writing habits, his views of love, desire and women. To such queries, Gao remained mostly tight-lipped, evading questions with wit and elegance.
As the first Chinese writer awarded the Nobel Prize for Literature, Gao has suddenly found himself in the awkward position of being the pride of Chinese people and a beacon for the future of Chinese-language literature. But Gao seems disinclined to play the role of mentor for an entire people. Gao points to the ideas in his book Without ism (沒有主義) to show readers his basic principles. The future of Chinese-language literature is incumbent on the death of ideology and of excessive ego-centrism, he says. He calls for a return to the individual and self-reflection along the lines of Zen philosophy.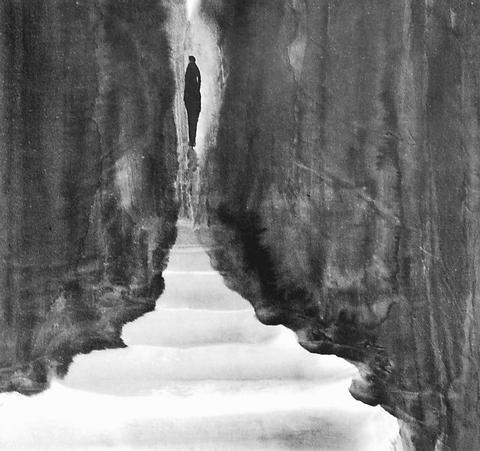 The Night Walker, by Gao Xingjian, was one of many unsold paintings at a Taipei exhibition seven years ago that was given as a gift to his Taipei friend, Feng Yi-kang.
PRINT COURTESY OF FENG YI-KANG
"Chinese-language literature should take Without ism as its starting point," he says.
Commenting on Chinese literature in the 20th century, Gao said it was tightly related to revolution and based on a constant negation of previous art forms and art concepts. "Such a revolutionary concept has given rise to a flourishing of modernist literature in the early decades of the century," he says. "But the same concept, which has prompted post-modernism over the past decade, is undermining artistic creation." Gao says post-modernism is now merely a rigid principle of subversion that has brought literature to a dead end and allied the art with crass commercialism, he says.
Gao is a writer who believes that literature should not have a mission. Instead, literature's only goal should be the pursuit, perception and portrayal of truth.
In order to achieve this, Gao says "we don't have to extend such negation-based theory, nor should we take a Nietzschean path to bring down everything," he says. "Perhaps we should take a calm view, as in Zen, to look at history, culture and our predecessors," he says.
A return to the individual, Gao says, means going back to human nature, which is full of weakness, fallacies, anxiety and wanton thoughts. "Observing humans and observing oneself yields a clear-minded starting point for literature," he says.
One of Gao's favorite conversation topics is his own style innovation, which may be described as linguistic flow.
In his speech titled "My Search -- My Road Toward Writing," Gao says his works tend toward a return to language itself. "The truth comes from human emotions, not from texts," he said. Gao says he had attempted to capture ongoing human consciousness and emotions with words in the tradition of stream of consciousness masters [James] Joyce and [Marcel] Proust. "But I realized stream of consciousness may often become a string of words connected without the rules of language, making it difficult for readers to grasp," he says.
Gao says he has been looking for what can be called a flow to Chinese language, one "that follows existing linguistic rules but also can be innovative and flexible enough to plumb the abundance of human emotions.
"I avoid using terms imported from European languages and Chinese idioms and quotes, because they have established meanings which may limit the use of words to generate new feelings."
This search for a flow to Chinese language is apparent in his lengthy novel Soul Mountain (靈山), which Gao describes as "a long monologue to one's inner self."
For Gao, vivid literary language relies on the voice, tone and intonation more than the basic rhetoric of the words themselves. From this belief came his special writing habit to speak his texts into a tape recorder. Gao says the first draft of his writing is always his recorded voice.
Music and voices are always crucial elements to the writing. "I first choose the music, mostly Bach or Baroque music, and preferably something I'm not too familiar with, so that I have more space for imagination. And then I talk along with the music, sometimes in complete darkness. As long as the red light indicating that the machine is recording is still on I feel safe. Sometimes I can talk like this for 10 hours," says Gao.
Although Soul Mountain received better reviews, many of Gao's Taiwan fans prefer to focus on his autobiographic One Man's Bible (一個人的聖經), in which the protagonist's abundant sex experiences can be found in many chapters in the book.
"Are those your true experiences?" "How many girlfriends did you have?" "How do you define love and desire?" "How do you describe women?" These questions were repeatedly raised by the audience during Q&A sessions of both speeches.
Gao's answers were both elusive and reflective. He says that as a novelist his is talking about a fictional story. But he also "never passes up a chance to understand women."
"As a male writer, women are always what men pursue, and their world is always a mystery. So I always tried to present as many views as possible on women's worlds.
"Love is so holy, so confusing. It makes a man anxious, tormented. Love, how can I define it?" said Gao on a final, romantic note.
Comments will be moderated. Keep comments relevant to the article. Remarks containing abusive and obscene language, personal attacks of any kind or promotion will be removed and the user banned. Final decision will be at the discretion of the Taipei Times.