General retreat
The iron fist of the old KMT regime has been idolized in thousands of buildings and courtyards around the island. But the statues of Chiang Kai-shek are falling prey to a rise in Taiwan nationalism and a decline in KMT fortunes
Tzeng Rung-chien is a man with a mission. He's collecting the bits of Taiwan's past that nobody else wants -- Chiang Kai-shek statues.
Tzeng is mayor of Tahsi township, a small town an hour south of Taipei that attracts around 1.5 million tourists a year, most of whom come to pay their respects at Chiang Kai-shek's grave at the nearby Tsuhu Lake (慈湖).
He's a cordial man with a ready smile, and if you get a moment of his time he'll no doubt recount the story of how, last year, a visiting Russian television crew complimented him on his efforts to save recent political history from oblivion.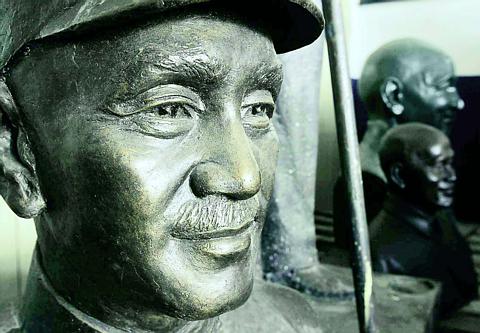 Sculptures of Chiang Kai-shek held in storage in the city of Tashi. City leaders plan to build a park to display many of the statues which Taiwan citizens no longer want to veiw in their neighborhoods. An estimated 43,000 of these statues were made and displayed around the island.
Photo by David Hartung
"They said, `That's what we should have done with our statues of Lenin, instead of just destroying them all,'" Tzeng said.
Tzeng has his work cut out for him. He reckons that Taiwan is home to some 43,000 statues of the former generalissimo. They're scattered around the island in schools, government buildings and parks; essentially wherever there's a public space in which people gather. For most Taiwanese today, they are anachronisms.
Chiang was president of the Republic of China on the mainland from 1926 until 1949, when his government was defeated by Mao and his indefatigable long-marchers. He ruled Taiwan with an iron hand as the president of the Republic of China in Taiwan from 1950 until his death in 1975. And for many Taiwanese his name is synonymous with all that is worst of the old-style KMT government.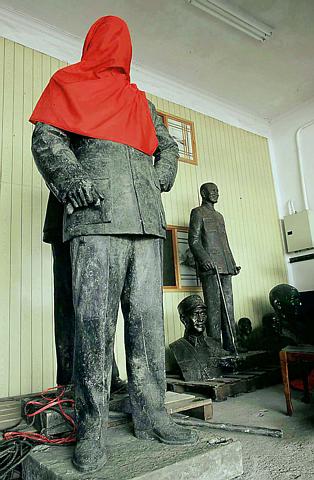 The Chiang era was a time when the island's predominantly Taiwanese-speaking population received all their news and entertainment in Kuoyu, when martial law imposed travel restrictions on the local population, when all expressions of native culture and dissent were crushed by a government stacked with mainlanders claiming to govern free China.
But if Taiwan has come a long way from those "bad old days," the break with the past has been more evolutionary than revolutionary, a fact brought to life last week during protests by James Soong supporters in Taipei, many of whom were mainlanders.
So Chiang's smiling face still adorns the NT$1000 note (though there are plans to change that), and removing him from the public sphere is a sensitive process that if done too aggressively might spark off latent tensions between waishengren (mainlanders) and benshengren (native Taiwanese).
And that's where someone like Tzeng comes in.
"There are a lot of statues out there that no one wants," he says, "but people want to know that they're going to a good home. They want to know they aren't going to be destroyed."
Tzeng's "good home" is an art park, funded in part by the departments of transport and tourism and education, where he plans to display 200 of the best statues from around the island. The first of the statues, donated by the DPP Kaohsiung government, arrived at the park last month.
He says he got the idea when a dispute broke out at Taipei's Normal University between students who wanted a Chiang Kai-shek statue removed from in front of the university gates and conservative elements in the university faculty who thought it should remain.
For Tzeng, who is anxious to distance himself from any political motivations, the statues should be appreciated for their aesthetic qualities. "This is like putting a section of our history on display," he says.
"History is history, politics is politics. Some of these statues are works of art. They were created by artists."
Former journalist and now Tzeng's PR head, Wu Che-chung, agrees. "Chiang's rule is a fact," he says. "It shouldn't be a scar. We should be able to display his statues for aesthetic reasons.
"They were all hand-crafted," says Wu, as he stands in a garage attached to the local government buildings, where the 12 bronze statues that have been collected so far stand in a forlorn huddle.
"Back when Chiang ruled the country, he was like god. The craftsmen that made these statues had to be very careful to do a good job or they'd have been in deep trouble."
Wu points out how each of the statues shows Chiang at a different point in his life, in a different pose. The expression is the same in each: a tight-lipped smile, the strong chin jutting out purposefully.
"Look at this one," he says, pointing at a youthful bust. "This is Chiang back in China when he was a three-star general." And then he points to a life-size bronze that looks eerily like a terracotta warrior. "That's Chiang as President of the Republic of China here in Taiwan."
Tzeng and Wu are coy about what will happen to the thousands more Chiang Kai-shek statues around the island once their art park is complete in around two years time. But they are adamant that they shouldn't be destroyed.
"They're all works of art," says Tzeng. "We have to respect the people who created them."
Comments will be moderated. Keep comments relevant to the article. Remarks containing abusive and obscene language, personal attacks of any kind or promotion will be removed and the user banned. Final decision will be at the discretion of the Taipei Times.