Ryan Hass On Taiwan: Addressing America's skeptics in Taiwan
During a recent visit to Taiwan, I encountered repeated questions about "America skepticism" among the body politic. The basic premise of the "America skepticism" theory is that Taiwan people should view the United States as an unreliable, self-interested actor who is using Taiwan for its own purposes. According to this theory, America will abandon Taiwan when its interests are advanced by doing so.
At one level, such skepticism is a sign of a healthy, well-functioning democratic society that protects the right for vigorous political debate. Indeed, around the world, the people of Taiwan are far from alone in debating America's reliability and motives.
A series of events have sharpened these debates in Taiwan. America's hasty withdrawal from Afghanistan served as a shock for a society that relies so heavily on America's support for its own security. Russia's February 2022 invasion of Ukraine similarly provided a sobering reminder of the real risks of conflict. The Trump administration's push for TSMC to invest in Arizona also prompted America's skeptics to question whether Washington's goal is to hollow out Taiwan's dominance of semiconductor production and transfer that capacity to the United States.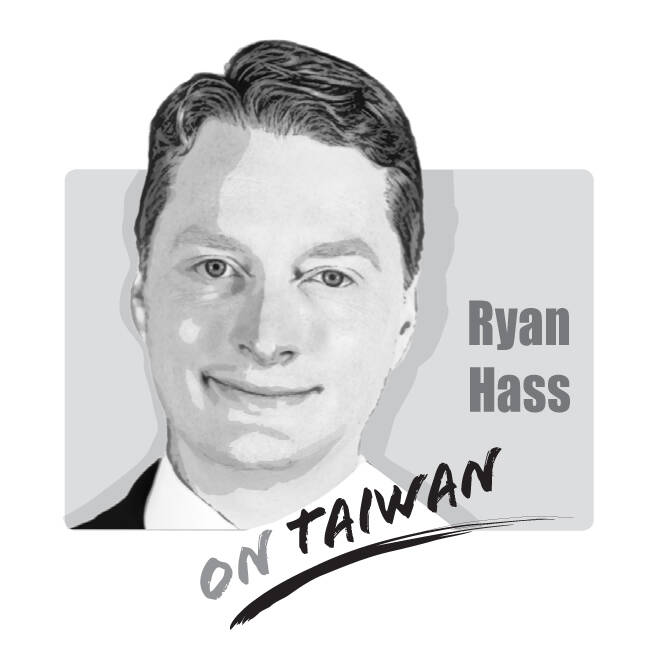 I expect debates around America's motives and reliability to grow more intense over the coming year. Part of this will be a function of Taiwan's upcoming presidential and legislative elections. Some Taiwan politicians will see political advantage in questioning the wisdom of the Tsai (蔡英文) administration's deep investment in relations with the United States.
Part of the growing debate inside Taiwan will be a function of America's political cycle. Despite robust efforts of members of the Trump administration to strengthen US-Taiwan relations from 2017-2021, it is now unambiguously clear that President Trump does not hold any conviction toward Taiwan. Rather, as memoirs from his top advisors make clear, Trump views Taiwan in transactional terms.
Beijing also has its own incentives to stoke "America skepticism" in Taiwan. Part of Beijing's goal is to sow doubt among Taiwan's public that they can depend upon anyone for their security. Beijing would prefer for the Taiwan public to conclude that they are alone to contend with China, that resistance is futile, and that the sooner the people of Taiwan accept unification on Beijing's terms, the quicker they will be able to enjoy peace and prosperity.
Given this confluence of factors, it will be important for leaders in Taiwan and the United States to find their voice. The goal should not be to impose conformity of thought on how the people of Taiwan should view America and its intentions, but rather to ensure that healthy debate be grounded in facts about American intentions.
Here are several relevant facts.
First, President Biden has declared publicly on four occasions that the United States would come to Taiwan's defense if attacked. His advisors have clarified that Biden's statements do not reflect a change in policy. Nevertheless, in my experience, when a US leader repeatedly asserts his willingness to send American soldiers into harm's way, he means it.
Second, America's approach to Taiwan has been guided by enduring interests that have transcended Democratic and Republican administrations. The principal objective of American strategy since the end of World War II has been to prevent conflict and preserve peace and stability in the Taiwan Strait. Washington's goal has not been to mediate or resolve cross-Strait differences. It has been to insist that any resolution be reached peacefully and in a manner that accords with the wishes of the people of Taiwan.
In recent decades, the United States has sought to support Taiwan's economic dynamism, its democratic institutions, and its dignity and respect on the world stage. Indeed, Taiwan has gained greater recognition by world leaders in the last two years than at any previous period in the post-World War II era. While Beijing's bullying has contributed to this outcome, credit also is due to the Biden administration for elevating awareness of the importance of Taiwan to regional security and the global economy.
Third, there is broad and deep support in the United States for Taiwan. America's support does not hinge on the whims of any individual, even one as powerful as the president. The American people are deeply invested in Taiwan's success. This is reflected both in public polling and in expressions of support by members of Congress. Members of Congress used legislation to insulate America's alliances during the first Trump administration. They could do so again if Trump or anyone with similar instincts wins the presidency in the future.
Fourth, there is deep and constant communication between officials in Washington and Taipei. If Taiwan's leaders have questions about the intentions of American actions, they will ask, and they should. American officials will respond.
Fundamentally, America's global leadership rests on its ability to exercise influence and project power in every corner of the world. This capacity is underpinned by America's global network of alliances and security partnerships. These relationships hinge on the credibility of America's security commitments. And America's relationship with Taiwan is a bellwether of the credibility of its commitments to its partners.
America's support for Taiwan is not an act of charity or goodwill. It is not transactional or transitory. It is grounded in self-interest and shared values. This makes America's enduring support for Taiwan a safe bet.
Ryan Hass is a senior fellow, the Chen-Fu and Cecilia Yen Koo Chair in Taiwan Studies, and the Director of the China Center at the Brookings Institution.
Comments will be moderated. Keep comments relevant to the article. Remarks containing abusive and obscene language, personal attacks of any kind or promotion will be removed and the user banned. Final decision will be at the discretion of the Taipei Times.