Stephen M. Young On Taiwan: Assessing Hong Kong's Continuing Downward Spiral (and its implications for Taiwan)
Let's begin with the bottom line. The sad truth of the matter is that Beijing has trampled on its solemn pledge to grant Hong Kong a great deal of autonomy for at least fifty years. In so doing, the PRC ignored a promise Deng Xiaoping (鄧小平) made to both Great Britain's Prime Minister Margaret Thatcher and the wider world back in the early 1980s. This was at a time when Beijing, under Deng and his successors, appeared to be seeking an equitable accommodation with the West.
I remain puzzled by China's recent policy shift. Was it because Hong Kong was perceived as posing an existential threat to the broader Chinese nation? Was Hong Kong's open and freewheeling economy, backed by a solid English-influenced legal system, simply too much for the micromanagers up north? Or did Beijing's strongman leader Xi Jinping (習近平) just figure it doesn't matter what his predecessors pledged, if it got in the way of his imperial aspirations? Perhaps a mixture of all these concerns. I have also pondered the effect of so many mainlanders passing through Hong Kong for business or pleasure. Did the thought tug at these visitors' minds that here was an ethnically and culturally Chinese entity, enthusiastically embracing many of the universal values that seem so threatening to insulated leaders in the Forbidden City?
Whatever the reason, over the past several years, Xi's Beijing seems to have embarked upon the systematic unraveling of the system that had long made Hong Kong a global magnet for entrepreneurs and companies seeking to do business in the region. China had pledged to leave this system unchanged following the 1997 reversion of the former British colony to PRC sovereignty. The question is what changed? Why does Xi feel so threatened by this thriving trade and banking center? This is especially perplexing at a time when huge numbers of Chinese citizens are now traveling and doing business successfully around the world.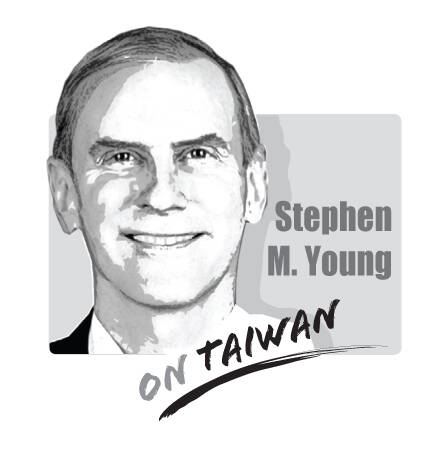 Allow me here to share my own experience with Hong Kong. I have visited and worked in the once British colony multiple times over the past forty years. My first time there was in autumn of 1982. Having just completed a Foreign Service Assignment at AIT Taipei, I was asked to return to Washington to work on the China Desk in the East Asian Bureau of the State Department. My new bosses wanted me to familiarize myself with the territory firsthand before flying home. So I flew from Taipei to Hong Kong and spent a few days talking to friends in the Consulate and meeting several members of the government. The Consul General at the time was Burt Levin.
Friends in the Consulate also arranged for me to meet their British diplomatic counterparts, who were clearly anxious about PRC demands to negotiate the terms of the 1997 handover, an event that still seemed far off in the future to most of us. At the same time, I was impressed by the thriving economy and the bustling trade going on in Hong Kong. There is also nothing like taking the historic Star Ferry from Hong Kong island across the bay to Kowloon.
I went on to visit our Consulates and Embassy in the PRC, taking a 36-hour train from Guangzhou to Beijing in the process. From my window on the train, I was strongly affected by the backwardness of the surrounding countryside. I saw farmers physically yoked up and pulling their plows, because they were unable to afford a draft animal. Another key aspect of Chinese farming then was the use of manure to enrich the soil, in the absence of more sophisticated products. I can still recall the myriad sights and smells of China back then, as it began emerging from the Mao years in an apparent effort to rejoin the modern world.
The PRC officials I met in Beijing all seemed eager to improve relations with Washington, in part as an offset to threats from Moscow, which was still sharply estranged from China. Over the next thirty years, I passed through Hong Kong regularly, as I pursued a career centered around Greater China and the Soviet Union.
I worked on the China Desk twice in my career. The first tour, I was the line officer focused on Hong Kong. Later, as Director of the China Desk, I had overall responsibility for all our missions in the PRC, making relations with Hong Kong an important part of my portfolio. From 2010 to 2013, I was US Consul General to Hong Kong. I deemed this a terrific way to finish up my thirty-three year career as an American Foreign Service officer. After I left Hong Kong and returned to the United States in retirement, I still found opportunities to return to the region regularly.
As US Consul General, I had good relations with a wide spectrum of people. For instance, I enjoyed cordial exchanges with the PRC's MFA representative to Hong Kong at the time, Lu Xinhua (呂新華). I also met regularly with the CCP representative to Hong Kong, Peng Qinghua (彭清華). While we didn't always agree, we did show respect for one another's views. But toward the end of my assignment there, Peng was replaced as party representative by Zhang Xiaoming (張曉明). Displaying a harsher attitude toward Hong Kong, Zhang refused to meet with me, and in a variety of ways displayed contempt for the foreign diplomatic community. This seemed to be beneficial to his career, as he rose to more prominent positions including the Director of the Hong Kong and Macau Affairs Office. He was demoted to the Deputy Director position, however, following the 2019-20 Hong Kong protests. So there still appears to be some measure of accountability in the Chinese Communist Party.
To understand today's China, we must first focus on the role of the paramount Party and State leader Xi Jinping, who continues to consolidate all the major levers of power into his own hands. Is Xi so insecure in his position that he cannot abide the trappings of an open and internationally focused trade and investment center in Hong Kong? One that he could not entirely dominate the way he tightly grips the levers of power up north? Opaque as the PRC political system strives to be, this seems to me a major factor in Xi's decision to neuter Hong Kong as a separate economic power base in his far-reaching kingdom. But it comes with a steep price.
First, the benefits of a free market entrepreneurial center supported by the rule of law and international business standards have been seriously damaged, if not yet entirely destroyed.
Second, it sends a stark message to Taiwan. Let us recall that "one country, two systems" was introduced by Deng in the early 1980s to reassure Taiwan that Hong Kong's mandated reversion to PRC sovereignty would not fundamentally change the system in Taiwan. The specific pledge was that the former British colony would enjoy broad autonomy under Deng's concept for at least fifty years — that is, to 2047.
Deng wanted to allay Taiwan's concerns in the hopes that the citizens of that island would at a minimum be prepared to grow closer both economically and politically over time. The longer-term hope was that Taiwan would embrace political and economic benefits from the association.
All this seems a distant memory as I write in 2023. With 24 years left in Deng's pledged period of autonomy, it is hard to differentiate today's Hong Kong from the bustling southeastern region of China, centered around Shenzhen and Guangzhou. Both have significant economic strengths, though the PRC part is still saddled by Beijing's authoritarian political harness. That said, it is becoming increasingly difficult to distinguish Hong Kong's sharply truncated political freedoms from those of the rest of China.
Many of those who could have fled have already done so: the wealthy by plane, the desperate by boat to Taiwan or southeast Asia, where ethnic Chinese communities have generally welcomed them and the entrepreneurial skills they bring. It brings to mind the "boat people" fleeing Vietnam as Saigon fell in 1975. Though flight brought the chance of freedom, at the same time it divided families and caused lasting pain on every level. These days, the Chinese authorities have made it increasingly difficult for residents to leave Hong Kong, and by all accounts, many of its remaining citizens feel oppressed.
Meanwhile, whatever allure "one country, two systems" might once have offered the 24 million citizens of Taiwan (Republic of China) has vanished, seemingly for good. Having lived and worked in Taiwan multiple times, I personally was convinced from the very beginning that — barring a dramatic transformation of the political system in the PRC — Taiwan's people just would not buy into what the masters in Beijing were peddling.
In fact, Taiwan is currently accelerating its military capabilities in the now not-farfetched possibility that Mr. Xi might one day decide to launch a full-scale invasion. As I have previously written, this is not as easy as it might seem. Unlike Ukraine, there flows nearly one hundred miles of open sea between the mainland and the island. I would add that Taiwan's democratic ethos is also now firmly enshrined there. Despite political struggles between the leading political parties, there appears to be virtually no market for embracing the economic and political system on the mainland.
Some legacy, Mr. Xi.
Ambassador Stephen M. Young (ret.) lived in Kaohsiung as a boy over 50 years ago, and served in AIT four times: as a young consular officer (1981-'82), as a language student (1989-'90), as Deputy Director (1998-2001) and as Director (2006-'9). He visits often and writes regularly about Taiwan matters. Young was also US Ambassador to Kyrgyzstan and Consul General to Hong Kong during his 33-year career as a foreign service officer. He has a BA from Wesleyan University and a PhD from the University of Chicago.
Comments will be moderated. Keep comments relevant to the article. Remarks containing abusive and obscene language, personal attacks of any kind or promotion will be removed and the user banned. Final decision will be at the discretion of the Taipei Times.