Georgia is a new front in Russia's hybrid war
The country's pro-Moscow government withdrew a draft 'foreign agents' law only after two nights of street protests
Georgia is a new front in Russia's hybrid war
After two nights of violent clashes with riot police in Tbilisi, Georgian protesters on Thursday won a victory when the ruling party announced it was withdrawing a proposal cracking down on civil society groups and the media that sparked the demonstrations.
However, the Georgian government has refused to renounce the bill, many protesters have been jailed and opposition parties are rightly worried it is just the beginning of a weakening of democratic freedoms.
The scenes in Tbilisi echo those in the 2014 Maidan uprising, when Kyiv was filled with people demonstrating against then-Ukrainian president Viktor Yanukovych abandoning the EU-Ukraine Association Agreement for closer ties with Russia instead. Georgia's fragile democracy — one of the few staunch US and European allies in the region until recently — now faces a similarly perilous moment. Georgia's Westward march, like Ukraine's, is one Russian President Vladimir Putin has been determined to thwart.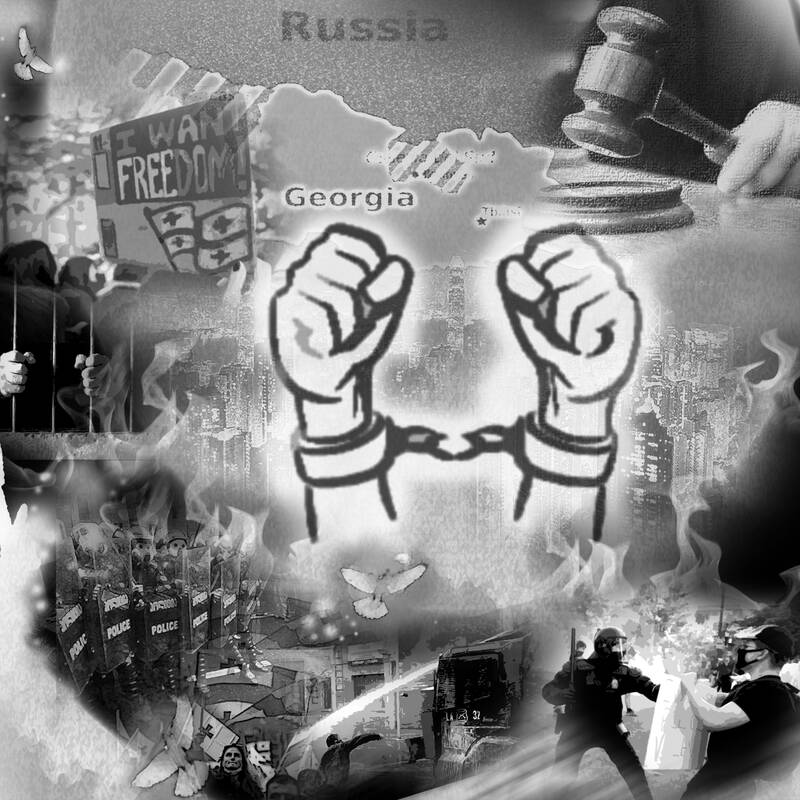 Illustration: Kevin Sheu
The irony of Georgia's plight today is that Putin's Ukraine campaign can be said to have started then, when he found a pretext to launch an invasion in 2008 on behalf of separatists in the self-declared republics of South Ossetia and Abkhazia. The war resulted in brutal ethnic cleansing of Georgians in those regions and a strategic victory for Putin, whose forces now occupy about 20 percent of the nation's territory. He also used it as a template for the 2014 annexation of Crimea, the precursor to incursions into Ukraine's Donbas region and last year's full-scale invasion.
The recent history of US and European engagement in the strategic south Caucasus region has been one of intermittent attention, lack of clear strategy and waning influence. That has enabled Putin to open new fronts in his hybrid war to consolidate Russian power in the region. Soon after Putin's invasion of Georgia, then-US president Barack Obama came to office promising a Russian "reset," reinforcing a sense of geostrategic limbo in Georgia that continued under the administration of former US president Donald Trump.
The small size of the South Caucasus belies its strategic importance. It sits at the crossroads of Europe, Asia and the Middle East, forming a bridge between the Black and Caspian seas. It is a key transit route for natural gas and oil. Strong democracies there can be a bulwark against Islamic radicalism, but also Russian revanchism.
At the moment, the people the West should most want to prevail there are in trouble.
Georgians have often taken to the streets to defend their democracy and the country's Western direction in the post-Soviet period. They did so after Russia's invasion of Ukraine, too. The latest protests were triggered by the proposal of a law that requires non-governmental and media organizations with more than 20 percent foreign funding to register as "foreign agents," with severe penalties for those who refuse.
Georgian President Salome Zourabichvili had threatened to veto the bill, which was backed by the ruling Georgian Dream party.
The law apes one in Russia that was passed in 2012 to severely constrain human rights, media and civil society organization, forcing many to close.
In Georgia, the law demonstrates the true colors of a government that has often professed to be pro-Western while cozying up to Putin.
That the government has taken this turn ought to set off alarm bells in the West. Georgia's post-Soviet trajectory has often zigzagged, but it has broadly been defined by the pro-Western direction begun in the early 1990s under then Georgian president Eduard Shevardnadze.
Former US president George W. Bush called Georgia a "beacon of liberty." The road leading into Tbilisi from the airport is named after him.
Under former Georgian president Mikheil Saakashvili, who was in office from 2004 to 2007 and 2008 to 2013, Georgia moved to cement closer ties to the West. The US established a "strategic partnership" agreement, and the EU concluded an association agreement in 2014, as well as a free-trade agreement. Georgia passed a constitutional amendment requiring it to move toward "full integration" into the EU and NATO (something the foreign agents law brazenly contradicts). Membership was always a long way off, to the frustration of many Georgians, but the direction of travel seemed clear.
While the vast majority of Georgians are staunchly pro-Western, the government has increasingly turned toward Moscow under the guidance of the reclusive billionaire founder of the ruling Georgian Dream party, Bidzina Ivanishvili. Prime minister for about a year from 2012, Ivanishvili currently has no formal role and has repeatedly denied that he informally runs Georgia; but few in the West doubt his de facto control over key state institutions, the judiciary and security services.
In 2020, a caucus of US representatives bluntly declared him "a close ally of Putin and involved in destabilizing Georgia on Russia's behalf."
Meanwhile, the 55-year-old Saakashvili, who spent time in Ukraine as an exile and was jailed in Georgia after his return, is on a hunger strike and in failing health, with doctors saying he was tortured in custody.
Georgia is not the only part of the strategic South Caucasus that is being destabilized with Russian help or acquiescence. Another democracy and Western ally — Armenia — has been placed in an almost existential state of vulnerability. About 120,000 Armenians have endured a bitter months-long blockade in Nagorno-Karabakh, a disputed Armenian-populated enclave in Azerbaijan, with Russia refusing to intervene despite its security pact with Armenia and a peacekeeping role along the Lachin corridor, the only road connecting the enclave to Armenia.
Azerbaijan, with Turkey's support, seized much of the land around Nagorno-Karabakh in a 2020 war and now wants to form a route across Armenia connecting Azerbaijan directly to Turkey through the south. While the world is distracted, there are concerns that Azerbaijan would use its growing influence to freeze or push Armenians from Nagorno-Karabakh and drive further land gains. Georgia is also a vital regional ally and trading partner for Armenia.
As the most recent two nights of protests showed, Georgians have developed a habit of democracy and a taste for free expression that the ruling party will not snuff out without a fight, but the draft law has provided a potent indication of the government's intentions and suggests there will be more to come. Putin will want to ensure that Georgia's Maidan moment does not end as Ukraine's did, with the capitulation of a pro-Moscow government.
Therese Raphael is a columnist for Bloomberg Opinion covering healthcare and British politics. Previously, she was editorial page editor of the Wall Street Journal Europe.
This column does not necessarily reflect the opinion of the editorial board or Bloomberg LP and its owners.
Comments will be moderated. Keep comments relevant to the article. Remarks containing abusive and obscene language, personal attacks of any kind or promotion will be removed and the user banned. Final decision will be at the discretion of the Taipei Times.