Ian Easton On Taiwan: Has Xi doomed America's 'one China' policy?
Last July, a Chinese Communist Party (CCP) propaganda outlet suggested that China would shoot down the plane carrying House Speaker Nancy Pelosi if she made a friendly visit to Taiwan. Her historic visit went forward, and threats to her safety were shown to be little other than empty words.
The People's Liberation Army (PLA) test fired ballistic missiles over Taiwan and conducted a series of drills in the Taiwan Strait, simulating aspects of a future offensive operation. But rather than stymy American efforts to make progress on the development of closer ties with Taiwan, Beijing's provocative moves energized them.
In retrospect, it seems apparent that Xi Jinping (習近平) misjudged the situation. Badly. Perhaps no one in his inner circle dared to tell him that, as a general rule, Americans don't look kindly on those who direct threats at their elected officials. Nor do they like to see smaller democracies bullied by big authoritarian powers.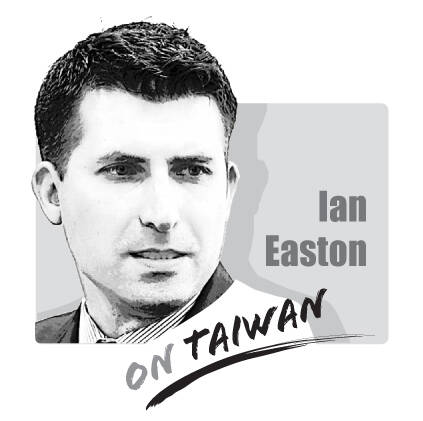 In the wake of his colossal mistake, it seems evident that America's ossified Taiwan policy is undergoing a process of jellification. While it's probably too early for any conclusions, the available data show a spike in the plasticity of our government's collective gray matter. Today just about every politician in Washington wants to visit Taiwan, and it has become more popular than ever to support Taiwan's continued independence from the People's Republic of China.
One can now detect a strong sense of disgust at the CCP's unattractive gestures toward Taiwan, and not just in Congress, but across the whole of society. A large and growing body of evidence suggests we are likely to see the establishment of stronger US-Taiwan ties in the near future, and that trend will accelerate as the pitch and frequency of Xi's saber-rattling rises.
The new House Speaker, Kevin McCarthy, could visit Taiwan soon, and hundreds of Marines and Army special operations forces are already heading to that country to bolster training programs against the invasion threat. The US Navy is believed to be stepping up its game in the Taiwan Strait area as well.
This remarkable change in attitude has a broader context. Beijing's state-orchestrated genocide, draconian repression in Hong Kong, and Covid cover-up have crumbled past assumptions about China's peaceful rise. Moreover, the Chinese government's deployment of spy balloons over the American heartland jolted the nation's slumbering martial spirit awake.
Xi could spark a dangerous crisis or deadly conflict at any time. It is rumored that he has little use for his intelligence services and foreign policy experts, believing he is the smartest guy in China when it comes to cross-Strait policy. And his impulse appears to be toward hawkish and, increasingly, reckless actions.
One-party dictatorships are not known for producing brilliant leading lights, and Xi now has a track record of using almost any pretext, real, invented, or imagined, to escalate tensions and threaten America and Taiwan. But for every action in foreign policy there is an equal and opposite reaction, and events have a way of taking on a life of their own in times of tension.
While any war would be terribly costly to all sides, Taiwan has highly defensible terrain. The island nation is a defender's dream come true thanks to a number of factors, not least of which are the Taiwanese people themselves, who love their liberty and have a lot more grit than a certain comrade in China seems to realize.
President Joe Biden has made clear that he would order US troops to defend Taiwan if necessary. Obliterating the PLA in a Taiwan invasion scenario has now become the Pentagon's number one mission. And God only knows what regime-poisoning weapons the CIA might be cooking up in its covert action test kitchens. Great job Chairman Xi!
If he were a wise statesman, Xi would see that his threats are backfiring. But how to convince an isolated tyrant he is wrong and must change course?
This is why it matters so much that US troops are going to Taiwan. Their presence will show that Americans honor the fundamental principles of international law, stand by their commitments to democratic friends, and truly believe in the ideal of self-determination and popular sovereignty.
Only bold moves are likely to upset Xi's calculations and shake his confidence. Deterrence theory — and bloody historical experience — tell us strategic ambiguity was never going to work, neither will denying the objective reality of Taiwan's existence as a free and independent country. A liberal democracy like the US can only base policy on a myth for so long before the hard facts catch up and compel change.
Thanks to Beijing's belligerence, Washington is starting to think different. Time will tell, but Xi may have sealed the doom of America's "one China" policy. If so, I say good riddance.
Ian Easton is a senior director at the Project 2049 Institute and the author of The Chinese Invasion Threat: Taiwan's Defense and American Strategy in Asia.
Comments will be moderated. Keep comments relevant to the article. Remarks containing abusive and obscene language, personal attacks of any kind or promotion will be removed and the user banned. Final decision will be at the discretion of the Taipei Times.