Stephen M. Young On Taiwan: Implications of the Ukraine war on cross-strait relations
As a longtime Sino-Soviet specialist in academia and during my 33-year career as a US Diplomat, I continue to watch closely unfolding events in the tragic conflict in Ukraine. This war of choice by Russian strongman Vladimir Putin has caused endless suffering for the people of Ukraine. It has also resulted in an estimated 200,000 plus Russian casualties, killed or wounded, though the Kremlin remains tightlipped concerning the real numbers. Putin, despite being designated a war criminal by the international community, has doubled down, and has for nearly a year largely suppressed most domestic dissent against his harshly authoritarian regime.
By all objective accounts, the war has gone badly for both Russia and Ukraine. With winter now hampering operations on both sides, there seems to have begun a somewhat less intense level of fighting. But there is little realistic hope of an early end to the slaughter. Since virtually all of the fighting has occurred on Ukrainian soil, the Ukrainian people are the primary victims of this situation. Yet — led by their inspirational President, Volodymyr Zelensky — the struggle to rid Ukraine of every last aggressor from Russia continues. Zelensky has emerged from an earlier career as an actor and comedian, into one of the most admired political figures of the times. With the exception of Russia and a few of its closest allies, the world stands with Zelensky and his brave countrymen in seeking a resolution that leaves Ukrainian territorial integrity preserved and ensures that Putin gains no lasting benefit from his war.
Much has been said about the implications of this war for European geopolitics. But the significance of the Ukrainian conflict also has direct bearing on cross-strait relations and the threat of PRC aggression against the democratic state of Taiwan and its 23 million brave citizens. Let us recall that Putin met early last year in Beijing with his Chinese counterpart, Xi Jinping, and declared a partnership with no limits. The question of whether Putin mentioned his aggressive intentions toward Ukraine at the time remains murky. Xi has been careful not to provide direct material assistance to Putin's war; nor has he been heard to say much about a war that cannot play well to Mr. Xi's own standing in the international community, given his earlier bromance with Mr. Putin.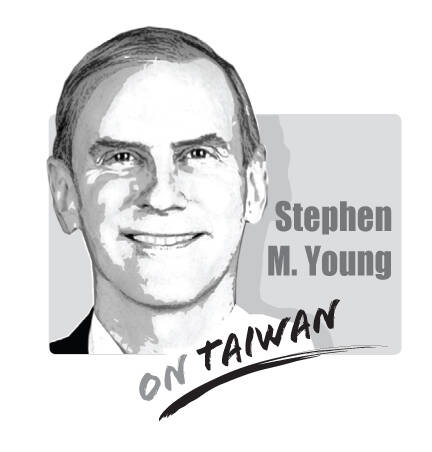 Did Xi gain advance knowledge of Putin's Ukrainian adventure? If so, did he proffer support, either rhetorical or material, to Putin? Was there any discussion between the two dictators concerning Taiwan? These are all questions about which the world would like to know more.
My personal sense is that Putin cannot have totally ignored the issue of his pending Ukrainian invasion when he and Xi met last February in Beijing. At the same time, one wonders how Xi responded, either in private conversation with Putin at the time, or in subsequent exchanges once the war was launched.
Moving forward from these imponderables, how has Xi assessed the implications of Putin's Ukraine invasion in terms of his fixation on Taiwan? Has it given him the idea that an undeclared assault on Taiwan would go well, and would not result in the near universal condemnation of global opinion for what I call Putin's folly? How has Xi factored in the major global alliance supporting Ukraine, both diplomatically and materially, since the fighting began last February? What about the quagmire that has resulted since then, with massive casualties on both sides and little sense of when or how the conflict might end?
There is no question that Emperor Xi would like to conquer Taiwan before his reign is up. He seems obsessed by this goal. The fact that President Biden, the US Congress, and much of American public opinion remains committed to Taiwan's safely and security, no matter what the cost, has to weigh on the Chinese dictator's mind. One of the casualties of these latest events has been the fraying of the previous ambiguous nature of support for Taipei by Washington, Tokyo, and much of the rest of America's allies in East Asia since early last year. President Biden, for example, has several times indicated the US would get actively and kinetically involved in the defense of Taiwan, should it be threatened or attacked. No amount of White House staff attempts to qualify or walk back Biden's statements can negate the force of the President's own words. Nor is this a partisan issue, in the sense that the bulk of the Senate and House, both Republican and Democrat, remains firmly supportive of Taiwan's current status.
Any attempt to attack Taiwan would pose significantly greater logistical and political problems for Mr. Xi than even those Putin now faces. First, there is the fact that an attack on the island would require a major amphibious assault across 100 miles of open waters. Second, there is a growing sense that China needs to be reined in from its audacious and unilateral attempts to seize territories like the South China Sea islands. I find it particularly telling that close US allies Japan and Australia have vocally expressed their concern over China's threats. Let us remember that these friends reflect the widespread support for efforts throughout East Asia to curb Beijing's aggressive ambitions, efforts which are increasingly seen as an existential threat from Tokyo to New Delhi.
None of this can assure the world that Mr. Xi would pull back at the brink, instead of electing to initiate unprovoked hostilities against the free and democratic Taiwan nation. Only clear and continued warning of the overwhelming response Beijing would face has the chance of persuading the PRC leader to recalibrate his ambitions. Some say the stalling of the Chinese economy and signs — albeit muted — of discontent with Xi Jinping's rule, are a signal that his position is not as secure as he might think. I personally think Xi needs to beware of those in his immediate circle, who may not be so thrilled by the prospect of Xi becoming leader for life. After all, they probably harbor ambitions of their own, that cannot be easily reconciled with the idea of the 70-year-old Xi remaining in power indefinitely.
Some have speculated that Taiwan's Presidential and parliamentary elections in the first part of 2024, now just one year away, could offer an opportunity for the mainland to launch an attack on Taiwan. Alternately, Xi could wait and watch to see if the Kuomintang might bring into office a more accommodating partner in Taipei. That said, I think any new KMT government would have to recognize that public opinion on the island nation has significantly hardened against closer political or even economic ties with the mainland. Nor can it be dismissed that another DPP President might emerge from 2024's elections. Taipei's best bet is to double down on solid relations with Washington, at the same time continuing to strengthen across the board ties with likeminded neighbors like Japan, Indonesia, Vietnam, Australia, and India. Let Beijing's autocratic leadership know that they would face a powerful alliance of liberal democracies unwilling to stand aside should China unleash a terrible conflict with implications across Asia and the world.
That, to me, would reduce the chances of a dreadful conflagration over Taiwan, which could only be triggered by the myopic ambitions of the PRC's current leader.
Ambassador Stephen M. Young (ret.) lived in Kaohsiung as a boy over 50 years ago, and served in AIT four times: as a young consular officer (1981-'82), as a language student (1989-'90), as Deputy Director (1998-2001) and as Director (2006-'9). He visits often and writes regularly about Taiwan matters. Young was also US Ambassador to Kyrgyzstan and Consul General to Hong Kong during his 33-year career as a foreign service officer. He has a BA from Wesleyan University and a PhD from the University of Chicago.
Comments will be moderated. Keep comments relevant to the article. Remarks containing abusive and obscene language, personal attacks of any kind or promotion will be removed and the user banned. Final decision will be at the discretion of the Taipei Times.