Richard D. Fisher, Jr. On Taiwan: Zhuhai attacks Taiwan twice
The Chinese Communist Party (CCP) and its People's Liberation Army (PLA) use their bi-annual Zhuhai Airshow to attack Taiwan on two levels.
The first level became apparent to this observer after attending the first two airshows in 1996 and 1998: Why would the CCP allow Zhuhai leaders to build a second large international airport a mere 26 kilometers from the far busier Macau International Airport, with Zhuhai only cycling about ten flights a day?
Zhuhai city fathers were not guilty of some corrupt "boondoggle," they had clearly convinced the PLA to bless their city with a massive reserve airport to support future bomber and airborne assault missions as part of an eventual invasion of Taiwan.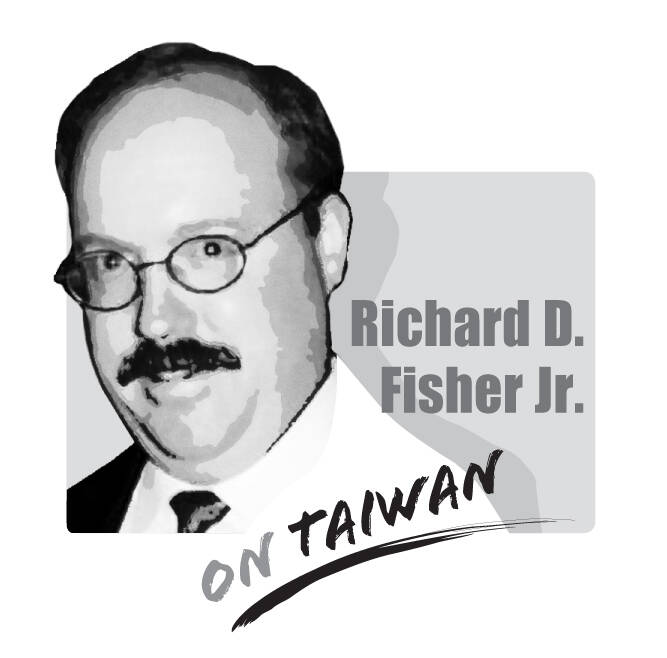 Though the 1996 Zhuhai Airshow first day opening program was led largely by Zhuhai politicians and Chinese aerospace industry leaders, subsequent shows demonstrated increasingly that the PLA had embraced the exhibition and was in charge.
By the 2006 show "transparency" was quickly fading; it was very rare for foreign media to get Chinese corporate or government officials to speak substantively about military aircraft, weapons or space programs.
But that did not matter to the PLA, which had settled into using the Zhuhai Airshow for its second level threat: a massive visual projection of future power to intimidate Taiwan and the United States — which by the 2014 show had become a full air, missile, space, ground and naval technology show.
Now with CCP dictator-for-life Xi Jinping (習近平) perhaps close to initiating his "final solution" to exterminate freedom on Taiwan, new military system revelations from 14th Zhuhai Airshow that took place from November 8 to 13 deserve some attention.
Most important was the PLA's massive display of more capable air, ground and naval unmanned combat systems, and its clear success in beginning to meld unmanned and manned weapons which will only improve with success in developing artificial intelligence algorithms.
Such success is due to the CCP's massive 20-year investments spurring hundreds of state-owned and new companies to develop unmanned technologies, perhaps best illustrated by a large poster from main PLA Ground Force weapons producer the China North Industries Corporation (NORINCO), depicting its current or soon to be realized concept for "New Generation Army Brigade Combat Team."
Six out of ten battalions of this concept brigade incorporate unmanned combat systems like unmanned fighting tanks, small machinegun armed robot vehicles, unmanned aircraft or helicopter combat aerial vehicles (UCAVs) or unmanned logistic support vehicles, all to support manned systems.
That this concept seems well underway can be seen from PLA media showing Ground Forces exercising amphibious assault operations assisted by unmanned combat and logistic support vehicles.
To add to this, two Chinese companies at Zhuhai displayed new four-leg dog-like robots armed with machine guns on their backs, excellent for clearing houses of resisting Taiwanese.
A number of large fighter size turbojet-powered UCAVs, like the China Aerospace Science and Technology Corporation (CASC) FH-97A, seen at the show modified for air-to-air combat, could perform as "loyal wingman" enhanced increasingly with artificial intelligence algorithms to enable autonomous escort of manned aircraft or independent strike missions.
In addition, the Chengdu Aircraft Corporation (CAC) revealed its very large 6.2 ton Wing Loong-3 UCAV with an intercontinental 10,000km range or a 40 hour endurance, excellent for imposing blockades, and the Tengden Corporation Scorpion-D, a four engine UAV that can deliver 1.5 tons of cargo.
As employed by Ukraine and Russia to provide "intimate" artillery effects in the absence of air forces unable to operate due to sophisticated air defenses, China displayed scores of smaller vertical take-off and aircraft UCAVs that can drop grenades on troops and displayed many loitering munitions able to find and attack a range of targets.
It all portends a PLA soon able to assemble unmanned joint force units, perhaps unmanned tanks supported by machinegun armed dog robots, conducting cooperative operations with UCAV surveillance and artillery effects delivery, following their delivery to a Taiwan port city by unmanned assault ships and unmanned cargo aircraft.
One of the main headlines out of Zhuhai was the first formal display of the PLA's first 5th generation stealth fighter, the CAC J-20, that famously held its "political" first flight on January 11, 2011 to embarrass the visiting then US Secretary of Defense Robert Gates.
Two years earlier in a July 2009 speech justifying ending production of the U.S. F-22A 5th gen fighter at 187, Gates had predicted that China would "have no fifth-generation combat aircraft by 2020."
But from the Zhuhai flightline one could see the J-20's impressive stealth finish, while production numbers seen on some J-20s prompted PLA aircraft expert Andreas Rupprecht to estimate for Defense News that the PLA Air Force may have over 200 J-20 fighters.
At Zhuhai former J-20 Chief Designer Dr Yang Wei (楊偉) told Chinese reporters there would be at least two more versions of the J-20. A model of a WS-10 fighter turbofan engine, one type used by the J-20, was displayed for the first time with a two-dimensional thrust vectoring system that could give the J-20 the 5th gen capability of "supermaneuverability."
Also very important for a future conflict over Taiwan, at Zhuhai the PLA revealed three new anti-ship ballistic missiles (ASBMs) that use hypersonic speed and maneuverable trajectory to greatly increase threats both to Taiwan Navy ships and to US Navy ships that may seek to defend Taiwan.
Days before the show a Xian Aircraft Corporation H-6K bomber appeared at Zhuhai with two new air-launched ballistic missiles (ALBMs), apparently based on a second-generation short-range ballistic missile of the China Aerospace Science and Industry Corporation (CASIC) or the China Aerospace Science and Technology Corporation (CASC).
The designation and range have not been revealed, although it could be more than 1,000 kilometers, and the 125 or so PLA H-6K/J/N bombers might be able to carry up to four, for a potential total sortie launch of up to 500 missile strikes against Taiwan and defending ships.
For the first time, CASC displayed its two-stage YJ-21E and CASIC displayed its CM-103, both ship vertical launch system (VLS) ASBMs, with the CM-103 clearly resembling the US Navy Raytheon SM-6 VLS launched aircraft and missile interceptor missile.
This makes the over 2,500 VLS "tubes" on PLA Navy warships into potential ASBM launchers.
With Xi Jinping contemplating a near-term invasion of Taiwan, giving Taipei and Washington less time to prepare, the messages from Zhuhai suggest where both might assign high priority.
One answer to the PLA's future creation of massive co-manned/unmanned or even joint unmanned threats would be to rapidly deploy new US laser and microwave weapons now just being developed and likelyto reach field testing for the US Army in the next year.
But an option that Taiwan could more firmly control would be the creation of a massive civilian militia reserve, taking lessons from the Ukraine, where hundreds of thousands of civilians would have access to rifles, shoulder-launched rockets, and mines, that could overwhelm small unmanned air and ground systems.
Most training instruction could be achieved by text-message videos and later in community-based small units, with weapons and ammunition stored at local police stations or other secure locations.
PLA J-20s are a direct threat to Taiwan Air Force F-16s and electronic support aircraft like the E-2T Hawkeye. Taiwan requires an immediate lease of about 30 Lockheed-Martin F-35 5th generation fighters both to deter J-20 usage, and because its advanced long-range radar, infrared sensors and data links can enable Taiwan to continue to manage combat with the PLA.
Also, to defeat and counter the new threats from PLA ALBMs and ASBMs, Taiwan requires a very long range anti-aircraft capable missile like the US Theater High Altitude Area Defense (THAAD), or the SM-6, that when launched on a ballistic intercept trajectory can defeat PLA bombers and ships before they can launch their missiles.
But to deal with the direct threat posed by Zhuhai, Taiwan requires an accelerated development of the future 1,000 km range version of the US Army's Precision Strike Missile (PrSM) which from Taiwan can handily reach the Zhuhai International Airport.
Richard D. Fisher, Jr. is a senior fellow with the International Assessment and Strategy Center.
Comments will be moderated. Keep comments relevant to the article. Remarks containing abusive and obscene language, personal attacks of any kind or promotion will be removed and the user banned. Final decision will be at the discretion of the Taipei Times.