Crisis in national parks: How tourists are loving nature to death
As thrill seekers and Instagrammers swarm public lands, reporting from seven sites across the US shows the scale of the threat
Just before sunset near Page, Arizona, a parade of humanity marched up the sandy, half-mile trail toward Horseshoe Bend. They had come from all over the world.
Some carried boxes of McDonald's Chicken McNuggets, others cradled Chihuahuas and a few men hid engagement rings in their pockets.
Howevr, just about everyone had one thing at the ready: a cellphone to snap a picture.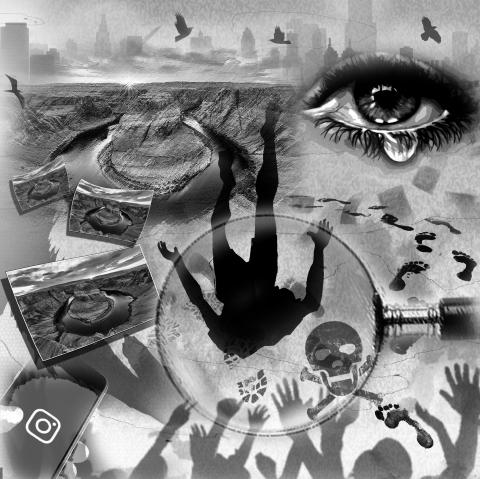 Illustration: Kevin Sheu
Horseshoe Bend is one of the US west's most celebrated overlooks. From a sheer sandstone precipice just a few kilometers outside Grand Canyon national park, visitors get a bird's-eye view of the emerald Colorado River as it makes a U-turn 250m below.
Hundreds of kilometers from any large city and nestled in the heart of southwest canyon country, Horseshoe Bend was once as lonely as it was beautiful.
"It was just a local place for family outings," said Bill Diak, 73, who has lived in Page for 38 years and served three terms as its mayor. "But with the invention of the cellphone, things changed overnight."
Horseshoe Bend is what happens when a patch of public land becomes #instagramfamous. Over the past decade photos have spread like wildfire on social media, catching the 7,000 residents of Page and local land managers off guard.
Visitation grew from a few thousand annual visitors historically to 100,000 in 2010 — the year Instagram was launched, Diak said.
By 2015, an estimated 750,000 people made the pilgrimage. This year visitation is expected to reach 2 million.
Numbers used to peak in the summer, but tourists now stream in all year round — nearly 5,000 per day. And fame has come with a dark side.
In May, a Phoenix man fell to his death when he slipped off the cliff edge.
In 2010, a Greek tourist died when a rock underneath him gave way as he took photos, police said.
Like the recent death of a couple taking photographs in Yosemite, the incidents have raised troubling questions about what happens when nature goes viral.
"Social media is the number one driver," said Maschelle Zia, who manages Horseshoe Bend for the Glen Canyon national recreation area. "People don't come here for solitude. They are looking for the iconic photo."
HUMAN IMPACT
Across the US, national parks and public lands are facing a crisis of popularity. Technology, successful marketing and international tourism have brought a surge in visitation unlike anything seen before.
In 2016 and last year, the national parks saw an unprecedented 330.9 million visitors, the highest ever recorded. That is not far off the US population itself.
Backcountry trails are clogging up, mountain roads are thickening with traffic, picturesque vistas are morphing into selfie-taking scrums and in the process, what is most loved about them risks being lost.
"The least-studied mammal in Yellowstone is the most abundant: humans," said Dan Wenk, the former superintendent of one the most chronically overcrowded parks in the system.
In Yellowstone, the US' oldest national park, visitation has surged 40 percent since 2008, topping 4 million last year.
After 43 years in the park service, Wenk is worried.
"Our own species is having the greatest impact on the park and the quality of the experience is becoming a casualty," he said.
Over a period of four months, from high summer to late autumn, the Guardian dispatched writers across the US' west to examine how overcrowding is playing out at ground level.
We found a brewing crisis: 3km-long "bison jams" in Yellowstone, fistfights in parking lots at Glacier, a small Colorado town overrun by millions of visitors.
Moreover, we found people wrestling with an existential question: What should a national park be in the modern age? Can parks embrace an unlimited number of visitors while retaining what made them, as the writer Wallace Stegner once put it, "the best idea we ever had?"
In 1872, Yellowstone became the first national park in the world. In 1904, the first year for which visitation figures are available, 120,690 people visited the national parks, which by then included Mount Rainier, Sequoia and Yosemite.
By the mid-century that number swelled to tens of millions, as more parks were added to the system and destination road trips became synonymous with US vacations.
UNDERFUNDING
However, today the pace of visitation has outstripped resources. Much of the National Park Service's infrastructure dates back to the Mission 66, a US$1 billion initiative undertaken in the 1950s and 1960s, and was not built with modern crowds in mind.
Environmental challenges are burgeoning — recent research has found national parks bear the disproportionate brunt of global warming — and years of wear and tear have seen park maintenance fall woefully behind.
The current backlog of necessary upgrades to road, trails and buildings stands at more than US$11 billion.
US Secretary of the Interior Ryan Zinke's bid to sharply increase entry fees at the busiest parks to pay for repairs proved so unpopular it had to be walked back in April.
Traffic congestion has become one of the most visible consequences of overcrowding and underfunding, with some locations seeing tens of thousands of cars per day during peak months.
In Yosemite, despite a shuttle system, the park warns summer visitors to expect two to three-hour delays entering Yosemite Valley.
In Yellowstone, epic bottlenecks are frequent. Famed for its grizzly bears, gray wolves and bison herds, the park is arguably "wilder" than it was 50 years ago, thanks to conservation work.
However, this rewilding has meant animal sightings routinely cause gridlock along its two-lane roads.
On a recent August day in Hayden Valley, a "bison jam" stretched nearly 3.2km long. As the herd moved steadily across the road, a scene of frantic commotion began to unfold. Travelers excitedly scrambled from their vehicles.
Bison passed within inches, even brushing up against the cars. Some tourists temporarily abandoned their vehicles in the hope of getting close enough for a photo.
Impatient motorists tooted their horns as park rangers tried to bring order.
"My job is to manage people, not animals, and I try not to get upset," one park ranger said. "Most visitors just don't know how to behave in a wild place."
However, the bison were not the only drama. In the Lamar Valley, a pack of wolves just visible in the distance drew a swarm of vehicles into a turnout. People poured out, leaving their cars parked cattywampus, blocking traffic in both directions.
Sometimes travelers get more of a souvenir than they bargained for. This summer has seen a handful of visitors gored or kicked by bison and elk when they ventured too close.
Meanwhile, a video of a man taunting a bison went viral and citations have been issued to troublemakers who illegally flew drones and tossed rocks and debris into Yellowstone's sensitive geothermal features, which risks destroying them forever.
Wenk said rangers feel overwhelmed.
"We're exceeding the carrying capacity and because of it damage is being caused to park resources," he said.
There has been a 90 percent increase in vehicle accidents, a 60 percent bump in calls for ambulance services and a 130 percent rise in searches and rescues, according to the park.
And while visitation has swelled, staffing, because of budget limitations, has remained the same.
Traffic woes are not confined to park roads. At Glacier national park in Montana (annual visitation: 3.3 million), parking lots, too, have seen tense standoffs.
The Logan Pass Visitor Center dates back to the Mission 66 era. Perched at the top of Going-to-the-Sun Road, a precarious mountain artery which makes an appearance in the opening scene of The Shining, the center offers access to two of Glacier's most popular trails — and just 231 parking spots.
"It's a tough situation," said Gary Cassier, a visitor from Kalispell, Montana, whose wife was still circling in their car, one of many seeking a spot.
Looking out over the alpine meadows and near-vertical slopes, he said: "Nobody wants to see a multilevel parking garage here."
Sometimes the battle for a spot turns physical.
"We get fistfights in the parking lot," said Emlon Stanton, a visitor service assistant.
Some visitors even try to claim a spot for their groups on foot.
"People get out of their vehicle, jump into a space and stand there," Stanton said. "Then somebody tries to pull in and bumps 'em."
Stanton and other park workers try to prevent such episodes by imposing "soft closures" on the lot — placing traffic cones across its entrance and telling visitors to find parking at the next pullout, 5km away, and take a shuttle back.
These closures can happen three to five times a day.
"From a staff perspective, it's hard," park spokesperson Lauren Alley said. "'Service' is in our name, and to tell people, over and over, all day long, 'We're full, you'll have to wait'... It's a real challenge."
A STINKING PROBLEM
It is late summer on the Yellowstone River, just north of Gardiner, Montana. A group of anglers stand around their boat trailer, sipping beers and rigging fly rods in the late-morning sun as they wait their turn to launch into the water.
This gravel boat ramp sees a lot of action, but not far off, something stinks. It is something everybody uses and something that has been a headache for forest officials lately: a toilet.
Dealing with human waste has become a herculean undertaking for parks, one that is often hidden from view.
In Zion, two outhouses near Angel's Landing that were described by one writer as reminiscent of "an open sewer" have to be emptied by helicopter at a cost of US$20,000 annually.
In Colorado, Rocky Mountain National Park churns through more than 2,900km of toilet paper a year.
Yellowstone spent US$28,000 on hand sanitizer last summer alone, a park official said.
As waste mounts, finding someone to take care of it becomes more difficult. The Custer Gallatin National Forest, which stretches from the town of West Yellowstone, Montana, to South Dakota, exemplifies this conundrum.
There are more than 200 vault toilets across the Custer Gallatin, small rooms with a single pot over a large septic tank. Signs on the doors remind users not to throw trash in them because it makes vault pumping extremely difficult.
In such remote places, the cost of servicing toilets has soared. In 2013, forest officials budgeted roughly US$32,000 for toilet pumping across the Custer and Gallatin national forests (the two forests combined in 2014). So far this year. it has cost nearly US$80,000.
And that is only pumping in "priority locations," said Lauren Oswald, the recreation program manager for the Custer Gallatin.
Beyond the hefty price tag, the logistics of finding a private contractor to do the job have also become more fraught, especially as towns like Bozeman grow and construction sites hire away possible candidates. The toilet at the boat ramp is serviced by a company based in Hardin, Montana — more than 320km away.
Nearby Yellowstone has waste worries, too.
Park spokeswoman Bethany Gassman said park staff pumped 942,147 liters from its 153 vault toilets and other septic systems last year, a 19 percent increase over 2016.
Visitors also run through an average of 1,710 toilet paper rolls per day.
The problem of managing human waste extends to the backcountry — areas far from roads and development and accessible only by trails.
Forest staff have seen an increase in improperly managed excrement — unburied poop — in popular wilderness areas and unofficial campsites.
The problem is that some people do not seem to care how they leave the landscape once they are done with it, Oswald said.
Forest staffers are often faced with the unenviable task of dealing with what slob campers leave behind. It is the kind of work that sanitation workers are hired for in major cities, not what you would expect among the wooded peaks and meadowed valleys of Montana.
"They pick up all garbage, whether it's toilet paper or diapers or beer bottles," Oswald said of the cleanup missions. "And generally if they come upon human waste, they try to deal with it by burying it at an appropriate depth."
Once parks were the ultimate place to disconnect from the modern world, but today visitors have fresh expectations — and in accommodating these new demands, some say parks are unwittingly driving the very behavior that is spoiling them.
On Yosemite's expansive mountainsides, one redwood stands out among the rest. It is a little bit taller, a little bit too uniform. A metallic shimmer glints in the sun from beneath its branches, colored green and brown to match its neighbors. However, this camouflage masks its true role: coating the wilderness in Wi-Fi.
This tree is helping to usher in a new era in Yosemite — and it is not alone. Grand Tetons, Mount Rainier, Yellowstone and Zion are all being wired with Internet and cell service as part of a plan to attract a new generation of park-goers. In Yosemite there are six towers already constructed, with plans under way for close to a dozen more.
The rapid modernization of Yosemite (annual visitation 4.3 million) is evident at Base Camp Eatery, one of the park's newest food spots. Here, touchscreens enable hungry hikers to order drinks and snacks and access instant information about park activities. There is even a newly opened — and particularly controversial — branch of Starbucks.
"The ways people find out about — and visit — parks is changing," national park service deputy director Lena McDowall told the US Senate subcommittee on national parks last year.
Many see meeting the needs of millennials as critical to keeping parks politically relevant amid funding challenges and the uncertainty of climate change, but the move may come at a cost.
"Why come to a national park as opposed to Disneyland? Because you get to confront natural wonders," said Jeff Ruch, the executive director of Peer, an environmental advocacy organization that has spent years opposing National Park Service plans for expanding cell tower construction. "But if you interpose electronic devices in our view, you miss that."
By Charlotte Simmonds, Annette McGivney, Patrick Reilly, Brian Maffly, Todd Wilkinson, Gabrielle Canon, and Monte Whaley. This is part I of a two-part story. Part II is to be published tomorrow. This story was reported and published in collaboration with the Denver Post, the Missoulian, the Salt Lake Tribune and the Bozeman Daily Chronicle.
Comments will be moderated. Keep comments relevant to the article. Remarks containing abusive and obscene language, personal attacks of any kind or promotion will be removed and the user banned. Final decision will be at the discretion of the Taipei Times.