Ian Easton On Taiwan: China's dangerous path
The People's Republic of China (PRC) has taken a turn for the worse. In recent months, the general secretary of the Chinese Communist Party (CCP), Xi Jinping (習近平), has successfully consolidated power, while at the same time leaving vacant the position of a potential successor. This move suggests he intends to stay at the pinnacle of command for as long as he possibly can.
By almost any measure, China is now the world's second-most powerful country. What happens in Beijing matters for the entire international community. It's therefore concerning that China is run by a tyrant with seemingly limitless ambition.
China is blessed with rich history and culture, and a truly massive hardworking populace. The immense talents and treasures of the Chinese people, however, are unlikely to save them from future tragedy.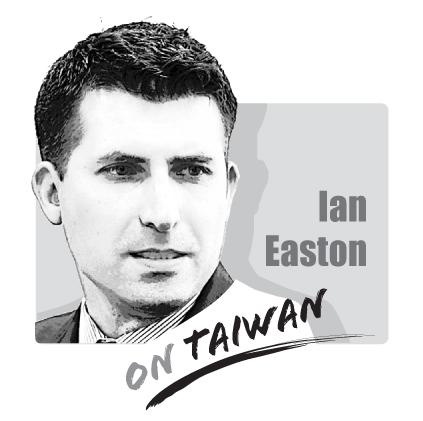 The PRC has been on a politically retrograde path since the Tiananmen Square Massacre. Its economic growth model has lost steam, while at the same time shrill nationalism and hawkish militarism have surged.
The main question in China-watching circles since the 18th Party Congress five years ago has been: Will Xi surrender his iron grip on power and allow for positive political reforms before it's too late? That question has now been answered, and the negative response is disquieting.
On the surface, General Secretary Xi has performed well. He has been able to gather power and bolster his political base far more successfully than anyone predicted. In some ways, his approach seems almost brilliant. The core mission driving the CCP is ensuring its own security, and so far he has delivered on that quite well.
China's military, intelligence, police, and propaganda systems have never appeared stronger than they do today. Chinese economic influence is growing. Dissent has been crushed and collapse avoided.
The PRC is one of the few countries in history to have grown past all of its neighbors without a major war. While tensions have been mounting in Asia as the result of China's revanchist actions along its land borders and maritime periphery, Beijing can credibly claim that its rise has been peaceful.
So what's the problem? The problem is that Xi Jinping has systematically dismantled the previous system of consensus-based elite rule, a system that was established by Deng Xiaoping (鄧小平) in the 1980s to reduce the risk of Maoist style decisionmaking. Mao Zedong (毛澤東) directed the destruction of tens of millions of innocent lives. Deng wanted to keep history from repeating itself.
Xi has become a Mao-like dictator. There is no longer anyone in China that appears able to stop him or even slow him down if he decides to indulge in radical policy behavior. He may very well be wise and charismatic, but it is axiomatic that all human beings are vulnerable to being corrupted by power. The more power a person accrues, the higher the probability becomes that they will lose their mind.
The risk of bad decisionmaking is especially high in authoritarian states. Presidents and prime ministers in democracies, even very powerful ones, are still subject to public scrutiny, legislative oversight, and the rule of law. This helps keep them grounded and significantly limits what harmful behavior they can get away with before being replaced.
No system of checks and balances exists in the PRC. The Communist Party's total control over the media and information means that the outside world might never even know if Xi Jinping began evincing signs of poor judgment and radical policy behavior. Making matters worse, China has a remarkable ability to confuse and defeat foreign information collection on its inner decisionmaking.
What little we do know suggests that Xi is already losing touch with reality. Over the past five years, he has implemented the following: 1) a cult of personality; 2) the institutionalization of paranoia and purges; 3) international brinksmanship and proliferation; 4) war planning against peaceful democracies; and 5) close cooperation with Russia, Iran, and North Korea.
For a variety of reasons, the United States has been unable to develop and implement a national strategy for Asia, let alone an effective China strategy. Because of the emergence of the PRC as a dangerous rival power, it is imperative that the US government develops a competitive strategy for deterring conflict and maintaining American superiority in the spheres of politics, economics, and defense. Some of this has begun under President Donald Trump.
Elevating the role of the Republic of China (Taiwan) government in American strategy would likely prove to be the single most effective means of signaling resolve and purpose, diminishing the likelihood of regional instability and conflict. The United States and Taiwan are bound together by a long history of friendship, shared values, and common security interests. They cherish democracy and the rule of law. Beijing does not.
That Taiwan could ultimately be invaded by the PRC is one of the central problems for American foreign policy. Washington should critically examine its policies and start to improve its bilateral relationship with Taipei, incrementally normalizing diplomatic relations with the island to secure it from Chinese attempts at coercion or takeover.
American leaders should invest in a whole-of-government effort to bolster the US alliance system in Asia, thereby dampening this and other flashpoints that are growing more dangerous as the result of Xi's actions.
The overriding American and Taiwanese aim should be to accelerate the inevitable process of political change in China, encouraging Beijing to move toward a more pluralistic political system. The only alternative would be accepting the constant risk of confrontation between nuclear-armed powers.
Xi's stranglehold on power must be reduced if China is to peacefully evolve to become a responsible democracy that plays a positive role in the world. American and Taiwanese leaders should avoid actions and words that strengthen this dangerous rival and encourage others to do the same in a concert of democracies.
Ian Easton is a research fellow at the Project 2049 Institute and author of The Chinese Invasion Threat: Taiwan's Defense and American Strategy in Asia (中共攻台大解密).
Comments will be moderated. Keep comments relevant to the article. Remarks containing abusive and obscene language, personal attacks of any kind or promotion will be removed and the user banned. Final decision will be at the discretion of the Taipei Times.