`Libel tourism' threatening free speech
A US book claiming US politicians' greed for Saudi cash compromised the war on terror has been suppressed in Britain for fear of the UK's harsh libel laws, which critics claim stifles freedom of speech
A book investigating links between rich Saudis and US politicians has been suppressed by the giant publishing firm Random House because, it says, of growing "libel tourism" by wealthy foreigners, and exorbitant legal "success fees."
Libel lawyers are stifling free speech, the deputy chairman of Random House, Simon Masters, said last Wednesday.
The UK publication of House of Bush, House of Saud, by the American writer Craig Unger, has been cancelled because Secker and Warburg, a Random House subsidiary, says it can no longer afford such risks.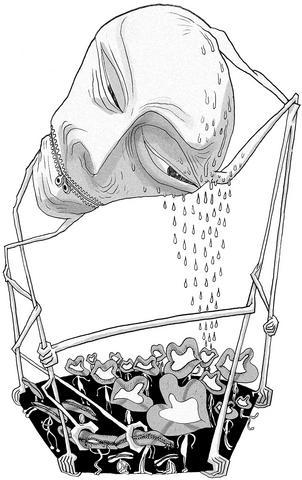 ILLUSTRATION: MOUNTAIN PEOPLE
The book focuses in part on the activities of a Jeddah-based Saudi billionaire, Khalid bin Mahfouz, who has been engaged in a war of words in the US, where there have been public accusations by officials linking him and others to funding received by Osama bin Laden.
Unger collates links between Bin Mahfouz and Islamist fundamentalists. But the new dimension of his research is that he also analyses the Texas business links between the Bush circle and the families of Bin Mahfouz and other rich Saudis.
Unger's thesis is that the eagerness of US politicians to tap into Saudi money over the years may have compromised Bush's determination to fight terrorism: "Never before has an American president been so closely tied to a foreign power that harbors and supports our country's mortal enemies."
How far Unger's thesis is credible is something that the US reading public will be able to decide for themselves. The book is becoming a bestseller in US election year. In Britain, however, the deputy chairman of Random House denied that the decision to suppress it was "pusillanimity or unnecessary self-censorship".
Masters said UK libel laws were ludicrous and had been made worse by a recent judgment won by a wealthy Saudi wrongly accused of terrorist funding links, in which the defense of public interest had been thrown out.
"Forum shopping'' by wealthy foreigners attracted to Britain's draconian libel laws was made worse, he said, by "the willingness of some law firms to take cases on a no-win no-fee basis. The firms who take on such clients will if successful, present hugely inflated bills, the costs of which can be awarded against the defendant in addition to any damages".
He called this system disgraceful. A libel fight was immensely time-consuming and potentially hugely expensive -- "vastly more than the publisher could hope to earn from the book''.
The UK libel system, he said is "stifling legitimate freedom of speech".
Mahfouz's UK lawyers, Kendall Freeman, said on Wednesday that their client "has had no choice in the past but to issue libel proceedings to protect his reputation in this country.''
They added: "We do not comment on the particular fee arrangements we have with our clients.''
Bin Mahfouz, who inherited his vast wealth from his banker father, has issued a sheaf of UK libel writs to successfully obtain retractions and damages for them. He says that he and his family abhor terrorism, and were horrified by the Sept. 11 attacks.
The links with Texas politicians began in the 1970s, according to Unger. He says a businessman, Jim Bath, acted as local partner both for Bin Mahfouz, and his close friend Salem bin Laden.
Both young men were heirs to family fortunes. Bin Laden was also the eldest brother of Osama bin Laden, who was many years later to turn into the world's most reviled terrorist.
In 1977 Bin Mahfouz with Bath and John Connally, (former US treasury secretary) bought the Main Bank of Houston.
In 1982, according to the author, Bin Mahfouz and his brothers, with the Texas Commerce Bank, developed a Houston skyscraper. The bank was the family firm of James Baker, the former White House chief of staff.
In 1987, he says a Saudi associate of Bin Mahfouz, Abdullah Taha Bakhsh, helped the young George W. Bush and his struggling oil firm, Harken Energy, by buying 17 percent of its stock. More help for Bush came in 1990, when the prime minister of Bahrain, Khalifa bin Salan al-Khalifa, awarded offshore drilling rights there to Harken.
The Bahrain premier was a shareholder in a controversial bank, BCCI, along with Bin Mahfouz, who owned 30 percent.
The final link asserted by Unger came in 1995 when, he says, Bin Mahfouz's two sons invested US$30m in the Carlyle Group, a firm linked to the Bush family.
What Unger describes in his book is the kind of exploitation of oil-rich Saudis which has often been linked to US and British politicians in the last 30 years.
Bin Mahfouz points out that he neither personally funded Harken nor paid anybody else to do so. On the other alleged business links, his lawyers, Kendall Freeman, say he "does not propose to comment".
But what gives the book a controversial edge is the linking of this phenomenon with the financing of terrorism. Unger accuses Bin Mahfouz of making donations to Osama bin Laden.
Bin Mahfouz has an answer to this: he says Osama's brother, Salem, asked him in 1988 to hand over US$270,000 to Osama's cause. He believed it was going to Afghanistan.
At that time, as he accurately says, this was entirely in line with US foreign policy.
"This donation was to assist the US-sponsored resistance to the Soviet occupation of Afghanistan and was never intended nor, to the best of Sheikh Khalid's knowledge, ever used to fund any `extension' of that resistance movement in other countries," he says.
Similarly, Bin Mahfouz has an answer to Unger's repetition of the charge, based on more recent allegations by US Treasury officials, that officials of Muwafaq, an international Islamic charity launched in 1991 by Bin Mahfouz, went on to funnel money to al-Qaeda. He was unaware of this, he says, and has appointed lawyers to investigate Muwafaq.
As far as his own National Commercial Bank (NCB) is concerned, Bin Mahfouz's lawyer says: "Like upper management at any other major banking institution, Khalid Bin Mahfouz was not, of course, aware of every wire transfer moving through the bank. Had he known of any transfers that were going to fund al-Qaeda or terrorism, he would not have permitted them. At no time did Khalid Bin Mahfouz have any knowledge or reason to believe that members of the Saudi royal family were transferring funds to Muslim charities that were sending funds to al-Qaeda."
Another of Unger's points is that Saleh Idris, the owner of the alleged al-Qaeda Sudan pharmaceutical factory bombed by the US in 1998, was an associate of Bin Mahfouz, being deputy manager of the NCB.
Bin Mahfouz's response is: "The Clinton administration initially claimed that the plant was financed by Bin Laden based upon the mistaken assumption that it was owned by a Sudanese government corporation. This was withdrawn after it was discovered that it was privately owned by Idris. The administration then accused Idris of association with terrorism and froze his assets. But the US declined to defend this claim in a legal action brought by Idris and released his assets. The international press has been virtually uniform in its conclusion that the bombing of the El-Shifa plant was a mistake."
Comments will be moderated. Keep comments relevant to the article. Remarks containing abusive and obscene language, personal attacks of any kind or promotion will be removed and the user banned. Final decision will be at the discretion of the Taipei Times.