Ale and hearty: Aging Trappist monks pray, work and brew
A gold standard for beer connoisseurs, the Trappist ale in Westmalle Abbey streams through state-of-the-art equipment with not a monk in sight.
It's thoroughly in accord with strict criteria — that brewing be carried out within the walls of a Trappist abbey and controlled by monks — but shows the changes wrought on the potent ales by modern life and aging monastic populations.
"The requirements are a lot greater these days," said Westmalle director Philippe Van Assche as he stood beside a 10 million euro (US$15 million) bottling plant. "You need a lab, there are health standards to meet, bottling too — so a certain size is required."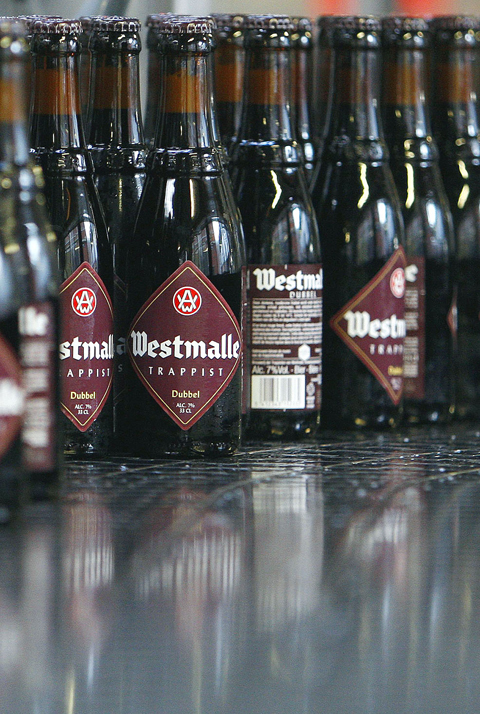 Bottles of Westmalle beer are seen at the production line at Westmalle brewery on Sept. 22. Monks may no longer show up on the factory floor at Westmalle, but they ensure its marketing is earnest and have capped production at 120,000 hectoliters.
PHOTO: REUTERS WARNING: EXCESSIVE CONSUMPTION OF ALCOHOL CAN DAM
Achel, Chimay, Orval, Rochefort, Westmalle and Westvleteren from Belgium and La Trappe from the Netherlands are the world's only Trappist brews.
They are distinct in Belgium from Abbey beers, which are commercially produced with links to a monastery or just given monastic branding. Anheuser-Busch InBev's Leffe, for example, is named after a real abbey, but brewed in a 6 million hectoliter capacity plant.
"Trappist beers are the ultimate appellation controlee in the beer world," said Tim Webb, author of Good Beer Guide Belgium. "Trappist breweries wish to be great quality, although there are some great Abbey beers around."
But the average age of monks in their late 60s or 70s in some abbeys begs questions about the future.
Some communities could disappear, acknowledges the abbot of Koningshoeven Abbey in the Netherlands, where monks still prepare gift packages of its La Trappe beer.
"Keeping the brewery going then would not be part of our philosophy," said Brother Bernardus. "The brewery is there to serve the community, not the other way round."
For now, business is rosy, resisting a global trend of declining volumes and a recessionary shift to cheaper brands. People with a penchant for Chimay or Westmalle are still prepared to pay for their luxury tipple.
Monks may no longer show up on the factory floor at Westmalle, but they ensure its marketing is earnest and have capped production at 12 million liters, making it the second largest Trappist brewer, after Chimay.
'ORA ET LABORA'
"There's more demand than we can supply. We've not seen any tail-off," said Van Assche, adding that the monks on the brewery's board had decided to limit volumes. "We're here to serve the abbey and, according to the monks, we make enough."
A manifestation of the injunction ora et labora (pray and work), Trappist beers have been brewed in abbeys for centuries.
SELF-SUPPORTING
The tenet that monasteries be self-supporting has also led Benedictines in southern Germany to brew the likes of Andechs, Ettal and Weltenburg.
Trappist beers have acquired a high profile, partly thanks to beer lovers on the Internet who like the fact most of the profit goes to charitable projects.
"There's a lot of feel-good imagery, some of which is justified," beer expert Webb said. "The profit is going to a charitable cause rather than an executive's Mercedes."
Success has come despite no advertising, sober marketing and business practices that may seem antiquated.
Westmalle gives no reduction for buying in bulk — the wholesale price is the same for 1 bottle or 1,000. A decade ago Belgian retailers protested by clearing Westmalle from their shelves, but later relented due to consumer demand.
Van Assche pulls from a cupboard samples of campaigns for commercial Abbey beers: a picture of women in monks' habits and suggestive copy such as "the red-head with character," pointing out this is the sort of thing the monks would never allow.
Many Trappist brewers go no further than providing beer mats and glasses and a cafe at their doorsteps.
"Some argue we are like cuckoos — we have no bars of our own, but we're still present," said Van Assche, referring to the birds' habit of using the nests of others.
Chimay, the most internationally recognized Trappist beer, has pushed the hardest commercially, exporting around 45 percent of its 160,000 hectoliter output.
DELICATE BALANCE
"We do a little more than the other breweries. We have posters and road signs," commercial director Philippe Henroz said. "The beer doesn't sell by itself."
Chimay's larger scale is partly because the monks were keen to revive a local economy battered by World War II. Beer sales help to support 95 lay workers and abbeys abroad.
"I can imagine that there are people asking whether the commercial activities have become more important than the life of the abbey community. It's a delicate balance," said Francois de Harenne, director of the Orval brewery, with a purely lay staff since its foundation in 1931.
Westvleteren has gone to the opposite extreme, with a limited 4,500 hectoliters still brewed by monks. Its beer is only sold in crates to individuals at the gates on the understanding that they do not resell it commercially.
It has faced problems, such as in 2005 when demand exploded after an aficionados' Web site declared one of its beers the best in the world. Even today, commercial operators flout its ban on reselling with some mark-ups as much as 10-fold.
RECRUITING
"There used to be huge traffic congestion on days of sale ... Now people must reserve in advance, so now it's the telephone line that's jammed," said brewery chief Brother Joris.
Given that Trappist beer is a means to an end, few of the brewers seem agitated by the prospect of it dying out with aging monastic communities.
"We can hardly recruit with an advert in the newspaper," said Brother Antoine, the former head of the Rochefort brewery.
Westvleteren's Brother Joris said it was not a near-term issue: other abbeys might send their monks to help.
"We would also have to take into account the socio-economic significance," he said, pointing out the risk of lay unemployment.
Koningshoeven's Brother Bernardus said another possibility was for brewing to shift to reflect monk demographics. Religious vocations are on the rise in Africa and India.
"Maybe our brothers in Africa will start an African Trappist brewery," he said. "That would be a fascinating future."
Comments will be moderated. Keep comments relevant to the article. Remarks containing abusive and obscene language, personal attacks of any kind or promotion will be removed and the user banned. Final decision will be at the discretion of the Taipei Times.