Young South Koreans become the '880,000 Won Generation'
South Korea's newest batch of university graduates lives in fear of being trapped at the bottom of the pay scale in a group of workers dubbed the "880,000 Won Generation."
The figure, equal to about US$650, represents about what a temporary staff or contract worker makes a month in net pay and is also a sign of the crushed dreams of the country's youth who bet an elite education would lead to a rewarding career.
The current global crisis may cause South Korea to create its first generation of chronically underemployed and unemployed among the highly educated since the country emerged as a global economic power over the past few decades, experts said.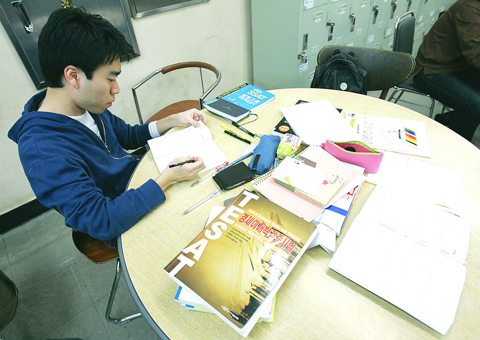 Kim Sang-heon, 29, who graduated from Hankuk University of Foreign Studies this year, studies at the university library in Seoul on March 20. South Korea's newest batch of university graduates lives in fear of being trapped at the bottom of the pay scale in a group of workers dubbed the "880,000 Won Generation."
PHOTO: REUTERS
"Years ago, a diploma from a good university was a blank check for career success in Korea, but now it's merely a certificate of unemployment," said Cho, a university senior who asked only to be identified by her family name.
There are few places in the world where youth invest as much time and parents spend as large of a percentage of their income on education as South Korea, where cram schools are required to shut down by midnight so that students can have some sleep after studying for between 12 and 14 hours a day.
The goal has been entry to an elite university, which usually means a high-paying job, being considered a more desirable candidate for marriage and a level of prestige in the highly competitive society.
For many like Cho, the answer to the tough job market is even more education but experts are wondering if the current job crunch may be more than temporary and could signal an unraveling of social structures.
"There is a low empowerment level among people in their 20s," said Woo Suk-hoon, an economics professor who coined the term 800,000 Won Generation in a recent book. "There is a much weaker social safety net in South Korea compared to what is offered in many OECD countries. This makes it easier for the country to sacrifice younger South Koreans in the labor market."
A growing number of the young South Koreans have only been able to find temporary work. They see these posts as quicksand because the longer they stay, the more difficult it becomes for them to escape to join the regimented work force of regular workers who traditionally stay with one company for life.
The situation will likely get worse as the government predicts about 200,000 jobs will disappear this year while many private-sector economists warn of as many as 500,000 job losses.
Above a third of a million South Koreans aged between 20 and 29 were jobless in February, bringing the unemployment rate for the age group to 8.5 percent, more than double the nationwide jobless rate, the National Statistical Office said.
The government is aiming to ease the employment pinch through job-sharing and internship programs but Chu Duk-han, an activist who runs an online community for job seekers, sees this as nothing but a stop-gap measure.
"There are so many hopeless people who cannot even get those irregular jobs. The unemployment rate of the highly educated young people doesn't tell the whole story. High school graduates are totally being excluded and ignored," Chu said.
Kang Myung-koo, a 31-year-old high school graduate, said that he has not even been able to find a part-time job since last June when he lost a post at an online shopping mall in shipping.
"I am competing with college students for simple jobs with no age limits or academic requirements. I have nowhere to go. It's hopeless. My bank account has dried up and the unemployment insurance benefits will stop soon," Kang said.
Major employers such as Korea National Oil Corp, Hyundai Motor and the National Pension Service have said they plan to cut the wages of new hires.
In addition, many have said they will hire fewer regular employees and more contractors through internship programs.
"More and more companies are closing their doors for new full-time workers and hiring cheap interns instead," said Park Young-ryeol, a professor of business administration at Yonsei University.
"I'm afraid this type of hiring is turning into a common practice," Park said.
Comments will be moderated. Keep comments relevant to the article. Remarks containing abusive and obscene language, personal attacks of any kind or promotion will be removed and the user banned. Final decision will be at the discretion of the Taipei Times.