Personal outsourcing: If big companies can do it, why can't I?
Tutoring the kids, combing personal ads and buying tickets can be taken off your to-do list
Adrianne Yamaki, a 32-year-old management consultant in New York, travels constantly and logs 80-hour workweeks. So to eke out more time for herself, she routinely farms out the administrative chores of her life -- making travel arrangements, hair appointments and restaurant reservations and buying theater tickets -- to a personal assistant service in India.
Kenneth Tham, a high school sophomore in Arcadia, California, strives to improve his grades and scores on standardized tests. Most afternoons, he is tutored remotely by an instructor speaking to him on a voice-over-Internet headset while he sits at his personal computer going over lessons on the screen. The tutor is in India.
The Bangalore butler is the latest development in offshore outsourcing.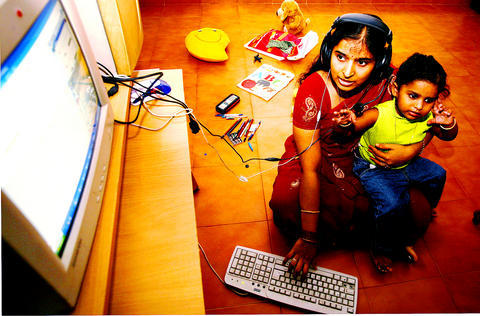 Ramya Tadikonda, a tutor with TutorVista, sits at home in Chennai, India, on Oct. 25. Tadikonda has tutored many American students from her home.
PHOTO: NY TIMES NEWS SERVICE
The first wave of slicing up services work and sending it abroad has been all about business operations. Computer programming, call centers, product design and back-office jobs like accounting and billing have to some degree migrated abroad, mainly to India. The Internet, of course, makes it possible, while lower wages in developing nations make outsourcing attractive to corporate America.
The second wave, according to some entrepreneurs, venture capitalists and offshoring veterans, will be the globalization of consumer services. They predict the market will one day include millions of households around the world.
They foresee an array of potential services beyond tutoring and personal assistance like health and nutrition coaching, personal tax and legal advice, help with hobbies and cooking, learning new languages and skills and more. Such services, they say, will be offered for affordable monthly fees.
"Consumer services delivered globally should be a huge market," observed K.P. Balaraj, a managing director of the Indian arm of Sequoia Capital, a venture capital firm.
But globalization of consumer services faces daunting challenges, both economic and cultural. Offshore outsourcing for big business thrived partly because the jobs were often multimillion-dollar contracts and the work was repetitive. In economic terms, there were economies of scale so that the most efficient Indian offshore specialists could become multibillion-dollar companies like Infosys Technologies, Tata Consultancy Services and Wipro Technologies.
It is not all clear that similar economies of scale can be achieved in the consumer market, where the customers are individual households and services must be priced in tens or hundreds of dollars.
Then there are the matters of language, accent and cultural nuance that promise to hamper the communication and understanding needed to deliver personal service.
Last year, Ernest Tham, a truck driver, noticed a reference to Tutor-Vista on a Web site and suggested his son give it a try.
"Kenneth was apprehensive at first, and I wasn't sure how it would work," Tham said. "But, shocking to say, it's gone very well."
TutorVista, analysts say, is different from other remote tutoring services in a number of ways. Others generally offer hourly rates of US$20 to US$30 instead of the US$40 to US$60 hourly charges typical of on-site tutoring. By contrast, TutorVista takes an all-you-can-eat approach to instruction. Its standard offering is US$99 a month for as many 45-minute tutoring sessions as a student arranges.
Steve Ludmer, 28, and his partner Avinash Samudrala, 27, are betting the time is right for another kind of global consumer service. Their remote personal assistant service is called Ask Sunday.
The company is based in New York, but its work force is mostly in India. It is one of a few startups trying to create a business in offshore personal assistant service. Some, like GetFriday, charge hourly rates of US$15 or so, but Ask Sunday has a per-request model, US$29 a month for 30 requests a month or US$49 for 50.
The requests can be unusual. A few subscribers had Ask Sunday search online dating services for short lists of people who meet their criteria.
During a late meeting at the office recently, Yamaki said, she sent a one-line e-mail message from her laptop that told Ask Sunday to order her usual meals from her favorite Manhattan restaurant, for delivery at 9:30pm. When the meeting ended, her food was waiting.
To handle such personal chores, Yamaki has handed Ask Sunday a wealth of personal information, including credit card numbers, birth dates of family and friends and phone numbers for doctors, car services, favorite restaurants and others. She finds the convenience well worth it.
Comments will be moderated. Keep comments relevant to the article. Remarks containing abusive and obscene language, personal attacks of any kind or promotion will be removed and the user banned. Final decision will be at the discretion of the Taipei Times.