FEATURE: Uni-President celebrates 40th anniversary
ON EVERY CORNER The nation's largest food conglomerate and parent company of the ubiquitous 7-Eleven convenience stores is poised to list on the Hong Kong market
Shrugging off the post-SARS slowdown and competition, the four-decade-old Uni-President Enterprise Co (統一企業), the nation's largest food conglomerate, is poised for fast expansion and sales growth should its plan to list on the Hong Kong market go through soon, market watchers say.
"We estimate that [parent] Uni-President Group (統一集團) will see annual revenue growth of 30 percent for the next three years," said Joy Tsai (蔡秋洵), an analyst with Yuanta Core Pacific Capital Management (元大京華投顧).
If Tsai's bullish prediction comes true, Uni-President Group, whose combined revenues reached NT$258 billion (US$7.93 billion) last year, will soon outperform top-tier Japanese competitors, whose annual revenues average above NT$400 billion.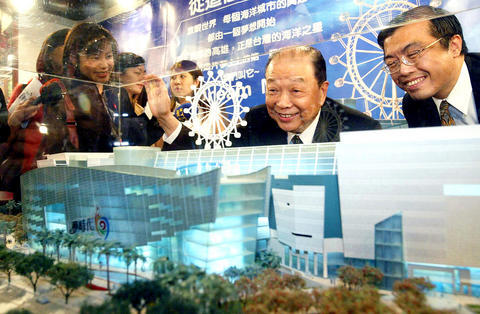 Uni-President Enterprise Co chairman Kao Ching-yuan, second right, looks at a model of the Dream Mall shopping center in Kaohsiung on Nov. 5, 2003.
PHOTO: LIN CHENG-KUN, TAIPEI TIMES
Speaking at the company's 40th anniversary last week, president Alex Lo (羅智先) -- the son-in-law of group co-founder and chairman Kao Ching-yuan (高清愿) -- has vowed to become the market leader in Asia in the next decade while Kao himself, in the early 1990s, had aimed even higher with the goal of expanding the group to become the world's largest food conglomerate with US$120 billion in annual revenues by 2017.
Although Lo refused to clarify the company's recent progress on the Hong Kong listing plan, Uni-President's growing ambition to take up sizable shares in Chinese markets is evident after setting up a Cayman-based holding company with a goal of raising US$150 million in Hong Kong by year's end for loan repayment and re-investment in China.
Moreover, the company's board in June further decided to increase its capital from the current NT$33.5 billion to NT$48 billion in preparation for future China-bound investments -- a decision that goes against the market trend when most Taiwanese companies were buying back shares to strengthen their earnings per share (EPS).
The recapitalization plan will allow Uni-President, which is constrained by the government's 40 percent cap on China-bound investment, to increase its bets in China by a maximum of NT$580 million after having invested US$350 million in China since 1992, which is nearing the 40 percent ceiling of its capital.
The market has mixed views toward Uni-President's recapitalization move, which will end up diluting its current EPS to hurt shareholders' substantial return.
"But we are still positive because we believe Uni-President will take advantage of the extra capital to create future value for shareholders in compensation for the near-term EPS dilution," says Tsai, expressing confidence in Uni-President's future growth in China.
For example, the group won a sponsorship spot for Beijing's Olympic Games next year, which would bring more exposure to Chinese consumers and soon catch the group up with Taiwanese competitor Ting Hsin International Corp (頂新集團) in instant noodle sales, she says.
"As a famous fast-noodle brand, Uni-President's participation in the 2008 Olympic Games has helped strengthen the game's sponsorship," the Beijing Organizing Committee for the 2008 Olympic Games' (BOCOG) vice president and secretary-general Wang Wei (王偉) said last November.
Taipei-based China Credit Information Service Ltd's (中華徵信所) editor-in-chief Liu Jen (劉任) is just as optimistic, saying that Uni-President has leaped from a China concept stock to a China-gain stock after the group's revenues in China exceeded those from Taiwan.
Liu lauded Uni-President's strategy of starting business in nearly 50 Chinese cities and coordinating all business branches in China as a whole, saying the move has gradually paid off and created synergy.
Under Lo's leadership the past few years, Uni-President has further succeeded in differentiating itself from Ting Hsin, which aims to quickly monopolize Chinese markets by seeking both strategic partners such as HeBei Hualong Food Group (華隆日清集團) and merger opportunities in China to gobble up market shares.
"Ting Hsin, which used to look down on Uni-President, is now beginning to see Uni-President as a threat," Liu says, adding that Uni-President has a complete expansion plan that includes investments in other Asian countries such as Thailand and Vietnam.
In Taiwan, Lo has also successfully re-oriented the company's focus back to food and livelihood-related businesses by ruthlessly liquidating several profit-losing and unrelated diversification branches such as Grand Commercial Bank (萬通銀行) and President Securities Corp (統一證券).
Liu said that beverage sales contributed 42.5 percent to the group's overall annual revenues last year while food businesses contributed another 31.4 percent -- proof that the re-orientation toward core food-related business has put the company back on the right track.
According to China Trust's annual ranking this year, Uni-President Group is the 33rd largest conglomerate by assets in Taiwan with annual combined revenues seeing a 6.3 percent growth last year from the previous year's NT$242 billion.
Subsidiary Uni-President Enterprise also saw a 6.4 percent growth last year after annual revenues climbed to NT$42.8 billion last year from NT$40.3 billion in 2005.
But not everyone is so sure about Uni-President's China outlook as the country presents both opportunities and challenges to businesses.
Although they found the recapitalization plan "acceptable," foreign securities analysts from USB Global Asset Management (瑞銀環球資產管理) and Macquarie Equities (Asia) (麥格理證券) once gave a neutral and less-than-neutral rating respectively on Uni-President shares, which they believed are too expensive to buy on the TAIEX.
Macquarie even disagreed with the market view, saying that Uni-President's competitiveness in China is not as strong as many might expect.
But Yuanta's Tsai still believes that Uni-President's valuation will be worth buying once it lists on the Hong Kong markets because its price-to-earning (PE) ratio of 30 would out-value most of Shanghai's A shares, whose PE ratio averages above 60.
Started as a fodder factory and flour mill, Uni-President was founded in mid 1967 by members of the Tainan Group (台南幫) including tycoon Wu Hsiou-chin (吳修齊) and Kao with an initial capital of NT$30 million and a meager 80 employees.
Uni-President spent its first decade as a manufacturer of instant noodles, oil, beverage and dairy products and focused on boosting sales by building a network of channels in the second decade.
The company opened 14 7-Eleven convenience stores in 1979, which have been in service 24 hours a day since 1983. The number of stores grew to 100 stores nationwide in 1986 -- one year before Uni-President listed on the TAIEX.
"Some 20 years ago, the idea of opening up convenience stores such as 7-Eleven was innovative enough in itself," says Katherine Chang (張苑惠), assistant professor of business administration at National Changhua University of Education.
Chang said that Uni-President has been a market leader in not only product innovation but also in introducing multi-national brands such as Starbucks from the US and MUJI (無印良品) from Japan in past decades.
As Uni-President entered its third decade, it set the goal of expanding business through marketing, which has attracted many copycats.
Taking the 7-Eleven subsidiary as an example, Chang says that the company is capable of turning "ordinary products into top-selling ones," adding the launch of a cartoon spokesdog "Open" (Open小將) has attracted interest from international businesspeople.
Over the last 10 years, Uni-President has not only expanded into Chinese and Asian markets but has also tapped into retailing, channeling, commercial trading and service-oriented businesses with China-bound investments turning profit in 2000.
In 2003, Uni-President finalized a NT$18.5 billion project to build the Dream Mall in southern Kaohsiung, which was launched in May.
Although the latest investment may only bring in profits for Uni-President after five to seven years, Uni-President is doing just fine after posting a record-high profit of NT$5 billion in the first half of this year.
Comments will be moderated. Keep comments relevant to the article. Remarks containing abusive and obscene language, personal attacks of any kind or promotion will be removed and the user banned. Final decision will be at the discretion of the Taipei Times.