Keeping a secret secret for the Colonel
The recipe for KFC chicken is so valuable that company officials don't know what it is
The handwritten recipe that launched a fast-food dynasty and made Colonel Harland Sanders world famous is locked away at KFC headquarters -- its contents so concealed that not even the chain's top executive knows the ingredients.
It was 65 years ago this month, at his roadside restaurant in Corbin, Kentucky, that Sanders perfected the blend of 11 herbs and spices for his "finger lickin' good" chicken.
Through the years, the recipe's secrecy has endured, as has the public's appetite for the Colonel's Original Recipe Kentucky Fried Chicken.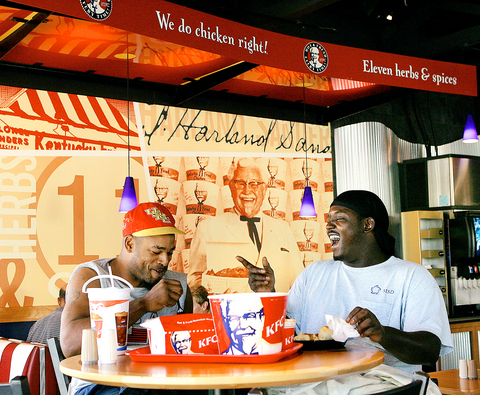 Desmond Anderson, left, and Nathaniel Sparks enjoy a light moment as they share a bucket of KFC chicken during lunch hour at a restaurant in Louisville, Kentucky, on Thursday last week.
PHOTO: AP
"We have gone to great lengths to make sure that it stays secret," KFC president Gregg Dedrick said.
He doesn't know the recipe and intends to keep it that way.
"Presidents come and go," he explained, "but the secret recipe remains."
For KFC, whose Louisville headquarters resembles a white-columned mansion, the recipe is more than a treasured link to its roots. It remains an integral part of the 50-year-old company's success.
At last count, KFC had nearly 13,300 restaurants worldwide, including 1,348 multibrand stores sharing space with sister brands in parent Yum Brands Inc's fast-food network. The chicken chain serves some 8 million customers daily in more than 80 countries and territories. In China, the chain has grown so fast that it opens, on average, a new restaurant daily.
Years ago, the chain dropped its reference to "fried" and its name was shortened to KFC. Its menu was expanded with non-fried chicken items meant to appeal to the health-conscious.
Now, the chain is again stressing its traditional fried chicken, with a slight twist. Its variety chicken buckets, offering three types of chicken in one package, are partly credited for KFC's sales rebound after a prolonged slump. KFC also says its US$0.99 Snacker sandwich has been a hit.
For the three-months ended June 11, KFC posted 8 percent growth in US same-store sales, versus a 5 percent drop in the same period a year ago. Last year, KFC's worldwide sales at company and franchised stores made up US$12.2 billion of Yum's US$28 billion in total sales.
The chain is tightlipped about plans to build on the momentum, but Dedrick said, "New food, new stores and more convenience are in the works."
KFC's top executive said the mystique of the Colonel's blend of herbs and spices, along with its taste, gives the chain a leg up on the competition.
"This secret recipe really ensures that we have a product that people love and that nobody else can serve them," Dedrick said.
Only a few people know the recipe and are sworn to secrecy. Some are KFC employees, but the company won't reveal their names. Two companies supply the herbs and spices, but each formulates only part of the ingredients, Dedrick said, and neither supplier knows the other's identity.
The Colonel's handwritten recipe is tucked away in a safe at KFC headquarters, with portions in safe deposit boxes at undisclosed locations as backup.
For years, Sanders carried the secret formula in his head and the spice mixture in his car. At one time, he carried a copy of the recipe in his wallet.
Sanders' personal secretary, Shirley Topmiller, recalled that Sanders once handed her a "little, raggedy piece of paper" and asked her to make a copy.
"When the printed copy came out, I saw enough to know I was looking at a recipe," Topmiller said. "I rushed back with both pieces and I really kind of chastised him. I said, `Colonel, you cannot walk around with this in your billfold.'"
Sanders later assured her that he had put the recipe in a more secure place. He remained a KFC spokesman -- pitching the fried chicken on folksy television ads -- until his death in 1980 at age 90.
John Y. Brown Jr. said he was given a copy of the recipe when he and other investors purchased KFC from Sanders for US$2 million in 1964.
"I never paid any attention to it because I wasn't going to mess with it," said Brown, who later became governor of Kentucky.
KFC was sold again in 1971 for US$285 million, and changed hands a few times until becoming part of Yum, which claims such other brands as Pizza Hut, Taco Bell and Long John Silver's.
Occasionally, KFC hears from people who claim they have a copy of the Colonel's recipe, Dedrick said. After struggling for most of his life, the Colonel wasn't about to let the recipe's secret slip, Topmiller said, adding it became "part of his persona."
Others have tried to replicate the recipe but failed, Dedrick said.
"We've had some people who have claimed they've found the Holy Grail," he said. "But no one's really found the Holy Grail. We've got the Holy Grail locked up in a safe place."
And what if the secret ever leaked?
"We would certainly feel like we had broken a trust with the Colonel," Dedrick said.
Beyond such sentimentalities, there would be serious business consequences. KFC would have to make sure it retained exclusive rights to the recipe and fight off copycats, he said.
Dedrick said he doesn't worry about the recipe being revealed.
Those who know the blend of ingredients consider it a cherished trust, Dedrick said. Also, anyone divulging it might incur "the curse of the Colonel," he said.
Comments will be moderated. Keep comments relevant to the article. Remarks containing abusive and obscene language, personal attacks of any kind or promotion will be removed and the user banned. Final decision will be at the discretion of the Taipei Times.