Man behind `Girls Gone Wild' has brand expansion on his mind
A 31-year-old entrepreneur who made millions from a video series in which students are encouraged to expose themselves to the camera now wants to apply his formula to restaurants, clothes, music and movies
It's that time of year again -- spring break -- and this means another busy season for Girls Gone Wild. On a recent evening, the camera crew was up to its usual tricks, egging on college students to flash their breasts on the street, on the beach and in hotel rooms with lines like "Do you want to get wild for me?" "Nice" and "Shake it!"
And, as usual, plenty of girls obliged. This time around, though, the crew approached men, too, asking them to drop their pants for a new video series, Guys Gone Wild, a product of uncertain market appeal that will be introduced as an experiment this summer.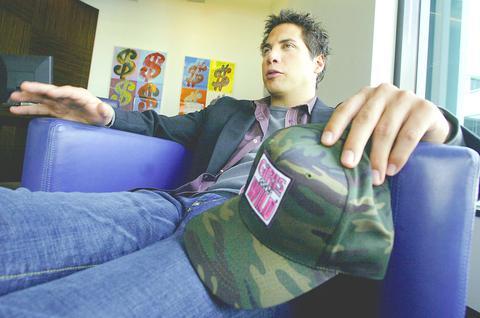 Joseph Francis talks about his Girls Gone Wild series in his office in Santa Monica, California. Francis is facing prosecution on charges including racketeering, child pornography and obscenity for allegedly enticing under-age girls to expose themselves in his videos.
PHOTO: NY TIMES NEWS SERVICE
"It's spring break. Why not?" said Michael, a 20-year-old from the State University of New York at Geneseo who wore jeans, a loose shirt and a slightly dazed grin. He mooned the camera in a hotel hallway but asked that his last name not be used, explaining that being naked on tape could come back to haunt him.
Still, he said, "It's pretty cool."
For Joe Francis, the 31-year-old creator of the Girls Gone Wild videos, the pervasiveness of that kind of what-the-heck attitude to self-exposure has been pure gold, providing him with two mansions, including one in Bel Air, California, a ski retreat and two jets. Though buyers of his US$9.99 (and sometimes more) videos and DVDs, well-advertised on late-night infomercials, are mostly young men, the sunburned, woozy party image the videos project has reached well beyond its core audience. Stars like Brad Pitt have been photographed wearing "Girls Gone Wild" trucker hats, television shows like Curb Your Enthusiasm have written the videos into their story lines and John Kerry has jokingly proposed the release of a "Kerry Gone Wild" video.
So this year, after seven years of building his soft-porn empire into what he boasts is a US$100-million-a-year business, and despite the fact that multiple lawsuits and a criminal case are pending against him, Francis has brand expansion on his mind. He is embarking on projects and licensing deals to slap the "Girls Gone Wild" name on restaurants, clothes, music and movies.
"Girls Gone Wild is an entertainment franchise," Francis said at the headquarters of his company, Mantra Entertainment in Santa Monica, California. "I want to put that name on everything I can."
MGM has purchased the rights to use the videos as the theme of what studio officials say will be either a teen comedy or a reality movie, and Jive Records is planning to release a compilation CD of dance music under the Girls Gone Wild brand.
More ambitious, however, is Francis' licensing deal for a chain of Girls Gone Wild restaurants with the business partners behind several Las Vegas bar franchises, including Coyote Ugly, which inspired a 2000 movie.
Jennifer Worthington, one of the partners in the Girls Gone Wild restaurant venture, said the group was investing up to US$30 million on four initial locations, with the first scheduled to open in Times Square by fall. (New Orleans, Las Vegas and Miami are next.) Francis is to receive a percentage of the revenues under an agreement signed two months ago, she said.
Likening the concept to Hooters, known for its busty waitresses in tight tops, and to the popular Senor Frog's chain, Worthington promised "the most fun spring break party that you could ever imagine," minus the nudity. Customers of the Girls Gone Wild Cantina and Dance Club will be treated to dance routines by waitresses and bartenders, and big screens for watching sports.
"Even if you don't agree with the tapes, it's a fun, cool brand," Worthington said. "To achieve success we have to appeal to a larger demographic than the one for the videos. For us, it's creating an atmosphere and our own brand identity."
But as Francis tries to branch out, he is also facing a raft of legal disputes, including a complaint by the Federal Trade Commission alleging that his company engaged in deceptive business practices (charging consumers for unordered videos), and criminal charges in Panama City Beach, Florida, for which he is currently out on US$165,000 bail.
In that case, Francis and some of his employees are charged with racketeering, obscenity and enticing underage girls to expose themselves and engage in sex acts during spring break last year. Francis has pleaded not guilty. While he awaits trial, the Miami Beach police are investigating an allegation by a 21-year-old woman that he drugged and raped her in his hotel room in South Beach last month, although the police report said she wasn't sure what had happened.
And there are several lawsuits filed by young women who were filmed for his videos, including one submitted by seven underage teenagers in connection with the Panama City Beach case.
"I'm just trying to get them to stop the exploitation of children," said Thomas Dent, a Chicago lawyer representing the teenagers.
Francis denies all the charges. He countered that officials in Panama City Beach, whom he sued to prevent them from interfering with his camera crews last year, are using him to try to get rid of spring breakers in hopes of attracting family tourism. Through a spokesman, he said this week that he is willing to take a lie detector test to prove that he and the woman accusing him in Miami Beach had consensual sex.
As for the lawsuits, he said that his accusers are after his money. Some past civil cases have been resolved in his favor, with judges siding with him on First Amendment and other grounds.
"Everybody is doing everything by their own free choice," he said of the young women who appear on camera.
As for his business partners, Worthington, for one, is unfazed by his legal troubles. She said she had already received calls from people interested in the Girls Gone Wild restaurant franchise. She said she did not think that the criminal charges against him or his tawdry reputation in some circles will hurt the restaurant chain.
"It's not like this is Martha Stewart," she said. "The majority of people don't associate Girls Gone Wild with Joe Francis."
A businessman who cultivates a youthful image -- Francis favors jeans and sneakers and always has M&M's and other candy within reach -- he has carved out a piece of the sex industry with a girl-next-door brand that he maintains is the antithesis of pornography.
He cut his teeth in reality programming as a production assistant on the syndicated show Real TV. He later started a direct-marketing business with Banned From Television, a compilation of gory footage from news agencies and camera crews.
One day, he came across some tape showing spontaneous breast-baring at Mardi Gras in New Orleans, and as he says now, "I came to the realization that there was nothing like this in the market."
His videos show often wholesome-looking girls -- "the ones you wouldn't expect to do it," in the words of Mia Leist, 25, his production manager -- flashing above and below the waist, kissing one another and exhibiting all kinds of "wild" behavior, all in the party atmosphere of a wet T-shirt contest. Francis said he believes young women agree to be filmed for the attention and for their 15 minutes of fame.
"Occasionally we pay if they ask, but 95 percent of the girls just get a tank top," Francis said.
Joe Austin, an assistant professor of popular culture at Bowling Green State University in Ohio, said it was not surprising that many young women are comfortable displaying their bodies in an age of thongs, body piercing and tattoos.
Pulling up a shirt, even in front of a camera, is just an extra step, he said. "Something that 15 years ago would have been considered porn, now it's considered reality video."
Being shown naked on a video may not be the career buster it was once "unless they're running for office or something really visible," said Vickie Rutledge Shields, a colleague of Austin's who specializes in media and gender studies.
Since 1997, said Bill Horn, the spokesman for Mantra, more than 100 titles have been released with names like Girls Gone Wild Endless Spring Break>> and Girls Gone Wild Doggy Style, which has the rapper Snoop Dogg as host.
Francis spent more than US$21 million on ads last year and was the largest advertiser for programs like The Howard Stern Show on the E! channel, according to TNS Media Intelligence/CMR, a New York company that tracks advertising and marketing information. Some in the advertising industry said sophisticated marketing was a factor in the success of the videos but noted that the brand's main appeal was that it showed real young women as opposed to actresses. The appeal is obvious to Francis, who appears to be guided by his own fantasies. "I love watching girls," he said. "That's what makes me get up in the morning."
On a chilly night in Daytona Beach during filming last month, Shannon, a 19-year-old from Temple University, was lifting her T-shirt in her hotel room amid the laughter and the "Oh, my Gods" of her disbelieving girlfriends.
"It's a very freeing feeling," Shannon said of her stunt.
But she admitted to being "pretty drunk" and added: "I'm pretty sure I'll see a downside tomorrow morning."
Elsewhere on the same night, students in flip-flops and beach gear treated the camera crews -- one woman to shoot the guys, two men for the girls -- like movie stars, shrieking in recognition and asking them to pose for pictures. Those filmed were asked to state their date of birth and to consent to the shooting on camera.
But not everyone was welcoming. Some bouncers denied the crew entrance at clubs, and many students refused to play along. "It's not my thing," one girl said.
A guy said, "I'm kind of shy in public."
Jackie, 23, who is studying to be a medical technician at a Pennsylvania college, said she happily flashed with a girlfriend when the camera crews hit Miami Beach in mid-March. Interviewed a couple of weeks later, she said: "It was fun. It's one of those things that you never think you'd do."
Her boyfriend worries about potential damage to her medical career, she said, but she doesn't. "If people want to judge me, it doesn't matter," she said. "If this stops me from getting a job, that's not the job I'm meant to have."
Her bravado faltered only when asked if she had told her parents.
"They don't need to know," she said.
Comments will be moderated. Keep comments relevant to the article. Remarks containing abusive and obscene language, personal attacks of any kind or promotion will be removed and the user banned. Final decision will be at the discretion of the Taipei Times.