Low confidence in GDP, with many looking to save
stashed AWAY: Over one-third of survey respondents said they expect economic deterioration, with many refraining on goods purchases and doubting wage increases
Taiwanese this month are turned less confident about GDP growth and slightly more conservative about purchases of durable goods and big-ticket items, although economic data displayed signs of improvement, a Cathay Financial Holding Co (國泰金控) survey released yesterday found.
A total of 38.7 percent of the respondents expect the nation's economy to deteriorate in the coming six months, while 29.5 percent believe it would improve, it said after polling 14,287 people online from Nov. 1 to 7.
Despite the results, the government's business climate monitor last month turned "yellow-blue," indicating that the economy is shifting gears toward a better state following 10 months of recession caused by a global trade slowdown.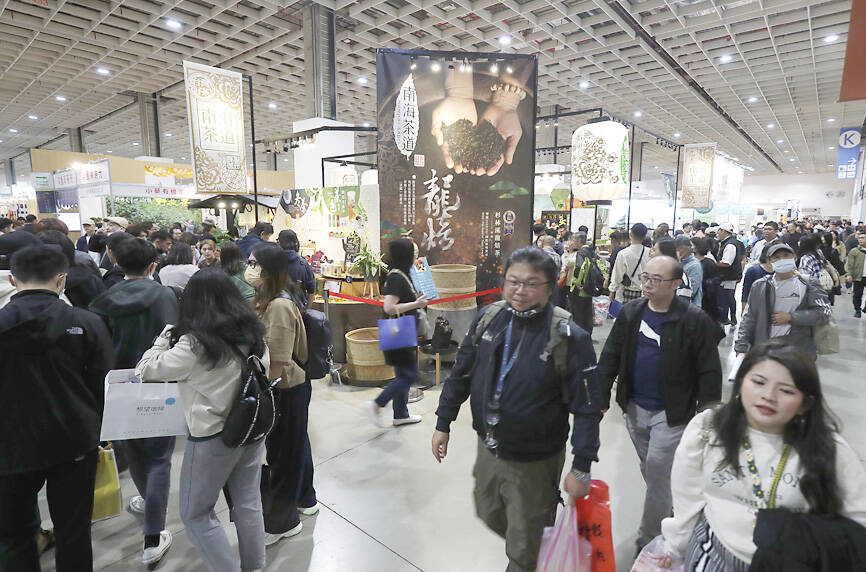 People visit the Taiwan International Tea Expo in Taipei on Sunday. Taiwanese have turned less confident about GDP growth and are slightly more conservative about purchases of durable goods and big-ticket items, a Cathay Financial Holding Co survey found yesterday.
Photo: AP
Only 21 percent of survey respondents still believe GDP growth this year would exceed 2 percent, higher than the Directorate-General of Budget, Accounting and Statistics' August projection at 1.61 percent. The statistics agency is likely to trim its growth forecast on Nov. 28 after major economic gauges disappointed.
At the same time, 84 percent of the public expect inflation of more than 2 percent, meaning consumer price hikes would eat away the limited benefits of economic growth.
The inflationary measure last month accelerated faster than 3 percent on the back of rising fruit and vegetable prices amid supply disruptions.
Labor officials in September announced plans to raise basic wages next year by 4 percent from NT$26,400 to NT$27,470 a month to help ease the pains of inflation, but firms are not obligated to make adjustments for workers who earn more than the basic wage.
Still, 24.2 percent said their wages would pick up in the coming six months, higher than the 16.4 percent who hold the opposite view, while 59.4 percent said their wage would remain unchanged.
Against this backdrop, 34.3 percent would cut spending on durable goods, while 18.9 percent would increase their budget, the survey said. By contrast, 31 percent expressed more interest in buying big-ticket items and 24 percent would tighten their belts, it said.
Further, 65.7 percent believed it to be unwise to buy houses and 46.9 percent also think it is ill-conceived to sell. However, 33.3 percent indicated that it is time to sell, which might translate into selling pressure, it said.
As for stock investments, 32.3 percent expect TAIEX to advance and 32.6 percent expect the local bourse to fall, it said.
Despite the mixed sentiment, 28.4 percent intend to channel cash into stock investments and 18.1 percent prefer to lower holdings, it said.
Comments will be moderated. Keep comments relevant to the article. Remarks containing abusive and obscene language, personal attacks of any kind or promotion will be removed and the user banned. Final decision will be at the discretion of the Taipei Times.