Export orders decrease to US$52.87bn
SLOPING DOWN: Despite data showing a gradual improvement, the MOEA is staying cautious in the near term, as the decline in exports slightly exceeded its fall forecast
Export orders last month dropped 4.6 percent year-on-year to US$52.87 billion, marking the 14th month of consecutive declines, the Ministry of Economic Affairs (MOEA) said in a report yesterday.
The decline was at the lower end of the 4.3 percent to 7.9 percent the ministry forecast a month ago, and was also lower than the 15.6 percent decrease recorded in September.
On a monthly basis, export orders — an indicator of product and component shipments to overseas markets over the following one to three months — increased for a second straight month at 2.9 percent, the ministry said.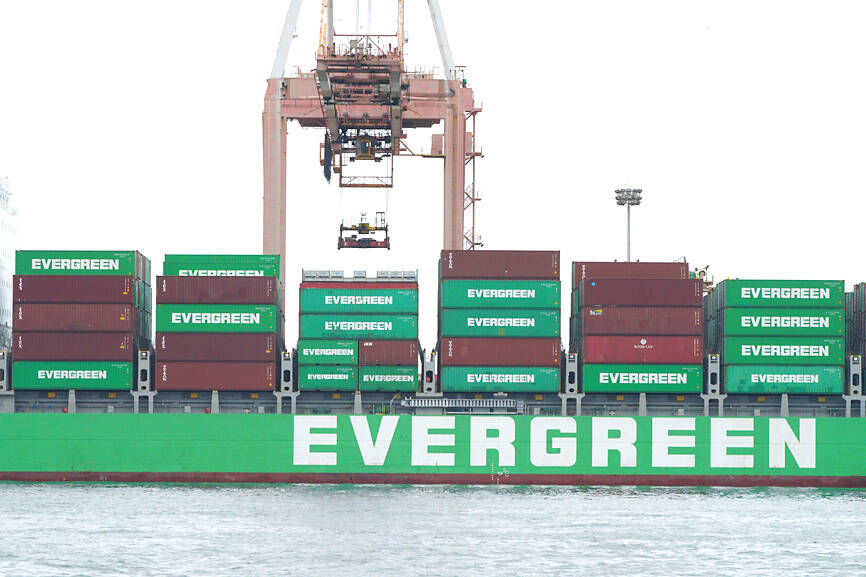 A crane moves containers as an Evergreen Marine Corp cargo ship docks at the Port of Kaohsiung on July 20. Taiwan's export orders last month dropped 4.6 percent year-on-year to US$52.87 billion, marking the 14th month of consecutive declines, the Ministry of Economic Affairs reported yesterday.
Photo: CNA
Even though the latest data present signs of gradual improvement in export orders, the ministry remains cautious about the outlook for orders received by Taiwanese firms in the near term, the report said, citing slowing end-market demand and continued inventory adjustments as the global economy is still affected by high inflation and the spillover effect of monetary tightening by central banks, while uncertainties such as the US-China rivalry, the Russia-Ukraine war and the Israeli-Hamas conflict persist.
Last month's figure brought combined export orders in the first 10 months of the year down 17.3 percent year-on-year to US$466.6 billion, the ministry said. This month, export orders are forecast to decrease up to 3.5 percent monthly, but increase 1.7 to 5.7 percent annually to between US$51 billion and US$53 billion, it said.
In a recent poll of domestic manufacturers by the ministry, only 15.7 percent of respondents were optimistic that export orders would increase this month from last month, while 58.2 percent said that orders would be flat from last month and 26.1 percent expected further decline, the report said.
The latest data showed export orders for information and communications technology (ICT) products last month fell 5.2 percent year-on-year, while orders for electronic goods edged down 0.3 percent from a year earlier as increased shipments of servers, graphics cards and chips were offset by slowing demand for notebook computers, networking and communications devices, printed circuit boards, and IC packaging and testing services, the report said.
Optoelectronics products last month posted a 13.8 percent annual increase as prices of flat panels rose and demand for camera lenses improved, it said.
Firms in non-tech sectors continued a downtrend amid adverse macroeconomic conditions, with orders for basic metals, machinery goods, plastics and chemical products last month shrinking from the same period last year by 5.4 percent, 12.8 percent, 6.9 percent and 11.5 percent respectively.
Last month, orders from Southeast Asia registered the largest annual increase of 94.9 percent, followed by a rise of 1.2 percent in orders from China (including Hong Kong). However, orders from Europe posted the largest annual decline of 45.8 percent, compared with a drop of 17.6 percent in orders from Japan and a 1.4 percent fall in orders from the US, the report said.
Meanwhile, 53 percent of all export orders last month received by local manufacturers were for products from overseas factories, down 2 percentage points from a year earlier, as several ICT and electronics makers moved production back to Taiwan, the report found.
Comments will be moderated. Keep comments relevant to the article. Remarks containing abusive and obscene language, personal attacks of any kind or promotion will be removed and the user banned. Final decision will be at the discretion of the Taipei Times.