Investors press Altman reinstatement
RESTORATION: After his firing on Friday, Microsoft and a few investment firms have been working to get Sam Altman back in the OpenAI saddle, with possible shakeups
OpenAI Inc's biggest investors are pressing the company to reinstate Sam Altman as chief executive officer after the board's stunning decision to sack him on Friday, people with knowledge of the matter said.
Microsoft Corp, the start-up's biggest backer with a more than US$10 billion stake, is working with investors including Thrive Capital Management LLC and Tiger Global Management LLC to bring back Altman, said the sources, who asked to remain anonymous discussing private information.
As part of the effort to reinstate the CEO, investors are also pressing for the replacement of the current board, the sources said. The directors have considered stepping down, though they are currently balking at such a move, they said.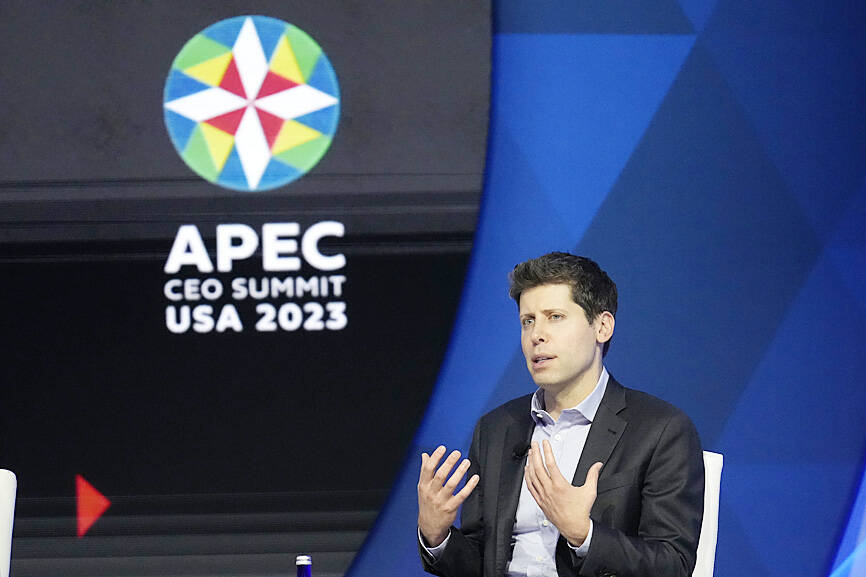 Sam Altman participates in a discussion during the Asia-Pacific Economic Cooperation (APEC) CEO Summit in San Francisco on Thursday, . The board of ChatGPT-maker Open AI says it has pushed out Altman, its co-founder and CEO, and replaced him with an interim CEO.
Photo: AP
The situation is fluid and final plans have not been set. If the board steps down, investors are reviewing a list of possible new directors. One contender is Bret Taylor, the former co-CEO of Salesforce Inc.
The OpenAI board has been subjected to intense criticism over its decision to remove Altman, which came as a surprise to both investors and to Altman himself.
Over the years, Altman pushed hard to change the company from a nonprofit to a commercially successful business and was the driving force behind new tools that have revolutionized the way people complete tasks from homework to coding. His ouster did not sit well with the firms that backed OpenAI.
Thrive, which was expected to lead a tender offer for employee shares, has not yet wired the money and has made it clear to OpenAI that Altman's departure would affect its actions.
Thrive, the largest OpenAI investor aside from Microsoft, is working to reinstate both Altman and Greg Brockman, the start-up's president, who quit on Friday in protest.
Altman is open to returning to the company, some of the sources said.
However, if he were to return, he would ask for changes in the way the company is governed, they said.
Microsoft CEO Satya Nadella has been in touch with Altman and pledged to support him in whatever steps he takes next, the sources said.
Nadella was blindsided by the board's decision, the sources said.
Several employees, including OpenAI co-founder Brockman, have departed the company in protest following Altman's ouster. The resignations are likely to continue, the sources said.
If he does not return, Altman has been considering launching a new venture, possibly with former staffers of OpenAI, they said.
In a statement on X, formerly Twitter, venture capitalist Vinod Khosla said that his firm wanted Altman "back at OpenAI but will back him in whatever he does next."
In a memo to OpenAI staff on Saturday, chief operating officer Brad Lightcap said Altman's ousting "was not made in response to malfeasance" or the company's financial or safety practices.
The decision to force Altman out "took us all by surprise," and he has since spoken with the board to better understand its decision, Lightcap wrote in a memo, which was viewed by Bloomberg.
"This was a breakdown in communication between Sam and the board," Lightcap wrote, adding that Microsoft "remains fully committed" as an investor.
Comments will be moderated. Keep comments relevant to the article. Remarks containing abusive and obscene language, personal attacks of any kind or promotion will be removed and the user banned. Final decision will be at the discretion of the Taipei Times.