KGI SITE celebrates Halloween with rural school children
KGI SITE, a subsidiary of CDF, is committed to providing high-quality financial services and has adopted "Committed to Your Prosperity" as its brand declaration. Recently, Ann Chang, President of KGI SITE, led her colleagues to volunteer at a rural elementary school, serving lunch, donating nutrition funds, and sharing mealtime with students and teachers from Bitou and Hemei Elementary Schools in Ruifang District, New Taipei City. Through these practical actions, KGI SITE fulfilled its corporate social responsibility.
Angelo Koo, the chairman of the China Development Foundation, has long been concerned about rural school children. For 18 consecutive years, China Development Foundation has been promoting the "Nutrition 100" program, providing long-term subsidies to add nutritious food to students' meals in remote areas. They also collaborate with colleagues to visit rural elementary schools and hold "Lunch Date" volunteer activities, demonstrating their concern for students in remote areas.
On the eve of Halloween, KGI SITE designed a delicious and nutritious Halloween feast, consisting of a super beef burger accompanied by fried chicken, vegetables, mango cheese, and fruit. This allowed the students to enjoy a hearty meal.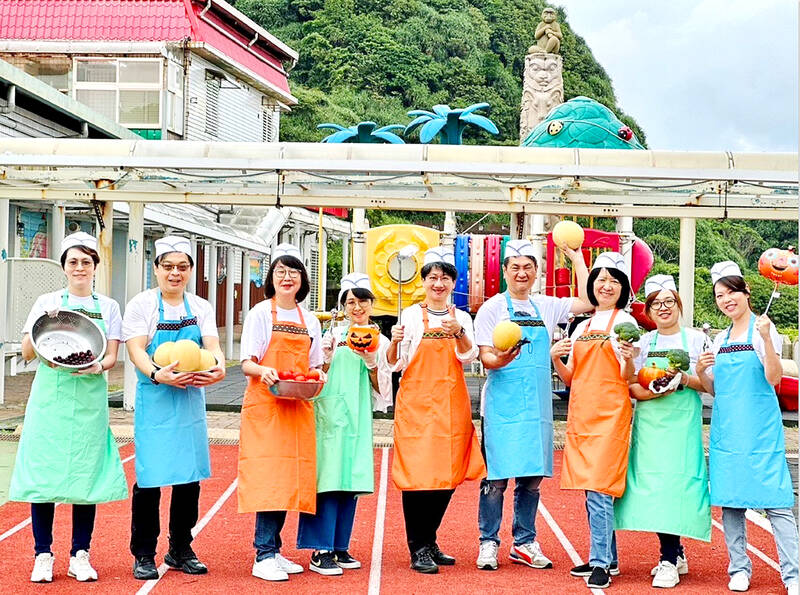 The team from KGI SITE went to the Bitou Elementary School in Ruifang, New Taipei City to volunteer and provide additional dishes for the lunch of rural students.
Principal Li of Bitou Elementary School stated that the "Lunch Date" event is exceptional as it allows children to choose their own meal from wishful menus, such as beef burgers and fried chicken, which excites them to the extent that they are unable to sleep the night before. Colleagues from KGI SITE shed their serious financial attire and transformed into "Hamburger Uncle" and "Fried Chicken Sister," showcasing their culinary skills to fulfill the dreams of rural teachers and students. Even the invited guests, including teachers and students from Hemei Elementary School and police officers from neighboring police stations who dine at the school, experienced the festive atmosphere.
Ann Chang, who has photography as a hobby, captured every exciting moment of the event using a professional camera. Ann stated that KGI SITE cherishes the chance to visit rural schools and interact with children. Through volunteering with colleagues, they not only strengthen team spirit but also create happy memories with the students. It is a rare and valuable experience.
CDF is committed to promoting social inclusion through its "Nutrition 100" project and "Lunch Date" volunteer initiative, continuously delivering love to remote areas and improving the lives of schoolchildren, helping them grow up healthy and happy.
Comments will be moderated. Keep comments relevant to the article. Remarks containing abusive and obscene language, personal attacks of any kind or promotion will be removed and the user banned. Final decision will be at the discretion of the Taipei Times.