HSBC wins Golden Merchant Award for 'outstanding foreign business'
HSBC Bank (Taiwan) Ltd on Wednesday last week won an "outstanding foreign business" award at the Golden Merchant Awards Ceremony held by the General Chamber of Commerce of the Republic of China, making it the only foreign bank to receive such an honor at this year's ceremony.
HSBC Taiwan's President and CEO Adam Chen met with Taiwan President Tsai Ing-wen (蔡英文),Premier Chen Chien-jen(陳建仁) and Legislative Speaker You Si-kun(游錫堃) on Nov.7, who recognized these outstanding businesses' contributions to the Taiwan society.
HSBC Taiwan president and CEO Adam Chen (陳志堅) accepted the award on behalf of the bank at the 2023 Merchants' Day Conference and Golden Merchant Awards Ceremony.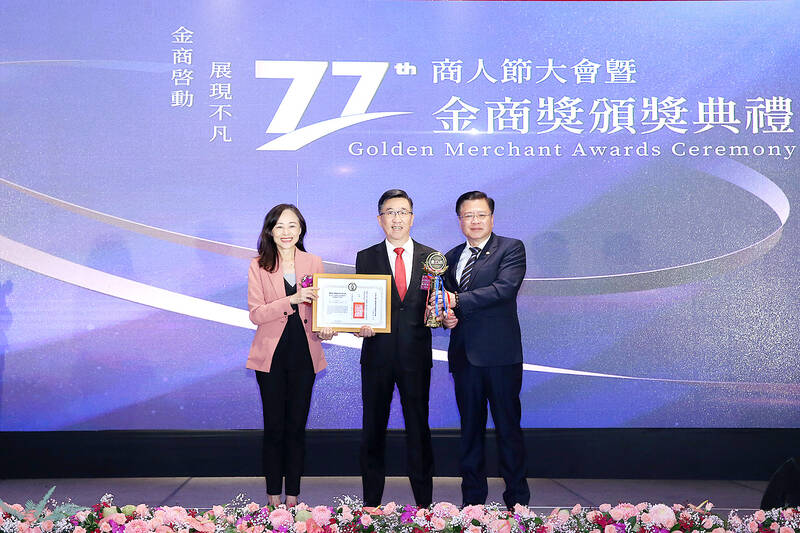 HSBC Taiwan president and CEO Adam Chen, center, receives the 2023 Golden Merchant Award — Outstanding Foreign Business honor.
Photo courtesy of HSBC Bank Taiwan
In his acceptance speech, Chen said that HSBC has been growing its business in Taiwan for nearly 40 years.
He said that the bank leverages the advantages of the HSBC Holdings group's global network of service points to constantly introduce industry-leading financial products and internationalized services that meet customers' needs, and to provide investment analysis and professional insights garnered from its global team of experts, making it the most publicly recognizable financial institution that is most deserving of customers' trust.
HSBC has in recent years continued to pour resources into expanding its commitment to Taiwan.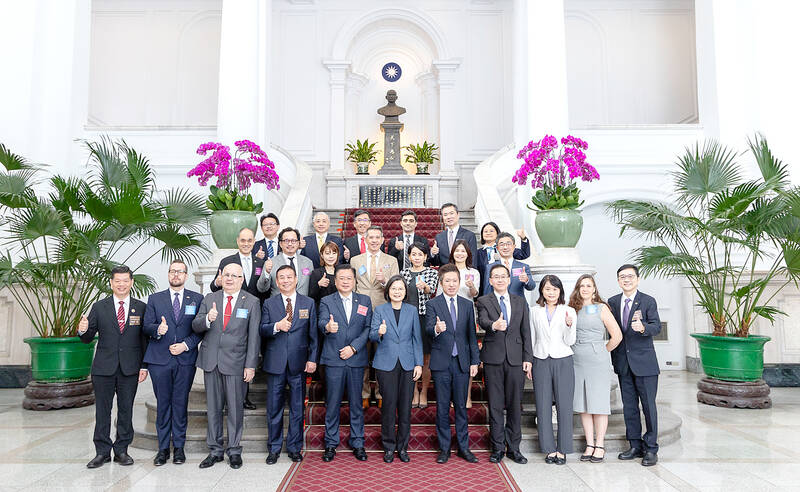 President Tsai Ing-wen, center, poses with HSBC Taiwan president and CEO Adam Chen and representatives of other outstanding businesses at the Presidential Office in Taipei.
Photo courtesy of HSBC Bank Taiwan
Last year, it relocated its Taiwan headquarters to the Taipei 101 skyscraper, which is a world-class green building, and at the end of last year it established HSBC's first flagship wealth management center in Taiwan at its Taipei branch, demonstrating the bank's determination to help Taiwan develop into a financial center in the Asia-Pacific region.
The combined pre-tax profit of HSBC Bank's Taiwan subsidiary and Taipei branch totaled NT$7.5 billion in the first eight months of the year, a big jump of 111% from the same period last year and already higher than the full-year profit of NT$5.9 billion posted in 2022, according to FSC statistics.The 111% YoY growth was also significantly faster than the overall banking sector's 28% growth during the period, data showed.If maintaining the same growth pace, the bank may see its pre-tax profit in 2023 mark the highest level since it established the subsidiary in Taiwan in 2010.
HSBC also actively cultivates financial talent, continues to expand its financial offerings, and guides its customers to discover and develop business and investment opportunities all around the world.
Aside from its outstanding performance in various business areas, HSBC has responded to international trends by integrating environmental, social and governance (ESG) elements into its financial products and solutions. It is committed to becoming a net zero emissions bank and encourages industries to make the transition to low-carbon operations.
While continuing to focus on providing friendly and convenient financial services, HSBC has not overlooked longer-term social issues such as care for the environment and education.
Aside from the Golden Merchant Award, HSBC has received numerous awards in Taiwan and abroad for its efforts to meet customers' needs. As well as winning Commonwealth Magazine's Excellence in Corporate Social Responsibility award for the 13th year in a row, this year it has also been named Taiwan's best foreign bank by FinanceAsia and Asiamoney magazines, showing how widely HSBC is recognized for its outstanding operational performance.
Comments will be moderated. Keep comments relevant to the article. Remarks containing abusive and obscene language, personal attacks of any kind or promotion will be removed and the user banned. Final decision will be at the discretion of the Taipei Times.