Semiconductor surge to bolster stocks: AllianzGI
DIVERSIFYING: Allianz Global Investors said geopolitical risk is 'not news for Taiwanese,' joining a Taipei-based institute in painting a rosy outlook for chip-sector firms
Taiwanese stocks are likely to shrug off geopolitical concerns to mount a recovery next year, led by a resurgence in chip-sector earnings, according to the nation's largest active equity fund manager.
Taiwan's semiconductor companies will see earnings growth of around 30 percent next year, with 20 percent growth expected for Taiwan-listed companies as a whole, Ivy Chen (陳彥婷), general manager and head of Taiwan at Allianz Global Investors, said in an interview on Tuesday.
Escalating tensions between Taiwan, China and the US and fears of a global economic slowdown have driven foreign investors to pull US$7.4 billion from Taiwanese stocks this year, the most in Asia, according to Bloomberg-compiled data. Still, the benchmark TAIEX has gained 16 percent year to date, the second-best-performing major stock market in Asia after Japan.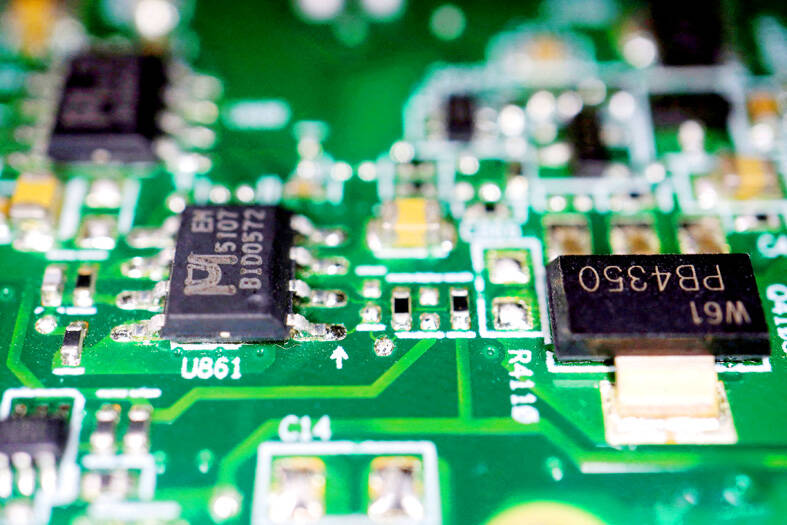 Semiconductor chips on a printed circuit are pictured on Feb. 17.
Photo: Reuters
Geopolitical risk is "not news for Taiwanese people," Chen said, adding that similar risks could emerge anywhere in the world in the wake of the Russian-Ukraine war and the Israel-Hamas conflict. "The best way to reduce geopolitical risks is by diversifying in terms of asset class or sector."
The main drivers of growth for Taiwan's chip companies include improving end-consumer demand and the destocking of the sector coming to an end, Chen said, adding that demand for semiconductors related to artificial intelligence will continue to boom.
She expects Taiwanese stocks next year to top this year's gains.
The Taipei-based Market Intelligence and Consulting Institute on Wednesday forecast that production value of Taiwan's semiconductor industry next year would increase 13.7 percent to NT$4.29 trillion, from NT$3.77 trillion this year.
The increase in output would be driven mainly by the wafer foundry sector as chipmakers expand capacity for advanced manufacturing, the institute said in a report.
Institute consultant Sagitta Pan (潘健光) said the growth momentum of the semiconductor industry would rely on emerging applications such as innovative information services, energy and environmental protection, and technology integration.
In particular, artificial intelligence (AI), new energy and artificial intelligence of things will become the main growth momentum, Pan said.
Chen said she is confident that Taiwanese stocks will attract foreign investors again with their earnings growth. Taiwan's manufacturers have also increasingly diversified their production base, which will help boost their competitiveness as it alleviates geopolitical concerns, she said.
Over the longer term, the firm is positive on sectors including bicycles, textiles, shoe manufacturing, machine tools and biotech.
Allianz Global Investors Taiwan manages NT$69.5 billion (US$2.15 billion) in onshore Taiwanese stock funds as of September, the most in Taiwan, according to data from the Securities Investment Trust and Consulting Association. That includes a technology fund which beat 96 percent of peers in the past year, according to Bloomberg-compiled data, with Alchip Technologies Ltd (世芯), Quanta Computer Inc (廣達) and MediaTek Inc (聯發科) among its top holdings.
Additional reporting by staff writer
Comments will be moderated. Keep comments relevant to the article. Remarks containing abusive and obscene language, personal attacks of any kind or promotion will be removed and the user banned. Final decision will be at the discretion of the Taipei Times.