Developers remain cautious although rates stay steady
Taiwan's property market breathed a sigh of relief after the central bank on Thursday kept interest rates unchanged for the second straight quarter without introducing fresh credit controls, analysts said yesterday.
Property transactions dropped after the central bank raised interest rates five times between March last year and March this year, Great Home Realty Co (大家房屋) research head Mandy Lang (郎美囡) said.
The downtrend persisted in June this year when the central bank halted rate hikes, but tightened lending terms on second-home mortgages to prevent funds from overflowing to real estate and threatening the nation's financial stability.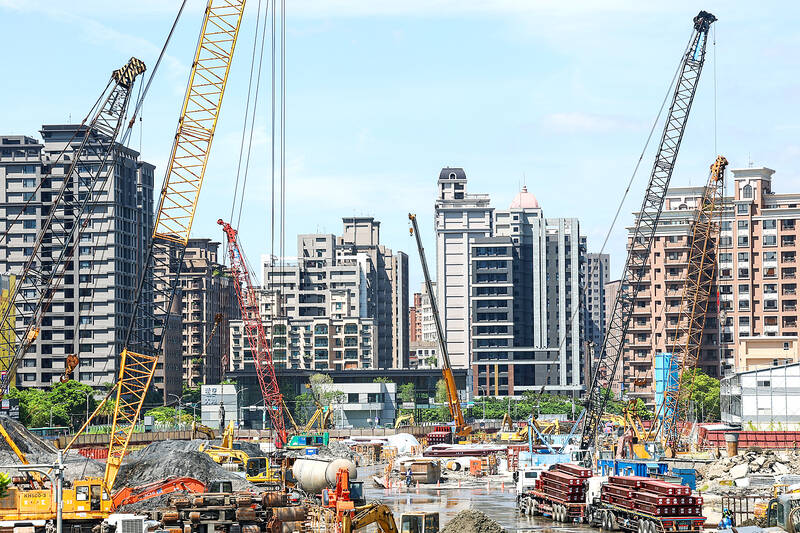 Construction cranes are used to transport heavy objects in a construction site in New Taipei City's Sanchong District on July 6.
Photo: CNA
"The market must remain cautious as the central bank made clear it will pay close attention to signs of resurgence of property fever," Lang said.
Previous measures have succeeded in cooling the property market in light of slowdowns in property transactions and housing prices, as well as mortgage and construction loans, central bank Governor Yang Chin-long (楊金龍) said.
Monthly property deals exceeded 30,000 before the first rate hike in March of last year and declined to 16,657 in January this year, as buyers largely stayed on the sidelines to avoid overleveraging, Lang said.
Apart from rate hikes and credit controls, the government increased property taxes, banned transfers of presale housing purchase agreements and stiffened punishments for unfair advertising practices.
H&B Realty Co (住商不動產) chief researcher Jessica Hsu (徐佳馨) said the property market no longer appears to be the central bank's top concern after consumer prices eased to nearly the 2 percent target.
"The monetary policymaker now seems to care more about the economy and put the property market on its watch list," Hsu said.
The change by no means indicates the government would turn a blind eye, Hsu said, adding that the Cabinet on Thursday gave its go-ahead to plans to raise house taxes on multiple home owners to discourage house hoarding.
The proposed tax revisions would lower house taxes on first self-occupied homes to a flat 1 percent and raise the charges on multiple houses to a maximum of 4.8 percent. The adjustments could generate an extra NT$4.57 billion to NT$5.57 billion (US$142.3 million to US$173.4 million) in house taxes per year after the bill goes into practice in July next year, the Ministry of Finance said.
Taichung-based Shining Building Business Co (鄉林建設) yesterday said it is not right to add tax burdens on unsold houses as developers are house suppliers, not house owners.
Developers would have no choice but to pass extra taxes on to home buyers, Shining chairman Lai Cheng-yi (賴正鎰) said.
Comments will be moderated. Keep comments relevant to the article. Remarks containing abusive and obscene language, personal attacks of any kind or promotion will be removed and the user banned. Final decision will be at the discretion of the Taipei Times.