Bank of Japan leaves its policies on hold
DOWNWARDS? The Japanese central bank governor's insistence on keeping an ultra-easy policy is a factor keeping downwards pressure on the Japanese currency
The Bank of Japan (BOJ) left its monetary settings unchanged and offered no clear sign of a shift in its policy stance, putting a damper on market speculation over the prospects for a near-term interest rate hike and adding pressure on the yen.
The BOJ kept its negative interest rate and the parameters of its yield curve control program intact yesterday in an outcome predicted by all 46 economists surveyed by Bloomberg. It also maintained a pledge to add to its stimulus without hesitation if needed, a vow that offers yen bears a reason to keep betting against it.
Japan's currency weakened as much as 0.4 percent after the decision to about ¥148.20 against the US dollar.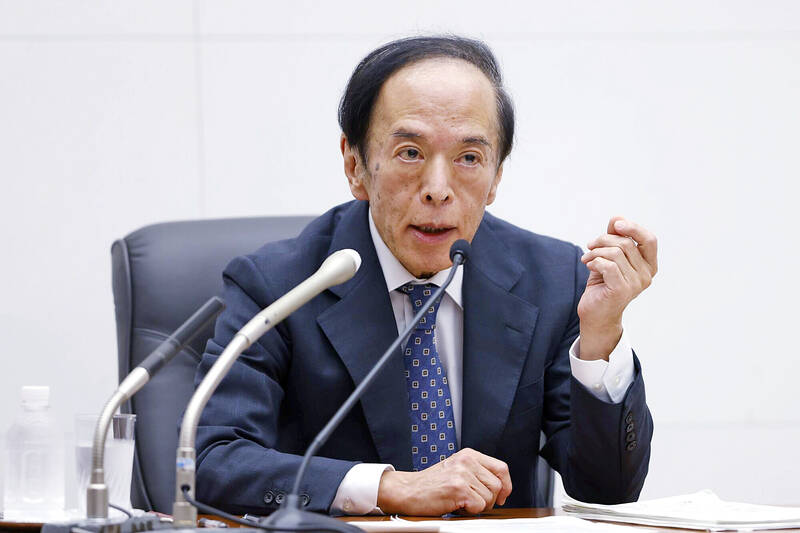 Bank of Japan Governor Kazuo Ueda attends a news conference at the central bank's headquarters in Tokyo yesterday.
Photo: Bloomberg
The lack of major changes to the central bank's policy statement suggests Governor Kazuo Ueda is likely to strike a neutral tone to keep his options open while trying to avoid any further downward pressure on the currency when he held a press briefing later in the day.
"If there is no follow-up on Ueda's comments about negative interest rates or having wage information by the end of the year, yen bears could be back with a vengeance," said Charu Chanana, a market strategist at Saxo Markets in Singapore. In such a situation, the yen could test ¥150 per US dollar, she added.
Economic data earlier in the day showed inflation was slightly faster than consensus last month as it hovered above the BOJ's target for a 17th month, an outcome that casts further doubt on Japan's central bank's assertion that price growth would slow and that stimulus needs to continue for now. The BOJ's insistence on sticking with its ultra-easy policy is a factor keeping pressure on the yen.
The US Federal Reserve's decision this week to hold rates and telegraph the likelihood of one more rate hike pushed the Japanese currency to a fresh 10-month low of ¥148.46 against the US dollar. The large gap between rates in Japan and the US is one of the main factors driving the yen down against the US dollar.
The currency is now beyond the levels that prompted Japan to intervene in foreign-exchange markets a year ago to the day. Measured against a broad basket of currencies and adjusted for inflation, it was at its weakest on record last month using data going back to 1970.
While financial authorities have warned that they are prepared to step into markets again, a message reiterated by both Japanese Prime Minister Fumio Kishida and Minister of Finance Shunichi Suzuki ahead of the decision, a policy move by the BOJ would likely have more effect at stemming the tide.
Ueda kindled expectations earlier this month about an end to the world's last negative policy rate when he told local media that the chances "aren't zero" that the BOJ might be able to confirm a virtuous wage-inflation cycle by the end of the year, a prerequisite for a rate hike.
"The key catalyst for BOJ policy change is whether social behavior changes and people start believing that their wages will continue to rise along with prices," said Masamichi Adachi, an economist at UBS Securities. "I don't see that kind of change firmly taking place in the next six months or so. That means the BOJ will change policy gradually, too."
Still, Ueda's recent comments over the possible end of negative rates in Japan have left a wake of confusion among analysts and investors.
Comments will be moderated. Keep comments relevant to the article. Remarks containing abusive and obscene language, personal attacks of any kind or promotion will be removed and the user banned. Final decision will be at the discretion of the Taipei Times.