FDI inflows fall by a quarter of last year's amount
The value of foreign direct investment (FDI) inflows to Taiwan in the first eight months of the year fell more than 27 percent from the same period last year due to what the Investment Commission said was a high comparison base.
FDI projects approved by the government from January to last month totaled US$7.52 billion in financial commitments, down 27.58 percent from last year, according to commission figures released on Wednesday.
The number of approved FDI applications also declined during the same period, falling by 7.92 percent to 1,534, the commission said in a monthly report.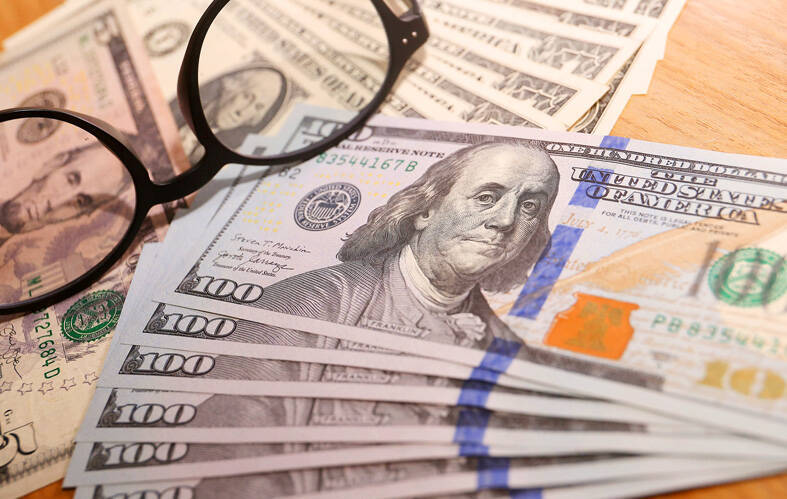 US dollar banknotes are pictured in Taipei on Aug. 17, 2022.
Photo: CNA
Approved inbound FDI totaled US$13.30 billion last year, the highest in a single year since a record-setting US$15.36 billion in 2007. It averaged US$10.16 billion from 2016 to last year.
Though total FDI fell in the January-August period, major international companies continued to invest in Taiwan, the commission said.
For example, Singapore's DBS Bank Ltd received approval to invest an additional NT$52 billion (US$1.62 billion) in its Taiwan unit, while Germany's Yunlin Holding GmbH, the holding company of Yunneng Wind Power Co (允能風力發電), received approval to increase its offshore wind farm project capital in Taiwan by NT$29.2 billion.
As for Chinese investment in Taiwan, tallied separately from other foreign projects, total approved investment rose 26.95 percent from a year earlier to about US$23.94 million in the first eight months.
In terms of foreign-bound investment by Taiwanese companies, the commission said it approved US$11.16 billion in investment, up 105.6 percent from a year earlier.
The spike resulted mainly from Taiwan Semiconductor Manufacturing Co's (台積電) capital injection of US$3.5 billion into its Arizona fab and Yageo Corp's (國巨) 720 million euros (US$767 million) investment in Hudson Holdco France under Schneider Electric SE.
The number of approved applications for outbound investments also rose 1.1 percent from a year earlier to 369.
Meanwhile, investment by Taiwanese companies in China fell 8.19 percent in the first eight months to US$2.38 billion, according to the commission.
Comments will be moderated. Keep comments relevant to the article. Remarks containing abusive and obscene language, personal attacks of any kind or promotion will be removed and the user banned. Final decision will be at the discretion of the Taipei Times.