NXP says 5nm chips for vehicles due out by 2025
NXP Semiconductors NV expects its first automotive-grade 5-nanometer chip built by Taiwan Semiconductor Manufacturing Co (TSMC, 台積電) to become available for automakers within one-and-a-half years at the earliest, following demand for better computing performance and energy efficiency for connected vehicles, a company executive said yesterday.
That would mean a significant upgrade from the 16-nanometer technology NXP adopted in its existing series of microprocessors. NXP chief technology executive Lars Reger made the remarks during a media briefing yesterday in Taipei. The latest updates came after NXP unveiled its plan to source 5-nanometer capacity from TSMC in 2021.
This is Reger's first trip to Taiwan since the outbreak of the COVID-19 pandemic three years ago. He is slated to pay a visit to TSMC's Fab 18 in Tainan, the hub for its 5-nanometer chips.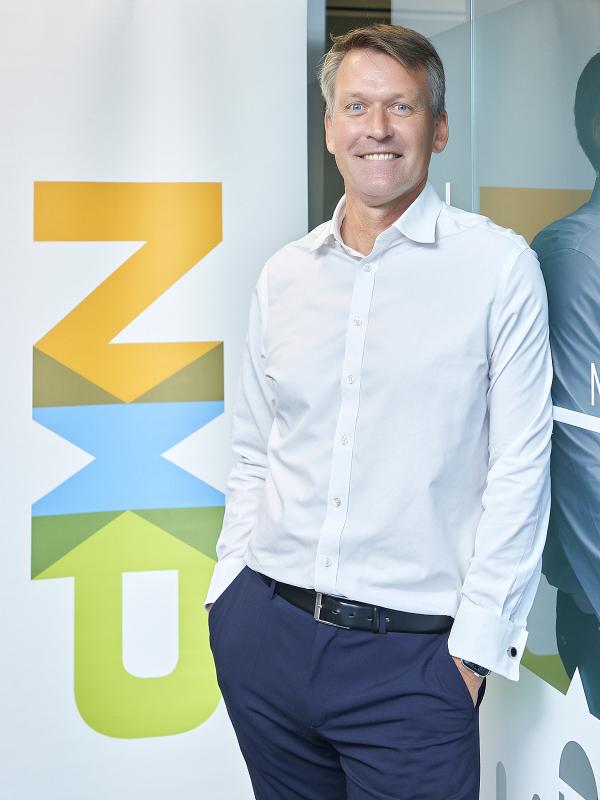 NXP Semiconductors NV chief technology officer Lars Reger poses for a photograph in Taipei yesterday.
Photo courtesy of NXP Semiconductors NV
"We already gave silicon to our customers as a development platform. The engineering is running," Reger said. "The new NXP S32 next-generation flagship chip will be available to OEMs in one-and-half to two years and will also be on the mass market."
With 4 billion transistors on the new 5-nanometer processor, the S32 next-generation flagship chip would deliver optimized network connectivity in real time and enhanced computing and switching performance, Reger said. In the initial stage, no artificial-intelligence (AI) accelerator would be added on, he said.
When asked if NXP would adopt 3-nanometer technology, which has a smaller width between transistors than 5-nanometer chips, Reger said it would largely depend on the benefits brought about. If more AI applications are added on, it would trend smaller, he said.
Beyond Taiwan, NXP is also joining TSMC, Robert Bosch GmbH and Infineon Technologies AG in building a 10 billion euro fab in Dresden, Germany for making car chips in their latest efforts to boost semiconductor supply chain resilience as requested by customers.
TSMC will hold a majority stake of 70 percent in the joint venture. Construction of the fab is to commence in 2027 at the earliest.
NXP customers faced challenges to have sufficient chip supply over the past 3 years due to COVID-19-related restrictions, and have requested to source chips from multiple manufacturing sites or suppliers such as Samsung Electronics Co and GlobalFoundries Inc in different regions, Reger said yesterday.
The strategy of capacity diversification is also extended to chip packaging and development centers, Reger said. This is the "silicon shield" they want to build, he said.
TSMC is building two factories in the US to make advanced 4-nanometer chips used in smartphones and servers for Apple Inc, Nvidia Corp and AMD. The chipmaker also plans to build two factories in Japan to produce chips for Japanese automakers.
Comments will be moderated. Keep comments relevant to the article. Remarks containing abusive and obscene language, personal attacks of any kind or promotion will be removed and the user banned. Final decision will be at the discretion of the Taipei Times.