Key interest rates remain unchanged
CENTRAL BANK: The consumer price index would grow while core CPI is set to move forward at a milder rate, the governor said, adding that the GDP forecast is down
The central bank yesterday kept its policy rate unchanged for the second straight quarter, saying that a rate pause would help support the economy, as consumer prices have moderated and would return to the 2 percent target next year.
"The board gave unanimous support to a policy hold, although some members voiced concern over lingering inflationary pressures and called for close monitoring," central bank Governor Yang Chin-long (楊金龍) told a media briefing after its quarterly board meeting.
The consumer price index (CPI) would grow 1.83 percent next year, while core CPI after stripping out volatile items would advance a milder 1.73 percent, giving the central bank room to handle Taiwan's negative output gaps or the lag between actual GDP and potential GDP.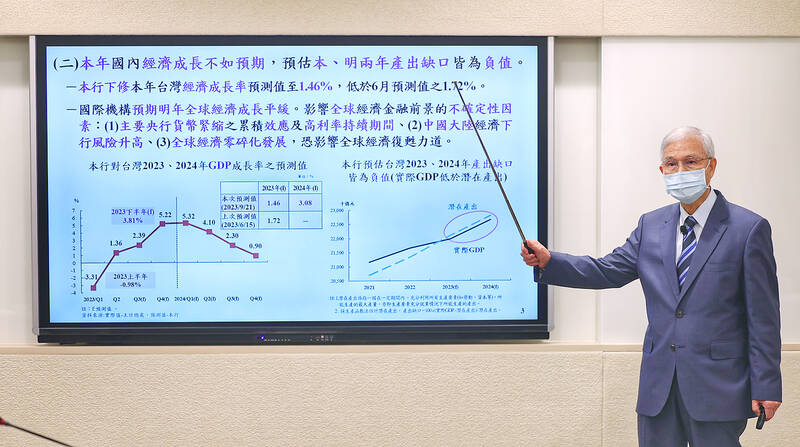 Central bank Governor Yang Chin-long addresses a news conference in Taipei after the bank decided to hold steady its key interest rates during a quarterly meeting yesterday.
Photo: CNA
However, Yang refused to equate the monetary policy decision as going loose, saying it would lean toward a tight stance for longer, taking cues from the US Federal Reserve's hawkish rhetoric overnight.
The central bank again cut its forecast for the nation's GDP growth this year from 1.72 percent to 1.46 percent, saying it is difficult to make projections due to dense economic uncertainties.
Ongoing restrictive monetary policy in the West curbs demand for goods and prolongs inventory adjustments, Yang said, adding that people in the post-COVID-19-pandemic era have shifted their resources away from purchases of technology products and assign more importance to in-person experiences.
The trend explains why prices for services picked up steeply at home and abroad, and are to blame for bolstering inflationary pressures, the top monetary official said.
"Demand for services will remain healthy ahead, but high comparison bases will weaken its ability to be the main CPI driver," Yang said.
By contrast, inventory corrections, though turning out worse and longer than expected, are coming to an end, allowing Taiwan to breathe a sigh of relief and embark on a course of recovery from next quarter onward, the governor said.
GDP growth next year would improve to 3.08 percent, aided by a recovery in exports and private investment, its report showed.
Consumer spending would also continue to be the major growth driver, meaning the pace of improvement for exports would be limited.
The central bank did not introduce new credit controls for the property market, saying previous measures had borne fruit judging by a slowdown in property transactions and house prices, as well as house and construction loans.
"Credit controls are intended to prevent funds from overflowing to the property sector, create real-estate bubbles and threaten the stability of financial markets," Yang said.
Comments will be moderated. Keep comments relevant to the article. Remarks containing abusive and obscene language, personal attacks of any kind or promotion will be removed and the user banned. Final decision will be at the discretion of the Taipei Times.