Uncertainties remain for Yang Ming
Uncertainties remain for the global shipping market next quarter, even though freight rates on the main east-west routes have stopped declining this quarter, Yang Ming Marine Transport Corp (陽明海運) told an online investors' conference yesterday.
"The global market is still affected by high inflation, overcapacity and interest rate hikes, while the issue of supply-demand imbalance remains," Yang Ming Marine Transport said in a document released after the conference.
Citing forecasts made last month by maritime research consultancies Drewry, Alphaliner and Clarksons, it said that "supply will exceed demand from this year to next year."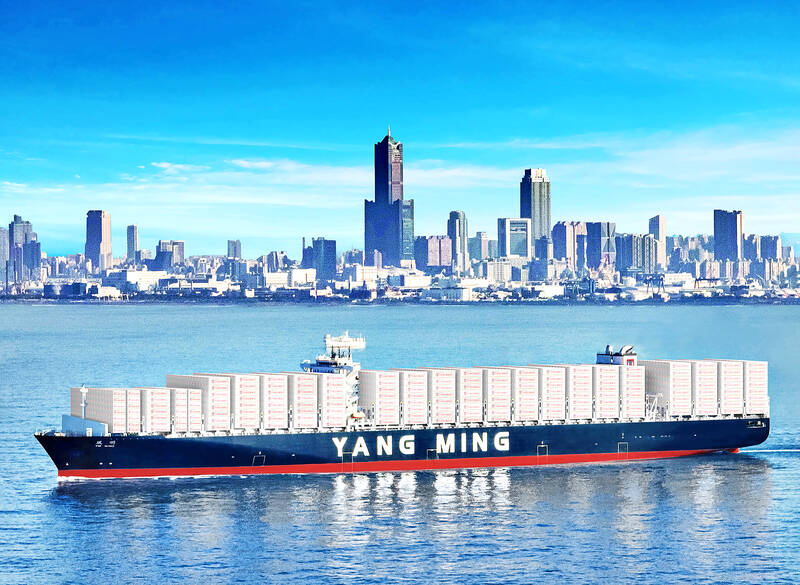 A Yang Ming Marine Transport Corp container ship sails in the Port of Kaohsiung in an undated photograph.
Photo courtesy of Yang Ming Marine Transport Corp
Other challenges included China's weak export performance, and the US and European markets entering their slow season next quarter, said the company, which is the nation's second-largest container shipper by fleet size.
A count this month showed that Yang Ming Marine Transport has 93 vessels in its fleet with a combined capacity of 705,614 twenty-foot equivalent units (TEUs), making it the world's ninth-largest container shipper.
Shipping companies had a windfall in the past two years thanks to a surge in demand for consumer goods and freight rates during the COVID-19 pandemic, but demand has waned this year, leading to a slump in global shipping.
Yang Ming Marine Transport reported cumulative revenue of NT$95.69 billion (US$2.99 billion) in the first eight months of this year, down 66.77 percent from the same period last year.
Net profit in the first half plunged to NT$3.27 billion from NT$116.11 billion in the first half of last year, company data showed.
Earnings per share were NT$0.94 in the first half, compared with NT$33.25 a year earlier, the data showed.
While cargo volume has increased this quarter compared with the first half, European and American routes are not as robust as in previous peak quarters, which the company attributed to a slowing global economy and the still-weak recovery in demand.
Consumption during holiday shopping seasons in Europe and the US is key to the industry, Yang Ming Marine Transport said, adding that strong sales over Thanksgiving in the US and Christmas would help reduce inventory and might lead to a rebound in cargo volumes.
Yang Ming Marine Transport said that it does not have a clear picture about its business prospects for next year.
Although some other shippers are to receive new vessels next year, Yang Ming Marine Transport said its shipping capacity and route deployment would not change much next year, adding that it plans to acquire new vessels in 2026.
Comments will be moderated. Keep comments relevant to the article. Remarks containing abusive and obscene language, personal attacks of any kind or promotion will be removed and the user banned. Final decision will be at the discretion of the Taipei Times.