California sues oil giants, citing deception, climate
CIVIL CASE: The suit requests the creation of an abatement fund to finance climate mitigation efforts, an injunction to protect natural resources, damages and penalties
California sued major oil companies including Exxon Mobil Corp and Shell PLC, saying they deceived the public for decades while creating or contributing to local climate catastrophes.
The civil case, filed in superior court in San Francisco, also targets BP PLC, ConocoPhillips, Chevron Corp and the American Petroleum Institute, according to a spokesperson at the attorney general's office.
The lawsuit requests the creation of an abatement fund to finance climate mitigation efforts, an injunction to protect California's natural resources, damages and penalties.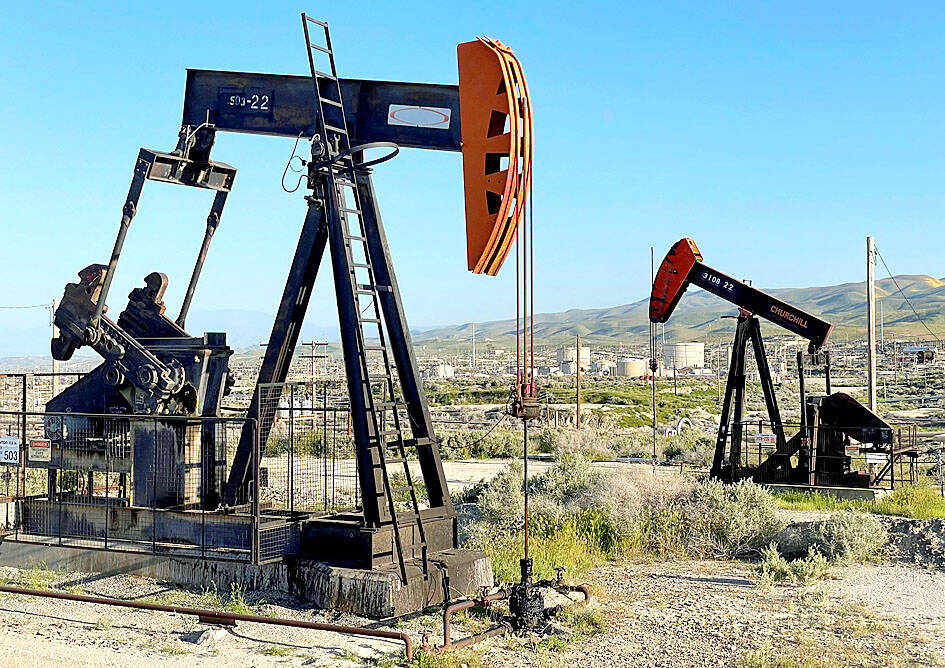 A general view of oil drilling equipment on federal land near Fellows, California, on April 15.
Photo: Reuters
The action includes some of the strongest allegations against oil giants as the state deals with increasingly destructive storms and weather events, from ravaging wildfires to "atmospheric rivers." California has spent, and will continue to dish out, billions of dollars to recover from climate catastrophes, the complaint said.
"From extreme heat to drought and water shortages, the climate crisis they have caused is undeniable. It is time they pay to abate the harm they have caused," Attorney General Rob Bonta said.
The increasingly heavy financial burden of climate disasters has prompted major US insurance companies to limit their coverage in California. State Farm General Insurance Co no longer accepts new applications for property and casualty coverage in the state.
The lawsuit comes ahead of New York City's Climate Week, which runs alongside the UN General Assembly.
Shell said litigation was not the appropriate vehicle for addressing climate change.
"We do not believe the courtroom is the right venue to address climate change, but that smart policy from government and action from all sectors is the appropriate way to reach solutions and drive progress," Shell said in a statement.
Chevron criticized the California government.
"Its local courts have no constructive or constitutionally permissible role in crafting global energy policy," a Chevron spokesperson said. The company said it has been a "leading promoter of oil and gas development."
American Petroleum Institute (API), for its part, defended the industry, citing environmental and green initiatives.
"The record of the past two decades demonstrates that the industry has achieved its goal of providing affordable, reliable American energy to US consumers while substantially reducing emissions and our environmental footprint," API senior vice president and general counsel Ryan Meyers said in a statement.
Food and Water Watch, a DC-based advocacy group, commended California state leaders for taking this step, but said it would take years for residents to feel the impact of the payouts requested in the lawsuit. Instead, they called on California Governor Gavin Newsom to stop new fossil fuel permits, reject hydrogen and carbon capture and quickly move off fossil fuels.
Comments will be moderated. Keep comments relevant to the article. Remarks containing abusive and obscene language, personal attacks of any kind or promotion will be removed and the user banned. Final decision will be at the discretion of the Taipei Times.