Fed likely to hold rates despite inflation
soft landing: The US' rate-setting FOMC finds itself in a difficult situation as it seeks to address inflation through interest rate hikes while avoiding a recession
The US Federal Reserve is widely expected to hold interest rates steady on Wednesday after a summer of mixed economic data, while leaving the door open to another hike if needed.
The Fed has raised interest rates 11 times over the past 18 months, lifting its key lending rate to a level not seen for 22 years as it tackles inflation still stubbornly above its long-term target of 2 percent.
Analysts and traders broadly expect the US central bank to hold rates steady on Wednesday in order to give policymakers more time to assess the health of the world's largest economy.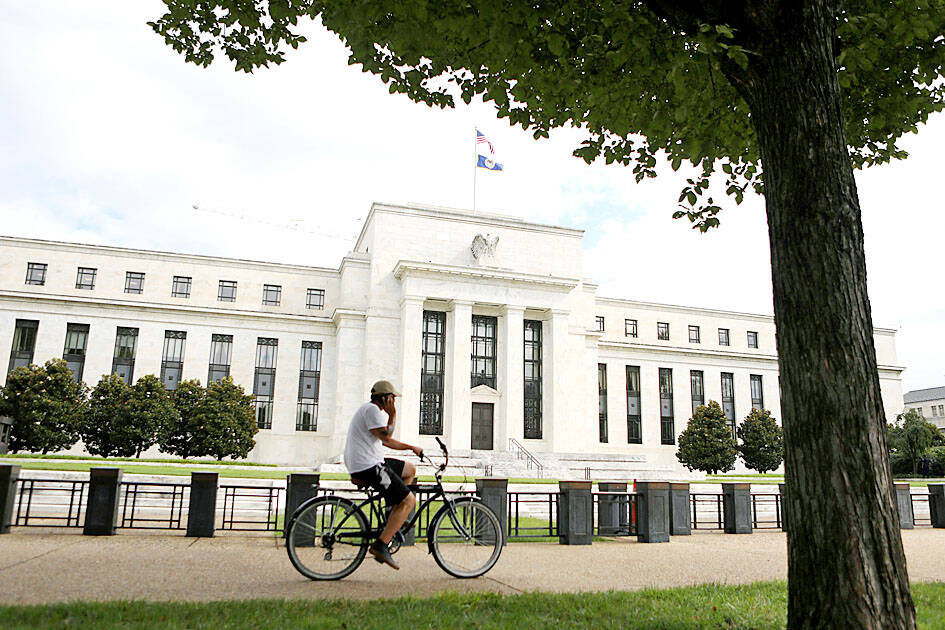 A cyclist passes the US Federal Reserve building in Washington on Aug. 22, 2018.
Photo: Reuters
"We think the Fed is done with its tightening cycle," Ernst & Young chief economist Gregory Daco said.
"That view has not changed over the past couple of months," Daco said.
The rate-setting Federal Open Market Committee (FOMC) finds itself in a difficult situation as it seeks to address inflation through interest rate hikes while avoiding a recession, a feat that economists call a soft landing.
Recent economic data showing strong economic growth in the first half of the year, inflation trending downward, and a softening jobs market suggests the Fed might just be able to pull it off.
"I think, in general, the economy is doing relatively well, but we are seeing signs that there is an economic slowdown underway," Daco said.
Analysts at Goldman Sachs Group Inc recently cut their forecast for a recession in the US from 20 percent likelihood down to 15 percent, while other economists — including those in the Fed's research team — say they no longer expect the US to enter a recession.
"Recent data should leave the Fed encouraged by ongoing disinflation but concerned about re-acceleration in inflation because of the strength in activity," Bank of America Corp economists wrote in a note to clients.
"We expect participants to retain a bias toward one more rate hike as they did in June," KPMG US chief economist Diane Swonk wrote in a recent blog post.
"The Fed is not ready to abandon its higher-for-longer mantra until it achieves a more sustained drop in inflation," she added.
Traders currently assign a probability of more than 95 percent that Fed will hold its key lending rate at its current level of between 5.25 and 5.50 percent on Wednesday, according to data from CME Group.
Even if the Fed ultimately chooses not to hike in November, its decision to forecast another hike this year could nevertheless serve a useful function, analysts say.
"The last thing that Fed policymakers want is for markets to price the end of the tightening cycle, because it will then infer that the next move will be lower — essentially rate cuts," Daco said.
Ernst & Young still expects this month's pause will morph into the end of the current hiking cycle, leaving already-high interest rates to do the necessary work to bring down inflation.
"Factoring forward-looking perspectives on employment, on inflation, will essentially lead the Fed to prolong its pause," Daco said.
Comments will be moderated. Keep comments relevant to the article. Remarks containing abusive and obscene language, personal attacks of any kind or promotion will be removed and the user banned. Final decision will be at the discretion of the Taipei Times.