Xiaomi supplier Dixon to open smartphone plant
Xiaomi Inc (小米) supplier Dixon Technologies India Ltd is set to open a massive new factory on the outskirts of New Delhi, as India pushes Chinese tech firms to use local assembly partners.
Dixon is to invest more than 4 billion rupees (US$48.1 million) over three years in the factory, which is spread over more than 27,870m2 or the size of six football fields, and will largely produce Xiaomi smartphones, people familiar with the matter said, declining to be named as the matter is private.
The plant is set to be inaugurated by a government official toward the end of this month.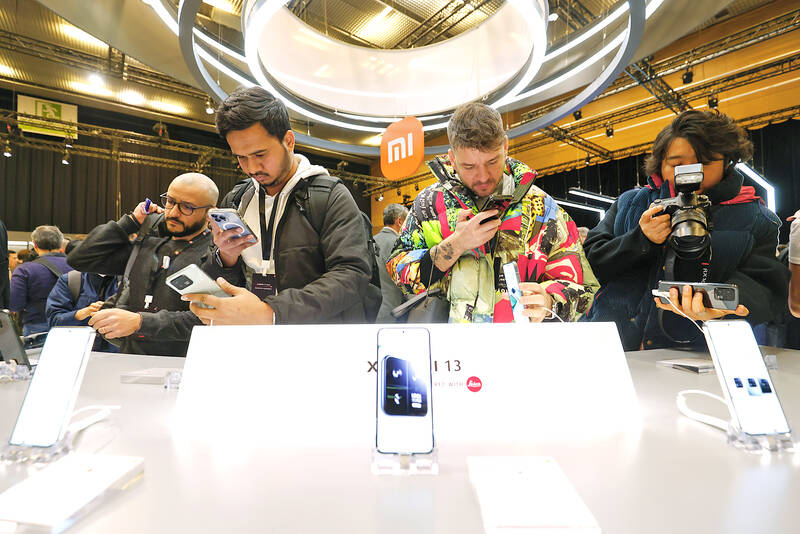 Visitors take pictures of Xiaomi 13 mobile phone models at the Xiaomi booth before the Mobile World Congress in Barcelona, Spain, on Feb. 26.
Photo: AP
Beijing-based Xiaomi has been compelled to partner with Dixon for smartphone assembly, because India is pressing Chinese companies to localize everything from manufacturing to distribution of devices.
That means Xiaomi's older suppliers in India — Taiwanese Foxconn Technology Group's (富士康科技集團) Bharat FIH and China's DBG Technology Co (惠州光弘科技) — are set to lose business.
Xiaomi and Dixon representatives did not respond to requests for comment.
In a similar move earlier this year, Xiaomi handed a contract to India's Optiemus Electronics Ltd to make its Bluetooth neckband earphones, a product it previously imported from China.
Xiaomi was once an unrivaled leader in India's smartphone market, but lost steam after facing heightened regulatory scrutiny and overexpanding its product portfolio — which by its own admission confused customers.
India, the world's second-biggest smartphone market, is a hotly contested region for the world's largest phone brands.
Comments will be moderated. Keep comments relevant to the article. Remarks containing abusive and obscene language, personal attacks of any kind or promotion will be removed and the user banned. Final decision will be at the discretion of the Taipei Times.