Arm jumps 25% on debut
Arm Holdings PLC soared 25 percent in its trading debut after raising US$4.87 billion in the year's biggest initial public offering, delivering a boost for both equity markets and Softbank Group Corp founder Masayoshi Son.
Shares of the chip designer, still 90 percent owned by Softbank, closed at US$63.59 in New York trading on Thursday, giving Arm a market value of more than US$65 billion. Including restricted share units, Arm's fully diluted valuation is closer to US$68 billion.
Arm on Wednesday sold US$95.5 million American depositary shares at the top of a marketed range of US$47 to US$51 each. The shares opened trading on Thursday at US$56.10 and rose as much as 30 percent.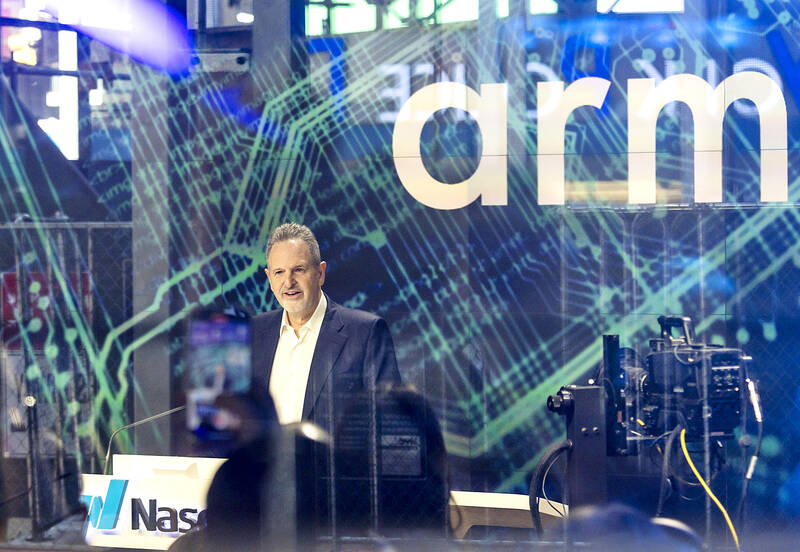 Arm Holdings PLC chief executive Rene Haas is pictured at the NASDAQ stock market in New York during the company's initial public offering on Thursday.
Photo: EPA-EFE
The debut stands as a vindication for Son, Softbank's chairman and chief executive officer. In a final meeting on Wednesday, some bankers and executives made the case for pricing the shares above the marketed range, but Son said it was not worth risking a healthy debut for US$100 million or so in additional proceeds, Bloomberg News reported.
With Thursday's gains, the value of Softbank's stake has increased by about US$12 billion.
Softbank's shares rose as much as 5.1 percent during early morning trade in Tokyo yesterday, in their biggest intraday gain in three months.
Investors in the initial public offering (IPO) included some of Arm's biggest customers. The company set aside more than US$700 million of its stock for Taiwan Semiconductor Manufacturing Co (台積電), MediaTek Inc (聯發科), Intel Corp, Apple Inc, Nvidia Corp and Samsung Electronics Co.
Arm's listing is the largest in the US since electric vehicle maker Rivian Automotive Inc's US$13.7 billion offering in October 2021.
The IPO is also set to rank among the tech industry's largest-ever, though still well below the two biggest: Alibaba Group Holding Ltd's US$25 billion 2014 offering and 2012's US$16 billion debut by Meta Platforms Inc, then known as Facebook Inc.
The listing surpassed the US$4.37 billion raised in May by Johnson & Johnson consumer health spin-off Kenvue Inc to become this year's top offering in the US.
Arm's debut could serve as a catalyst for IPOs from dozens of tech start-ups and other companies whose plans to go public in the US have been stuck during the deepest, longest listing trough since the financial crisis in 2009.
Online grocery-delivery firm Instacart Inc and marketing and data automation provider Klaviyo are set to price their IPOs next week. Vietnam-based Internet start-up VNG Ltd and footwear maker Birkenstock Holding Ltd are also among those that have also filed to go public.
"This is just the beginning of the cycle and Arm is a great sign of what's to come," said Ross Gerber, cofounder and CEO of wealth management firm Gerber Kawasaki Inc. "The pricing is a big part of it, Softbank was smart to price it where they did because they got a pop and drew investors in."
Arm CEO Rene Haas said in an interview on Bloomberg TV that the company, which is based in Cambridge, England, is open to considering a listing in the UK.
Comments will be moderated. Keep comments relevant to the article. Remarks containing abusive and obscene language, personal attacks of any kind or promotion will be removed and the user banned. Final decision will be at the discretion of the Taipei Times.