Envoy 'alarmed' by China's slowdown
ON THE RETREAT: The slowdown of China's economy might deter Xi Jinping from acting out on its goal for China to invade Taiwan, US President Joe Biden said
Representative to the US Hsiao Bi-khim (蕭美琴) said China's economy has clear signs of a slowdown that would inevitably spill over to the region.
"There are some alarming indications and we are impacted," Hsiao told Bloomberg, citing a drop in Taiwan's exports to China. "Despite all the political and strategic tension, we are interested in prosperity for the people on both sides of the strait."
China's economic slowdown has sharpened Taiwan's focus on reducing its exposure to the world's second-largest economy, with its businesses looking to diversify away from it, Hsiao said in an interview at Bloomberg's Washington bureau.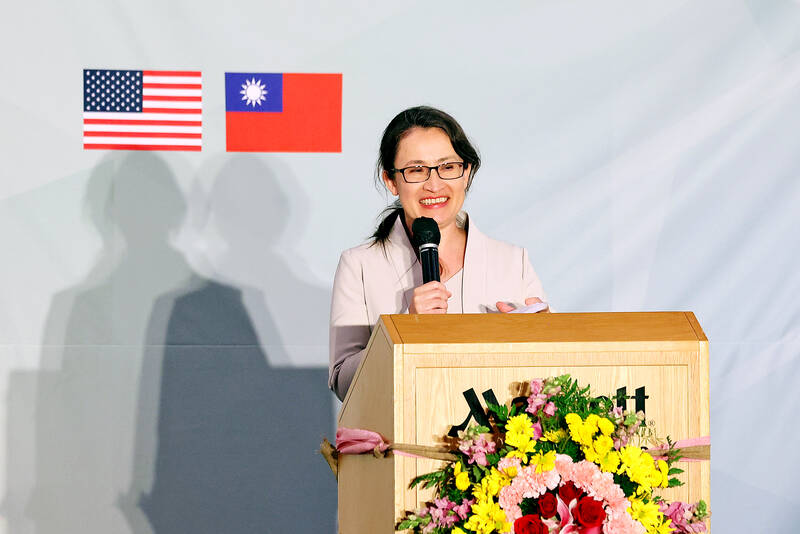 Representative to the US Hsiao Bi-khim speaks from behind a podium during a dinner with Vice President William Lai in San Francisco, California, on Aug. 17.
Photo: CNA
"Given the risk of over-dependence on any economy, friendly or not, it is important to ensure that we are less vulnerable," she said on Friday, adding that "We have been working to diversify our global assets and global presence."
US President Joe Biden last month called China a "ticking time bomb," referring to the economic problems the Chinese Communist Party is facing. "That is not good because when bad folks have problems, they do bad things," he said.
On Sunday, Biden said China's downturn might diminish Beijing's inclination to invade Taiwan, adding that the country's economic troubles have left his Chinese counterpart with "his hands full."
Hsiao said leaders in Taipei are carefully considering all possible scenarios, including the "worst-case scenario," when asked if she was worried that a slowing economy could push Chinese President Xi Jinping (習近平) to militarily attack Taiwan, or enforce an economic blockade on the nation.
"Any signs of coercion or military aggression is not good for business," she said. "That is our understanding. We certainly hope that is also the understanding of the leaders in Beijing."
China is Taiwan's largest trading partner, accounting for 25.2 percent of total trade and 21.6 percent of Taiwan's imports in 2021, the US Department of Commerce's International Trade Administration found. The US accounts for 12.6 percent of Taiwan's total trade and 10.2 percent of imports, making it Taiwan's second-largest trading partner.
Taiwanese companies consider market calculations more than political ones, Hsiao said.
"Companies are thinking about how to position assets in a way that best protects their company interests," she said.
Taiwan is home to the world's leading chipmakers, and has faced a prolonged dip in demand for its technological goods, including semiconductors.
However, a year-long slump in Taiwan's exports eased last month, as rising global demand for artificial intelligence-related technologies hinted at a positive future outlook.
China has fallen below expectations for a stronger recovery post-COVID-19. Beijing's government has rolled out a slew of incremental measures to revive business confidence and help the property market, though they have so far avoided any large-scale fiscal stimulus amid concerns over the high debt levels in the economy.
Comments will be moderated. Keep comments relevant to the article. Remarks containing abusive and obscene language, personal attacks of any kind or promotion will be removed and the user banned. Final decision will be at the discretion of the Taipei Times.