Kneron unveils lower-cost, energy-efficient AI chip
Artificial intelligence (AI) chip start-up Kneron Inc (耐能) yesterday unveiled a cost-saving and energy-efficient alternative to Nvidia Corp's graphic processing units (GPUs) for generative pre-trained transformer (GPT) solutions at scale.
Its new KL730 AI chip deploys Taiwan Semiconductor Manufacturing Co's (TSMC, 台積電) 12-nanometer process technology for production, Kneron said.
Kneron, based in San Diego, California, is known for pioneering the neural processing unit (NPUs), a special circuit for machine learning algorithms.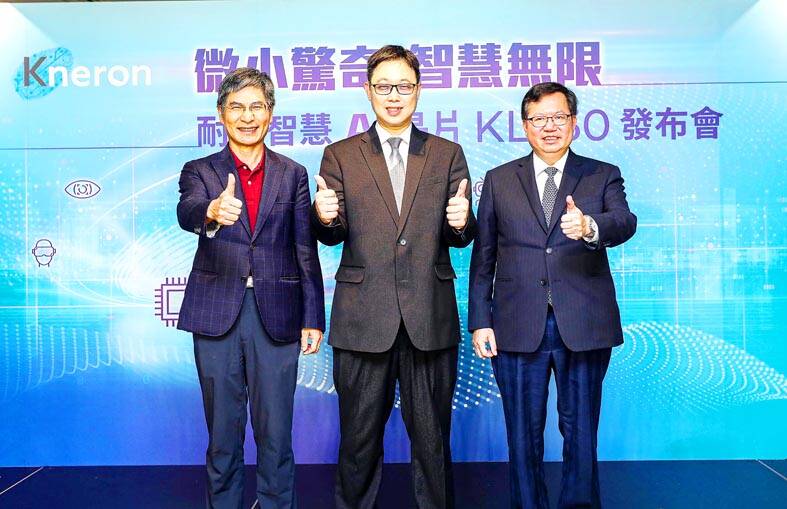 From left, Chen Liang-gee, emeritus professor at National Taiwan University's Department of Electrical Engineering, Kneron Inc founder and CEO Albert Liu and Vice Premier Cheng Wen-tsan pose for a photograph at a news conference in Taipei yesterday.
Photo courtesy of Kneron Inc
"People have been brainwashed that only GPUs can do AI. GPUs are good at rendering graphics and images, and at optimizing the gaming experience, but high costs and heavy energy consumption make GPUs unaffordable for average businesses and individuals to adopt for AI applications," Kneron founder and CEO Albert Liu (劉峻誠) told a news conference in Taipei.
"Kneron's NPU is an AI-dedicated chip and able to do what a GPU can do today, but at a much lower cost," Liu said.
Quanta Cloud Technology Inc (雲達科技) and Chunghwa Telecom Co (中華電信) have saved up to 75 percent in operational costs after using Kneron's KL720 NPU in their servers, Liu said.
The KL730 can perform even better, he said.
The KL730 is also 150 to 200 percent more energy-efficient than products manufactured by major industry peers, the company says.
Automakers from Germany and Japan have shown an interest in adopting the KL730 for full-frame detection, a key feature of advanced driver-assistance systems, Liu said.
Liu said he expects autonomous vehicles to become the largest application for NPUs due to their higher average selling prices, followed by servers.
Kneron counts Quanta Cloud, Chunghwa Telecom and South Korea's Naver Corp among its server customers.
South Korea's Hanwha Group has adopted its AI chips for use in surveillance cameras, Kneron said.
The KL730 would be available for sampling by customers by the end of this year, the company said, adding that it can be used for enterprise-edge servers, smart home applications and advanced driver-assistance system applications.
Established in 2015, Kneron has raised more than US$140 million, backed by investors including Qualcomm Ventures, Hon Hai Precision Industry Co (鴻海精密), Horizons Ventures Ltd and Sequoia Capital.
Apart from TSMC, GlobalFoundries Inc and United Microelectronics Corp (聯電) are also Kneron foundry partners.
Comments will be moderated. Keep comments relevant to the article. Remarks containing abusive and obscene language, personal attacks of any kind or promotion will be removed and the user banned. Final decision will be at the discretion of the Taipei Times.