Chip CEOs urge US to mull effects of curbs on China
Leaders of the largest US chipmakers told US government officials last week that US President Joe Biden's administration should study the impact of restrictions on exports to China and pause before implementing new ones, according to people familiar with their discussions.
During meetings in Washington on Monday, Intel Corp CEO Pat Gelsinger, Nvidia Corp CEO Jensen Huang (黃仁勳) and Qualcomm Inc CEO Cristiano Amon warned that export controls risk harming US leadership of the industry.
The Biden officials listened to the presentations, but did not make any commitments, said the people, who asked not to be identified because the talks were private.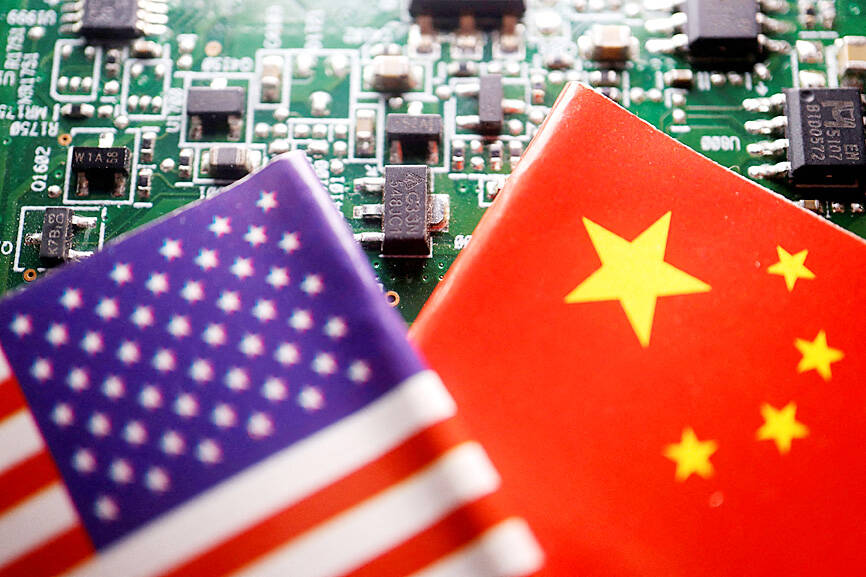 The US and Chinese national flags are displayed in front of a printed circuit board on Feb. 17.
Photo: Reuters
The chip industry is trying to navigate increasing tensions between China and the US. Companies are being forced to curb shipments to their largest market by Washington, which has cited national security concerns about the Asian nation acquiring certain capabilities.
One of the executives against current rules restricting the export of artificial intelligence (AI) hardware to China, saying the policy has not achieved the intended outcome of slowing China's AI development.
The Biden team has been exploring ways to further tighten existing curbs — for example, by targeting chips made by Nvidia specifically for the Chinese market, according to people familiar with the matter.
US National Security Adviser Jake Sullivan said on Friday he agreed with the executives that the approach needs to be a "small yard, high fence" — effective but limited. He defended the administration's actions to date as just that, saying the measures were targeted and had virtually no impact on US-China trade for most chips.
"The vast majority of sales of chips designed by the United States to China has continued unabated," he said at the Aspen Security Forum. "It continues to this day."
He hinted that more curbs could follow, but that they would only be implemented after robust discussion with the affected companies.
"We are going to continue to look at very targeted, very specific restrictions on technology with national security and military applications and make judgments rigorously, carefully, methodically — and, yes, in deep consultation with our private sector," he said.
During the discussion on Monday, Gelsinger told Sullivan, US Secretary of State Antony Blinken and other officials that further restricting what his company does in China puts at risk a key Biden policy of bringing back chip production to the US, the people said.
Without orders from Chinese customers, there will be much less need to go ahead with projects such as Intel's planned factory complex in Ohio, the executive said, according to the people.
Huang said limiting sales of some Nvidia chips in China had just made alternatives more popular.
Overall, the executives argued that while Chinese customers have been forced to buy more chips to do the work of banned products, that has not significantly slowed them down. The availability and quality of software they're using more than compensates for any hardware restrictions, they said.
Gelsinger, who also spoke at the Aspen Security Forum, mentioned the meetings in Washington during his appearance on Wednesday.
"We did communicate a very important message on China," he said. "Right now, China represents 25 percent to 30 percent of semiconductor exports. If I have 20 or 30 percent less market, I need to build less factories."
It is in the interest of the US to allow its chip companies access to the Chinese market in general because revenue from that country helps fuel research and development, he said. And that is needed to keep the nation's lead in new technology such as quantum computing.
Qualcomm gets more than 60 percent of its revenue from the China region, where it supplies components to smartphone makers such as Xiaomi Corp (小米).
Gelsinger, who visited Beijing this month to show off his company's latest AI chips, counts the nation as Intel's biggest sales region, with China providing about a quarter of its revenue. For Nvidia, China provides about a fifth of sales.
Chip equipment makers such as Applied Materials Inc have taken the biggest revenue hits, but the restrictions, which companies fear will be extended to other chips, are also affecting some device makers.
Comments will be moderated. Keep comments relevant to the article. Remarks containing abusive and obscene language, personal attacks of any kind or promotion will be removed and the user banned. Final decision will be at the discretion of the Taipei Times.