Foreign exchange reserves rise for a seventh month
SIXTH-LARGEST: Higher interest income and foreign fund inflows as portfolio managers snapped up chip stocks contributed to the increase in forex reserves
The nation's foreign exchange reserves rose for a seventh straight month to US$562.87 billion last month, an increase of US$1.75 billion, mainly on the back of interest income and management returns, the central bank said yesterday.
The monetary policymaker collects the bulk of its annual interest income in the months of February, May, August and November, Department of Foreign Exchange Director-General Eugene Tsai (蔡炯民) said, declining to supply more details.
Taiwan is the world's sixth-largest foreign exchange reserve holder after China, Japan, Switzerland, India and Russia.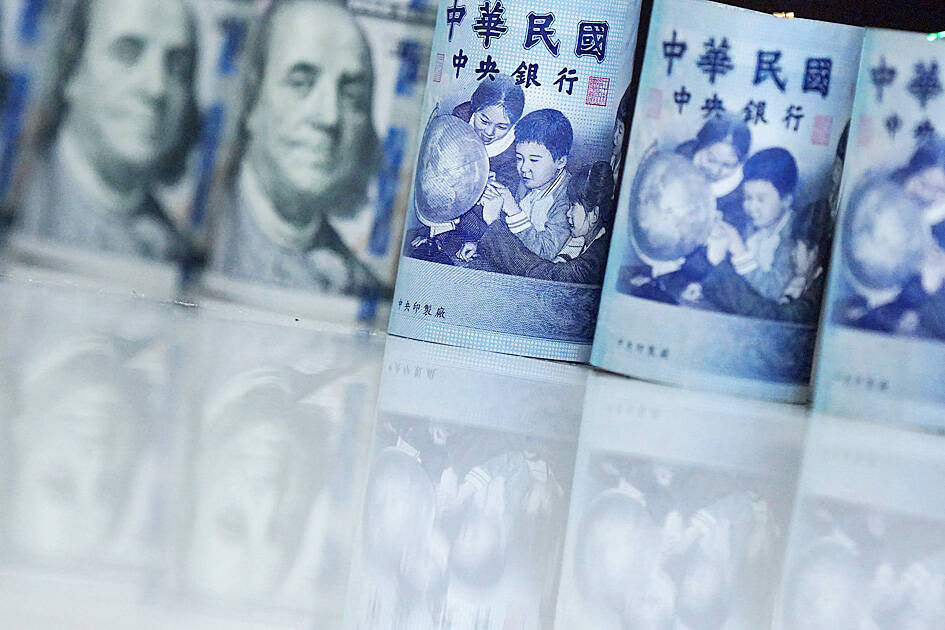 New Taiwan dollar and US dollar banknotes are displayed in Taipei on Nov. 4, 2019.
Photo: CNA
"The foreign currency market has held relatively stable so far this year, requiring little need for intervention except for a few days," Tsai told an online media briefing.
The central bank has made clear its stance that interventions are part of its policy to maintain the currency market's stability whenever necessary, as the US Federal Reserve and the European Central Bank rely on quantitative easing or tightening for similar purposes, he said.
The local currency traded within a narrow range and ended down 0.03 percent last month versus the US dollar, as strong job data in the US somewhat eased recession fears and lent support to the greenback, Tsai said.
That was also why other currencies weakened against the greenback, with the yen shedding 4.28 percent, the euro losing 2.62 percent, the yuan softening 2.73 percent and the Australian dollar slipping 2.02 percent, he added.
The Fed is likely to hold interest rates unchanged later this month in light of top-ranking Fed officials' support for a pause this month and see how things pan out, Tsai said.
Foreign fund inflows also contributed to the increase in Taiwan's foreign exchange, as portfolio managers raised holdings of local semiconductor shares following the strong earnings results of Nvidia Corp, a US supplier of chips used to power artificial intelligence (AI) applications.
Taiwanese tech companies supply key components used in AI chips and servers.
Net fund inflows of US$5 billion offset unfavorable twists linked to poor exports and current account retreats, Tsai said, adding that a tourism account deficit induced by a foreign travel binge also weighed on the local currency.
As of May 31, securities and debts held by foreign institutional investors totaled US$587.2 billion, or 104 percent of foreign exchange reserves, which is healthy, the central bank said.
Comments will be moderated. Keep comments relevant to the article. Remarks containing abusive and obscene language, personal attacks of any kind or promotion will be removed and the user banned. Final decision will be at the discretion of the Taipei Times.