Star Cinema up for auction next month: Colliers
Community movie theater Star Cinema (新民生戲院) and adjoining storefronts are to be auctioned off next month with a floor price of nearly NT$200 million (US$6.52 million), as their property owner, Shin Kong Life Insurance Co (新光人壽), seeks to revitalize old assets, bid organizer Colliers International Taiwan (高力國際) said yesterday.
The complex in Taipei's Songshan District (松山) has a floor space of 397 ping (1,312m2), with the floor price likely being set at NT$480,000 per ping, implying an asking price of NT$190.56 million overall.
Community movie theaters are losing market share to movie theater chains such as Vieshow Cinemas (威秀影城) and Showtime Cinemas (秀泰影城), but some manage to survive, thanks to strong customer loyalty and convenient locations, Colliers Taiwan managing director Andrew Liu (劉學龍) said.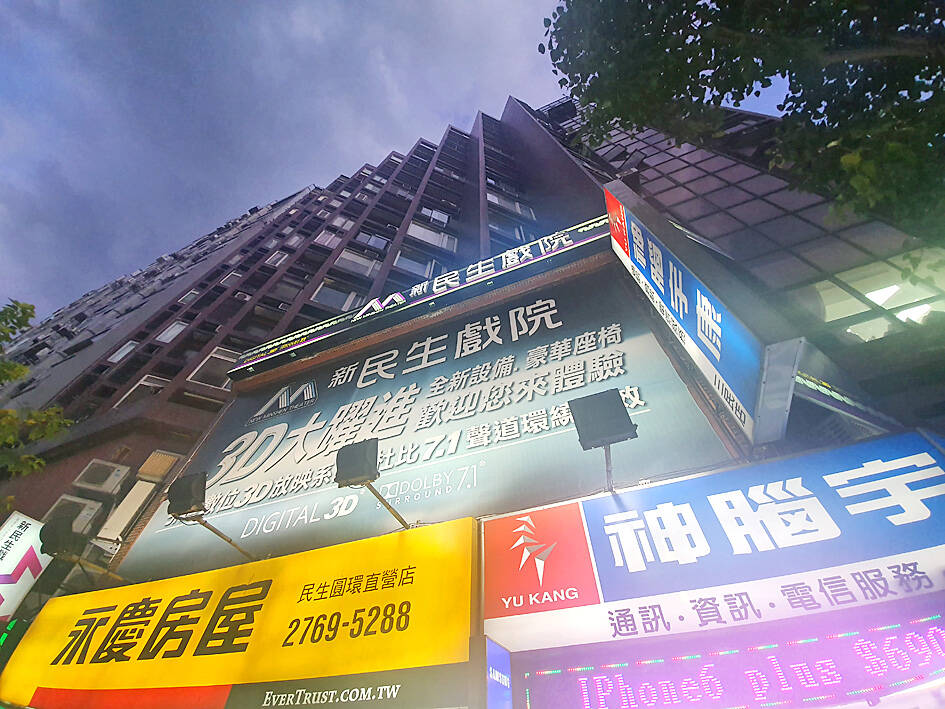 Movie theater Star Cinema in Taipei's Songshan District is pictured on Aug. 2, 2019.
Photo: Lin Chia-yu, Taipei Times
Liu cited the examples of Blossom Cinema (梅花戲院), Broadway Cinema (百老匯影城), Halar Cinema (哈拉影城) and Governor Cinema (總督影城), almost all of which have been renovated or upgraded to stay competitive.
RENTAL INCOME
Colliers Taiwan said it has received inquiries partly because Star Cinema sits next to storefronts that generate stable rental income and pose potential urban renewal benefits.
The complex comes with seven basement parking spaces and might join movie theater chains, it added.
Another broker, Global Living Co (全球居不動產), raised doubt over the asking price, saying the complex is more than 40 years old.
While the residential spaces in the building's upper floors might sell for more than NT$1 million per ping, the commercial spaces on the lower floors are not as attractive due to their poor lighting, Global Living said.
Rent returns could hover at about 2 percent based on the asking price, Global Living said.
Comments will be moderated. Keep comments relevant to the article. Remarks containing abusive and obscene language, personal attacks of any kind or promotion will be removed and the user banned. Final decision will be at the discretion of the Taipei Times.