JPMorgan CEO visiting to meet staff, clients: source
JPMorgan Chase & Co CEO Jamie Dimon is visiting Taiwan, a source with direct knowledge of the matter said yesterday.
It is Dimon's first trip to Taipei, where JPMorgan has had a banking presence since 1970, in nearly a decade, after concluding a visit to China this week.
China, which bristles at visits to Taiwan by foreign government officials, tends to ignore trips by business executives, who usually keep clear of politics.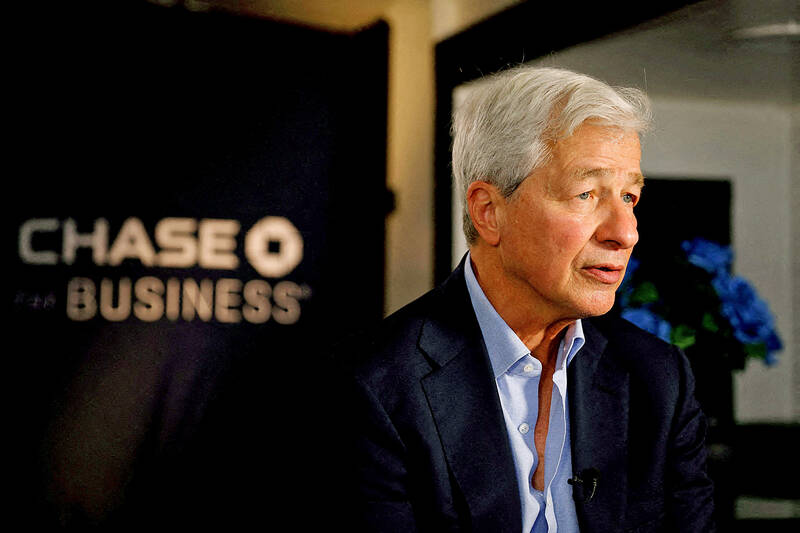 JPMorgan Chase & Co CEO and chairman Jamie Dimon pauses as he speaks during an interview with Reuters in Miami, Florida, on Feb. 8.
Photo: Reuters
"The Chinese are much more concerned about US government contacts with Taiwan than they are with private firms and banks doing business," said Andrew Collier, managing director at Orient Capital Research in Hong Kong.
"As long as executives steer clear of political statements, they should be able to pass the Chinese litmus tests," Collier said.
Dimon is to meet bank employees and clients in Taiwan on his visit, said the source, who sought anonymity as the plans were not public, adding that no meetings were planned with Taiwanese officials.
A JPMorgan spokesperson declined to comment.
Bloomberg first reported the development.
"This is not a question of foreign affairs," a spokesperson for the Chinese Ministry of Foreign Affairs told reporters yesterday in response to news of the visit. "China takes a consistent and clear stance on Taiwan issues."
As part of his Asia tour, Dimon will also visit South Korea after the Taiwan trip, the source said.
JPMorgan has more than 500 employees in Taiwan, where it provides corporate and investment banking and commercial banking services, as well as managing public pension assets.
It is the seventh-largest merger-and-acquisition adviser, eighth-largest equity capital markets and sixth-largest debt capital markets deal book runner in Taiwan by total deal value in the past five years, Refinitive data showed.
Trips to Taiwan by Wall Street officials are rare as they have a limited business presence there, compared with frequent visits by US tech executives as Taiwan is a key producer of semiconductors.
Nvidia Corp CEO Jensen Huang (黃仁勳) is visiting this week for Computex Taipei, as Intel Corp CEO Pat Gelsinger did last month.
Dimon's last publicly known visit to Taipei was in 2014, when he met then-president Ma Ying-jeou (馬英九).
There is no plan for President Tsai Ing-wen (蔡英文) to meet Dimon, the Presidential Office said yesterday.
A Financial Supervisory Commission official said there were no plans for a meeting with Dimon.
Comments will be moderated. Keep comments relevant to the article. Remarks containing abusive and obscene language, personal attacks of any kind or promotion will be removed and the user banned. Final decision will be at the discretion of the Taipei Times.