Manufacturing PMI falls further: CIER
POST COVID-19: A separate survey showed that service providers continued to see a pickup, except for shipping, warehousing and logistics, which are reliant on exports
The official manufacturing purchasing managers' index (PMI) last month fell deeper into contraction territory, as declines in new orders and production sharpened, the Chung-Hua Institution for Economic Research (CIER, 中華經濟研究院) said yesterday.
The index slid 1.5 points to 41.3 last month.
PMI data aim to gauge the health of the manufacturing industry, with values over 50 indicating expansion and scores below the threshold suggesting contraction.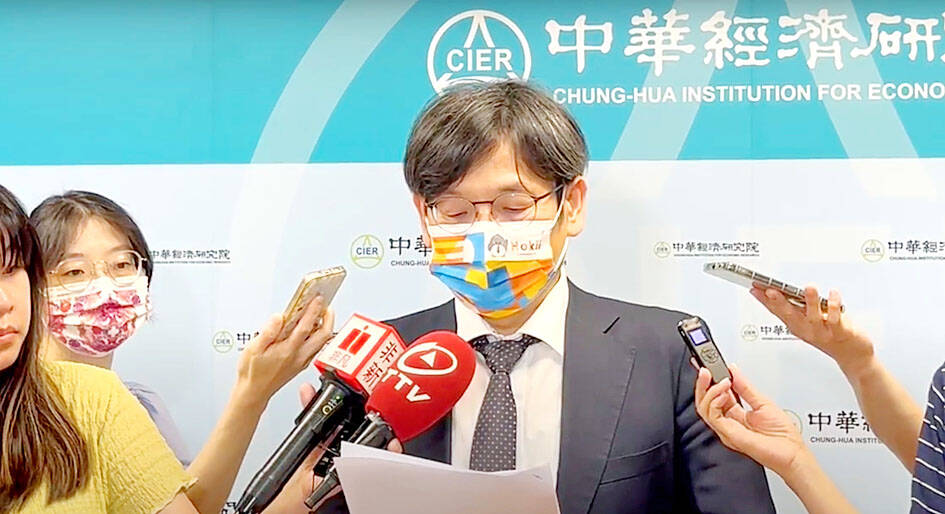 Chung-Hua Institution for Economic Research president Yeh Chun-hsien speaks to reporters in Taipei yesterday.
Photo courtesy of the Chung-Hua Institution for Economic Research
Inventory has returned to normal levels, but companies by and large remain conservative about purchasing activity due to poor order visibility, CIER president Yeh Chun-hsien (葉俊顯) told a news conference in Taipei.
The cautious sentiment has a lot to do with gloomy economic prospects in the US and unease over falling raw material prices, Yeh said.
Against this backdrop, companies are sticking to conservative business management practices, he said.
The critical subindex on new business orders shed 6.3 points to 34.3, the worst since the launch of the PMI survey in July 2012, the Taipei-based institute said.
The gauge on inventory dropped another 0.6 points to 45.3, while the measure on customers' inventory weakened 0.2 points to 44.7 and factory production shed 1.6 points to 36.9, the monthly survey showed.
Academia Sinica economics researcher Kamhon Kan (簡錦漢) said that operating conditions would continue to flounder, as the market needs more time to assimilate the impact of the US Federal Reserve's drastic interest rate hikes.
Furthermore, China has yet to post a healthy recovery from the COVID-19 pandemic, and the shock of bank failures in the US and Europe lingers, Kan said.
That explains why the reading on the six-month business outlook lost 6.7 points to 38.2, with all sectors voicing bleak views, the survey showed.
However, Taiwanese electronics suppliers might benefit from the burgeoning generative artificial intelligence applications and the upcoming release of new iPhone models, Kan said.
Taiwan is a major supplier of electronics used in smartphones, servers and artificial intelligence applications.
Purchasing activity was stable at 52 for non-manufacturing sectors, although it slowed slightly from 55.8 one month earlier, a separate survey showed.
Service providers continued to see a pickup in business after the government removed COVID-19 restrictions, even though shipping, warehousing and logistics facilities proved the exception due to their reliance on exporters, it showed.
Non-manufacturing sectors have mixed views about business prospects, with restaurants, hotels and retailers remaining upbeat, but all other sectors expecting a downturn, it said.
Comments will be moderated. Keep comments relevant to the article. Remarks containing abusive and obscene language, personal attacks of any kind or promotion will be removed and the user banned. Final decision will be at the discretion of the Taipei Times.